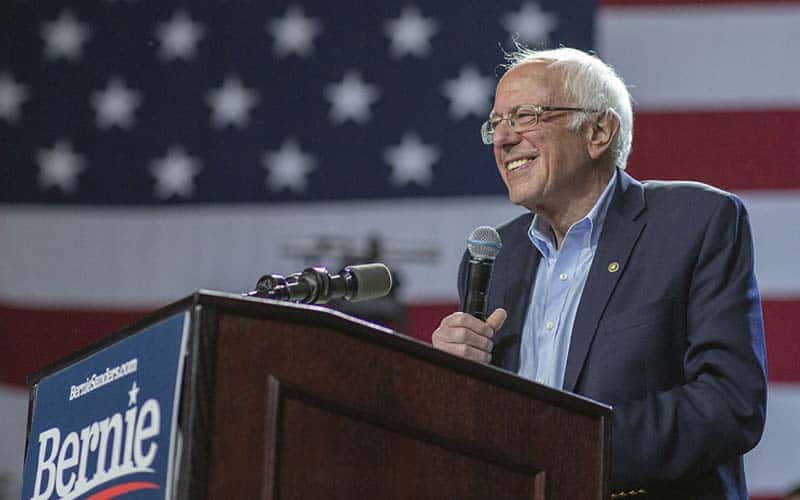 Super Tuesday will be the most important day of the 2020 Democratic presidential primary for the remaining candidates hoping to face off against President Donald Trump in the fall.
On March 3, five Democrats—Bernie Sanders, Joe Biden, Mike Bloomberg, Elizabeth Warren, and Tulsi Gabbard—will compete for the 1,357 delegates up for grabs in 14 states, plus the American Samoa caucuses and the Democrat Abroad primary.
Sanders received the most votes in the first three early primary states, but after Biden's convincing win in South Carolina—where he was the odds-on favorite to win—the former Vice President has increased his chances across the board on Super Tuesday.
Additionally, the exits of Tom Steyer, Pete Buttigieg, and Amy Klobuchar have also contributed to Biden's increased odds on Super Tuesday. Steyer has stayed quiet, but Buttigieg and Klobuchar reportedly plan to endorse Biden.
But with all that being said, the oddsmakers at Bovada sportsbook are still feeling the Bern tomorrow.
Sanders is favored to win eight of the 14 states on Super Tuesday while Biden is projected to win six contests, according to the legal betting odds.
Bovada favors Sanders to win California (-4000), Colorado (-4000), Maine (-500), Massachusetts (-305), Minnesota (-600), Texas (-140), Utah (-3000), and Vermont (-100000).
Biden, on the other hand, is currently the odds-on favorite to win Alabama (-5000), Arkansas (-500), North Carolina (-260), Oklahoma (-270), Tennessee (-800), and Virginia (-500).
To learn how to read odds or place a wager on politics legally, check out our Political Betting Guide. For now, here are the betting odds for each of the 14 state Democratic primary elections on Super Tuesday.
2020 Super Tuesday Odds
Political futures from Bovada
Alabama Primary Odds
Joe Biden -5000
Bernie Sanders +2000
Michael Bloomberg +3000
Elizabeth Warren +10000
Arkansas Primary Odds
Joe Biden -500
Bernie Sanders +450
Michael Bloomberg +1200
Elizabeth Warren +7500
California Primary Odds
Bernie Sanders -4000
Joe Biden +1000
Elizabeth Warren +10000
Michael Bloomberg +10000
Colorado Primary Odds
Bernie Sanders -4000
Joe Biden +1000
Elizabeth Warren +10000
Michael Bloomberg +10000
Maine Primary Odds
Bernie Sanders -500
Joe Biden +425
Michael Bloomberg +2000
Elizabeth Warren +3000
Massachusetts Primary Odds
Bernie Sanders -305
Elizabeth Warren +325
Joe Biden +1500
Michael Bloomberg +10000
Minnesota Primary Odds
Bernie Sanders -600
Joe Biden +350
Elizabeth Warren +10000
Michael Bloomberg +10000
North Carolina Primary Odds
Joe Biden -260
Bernie Sanders +220
Michael Bloomberg +5000
Elizabeth Warren +12500
Oklahoma Primary Odds
Joe Biden -270
Bernie Sanders +255
Michael Bloomberg +1100
Elizabeth Warren +12500
Tennessee Primary Odds
Joe Biden -800
Bernie Sanders +550
Michael Bloomberg +2000
Elizabeth Warren +12500
Texas Primary Odds
Bernie Sanders -140
Joe Biden +115
Michael Bloomberg +10000
Elizabeth Warren +12500
Utah Primary Odds
Bernie Sanders -3000
Joe Biden +1500
Michael Bloomberg +2000
Elizabeth Warren +5000
Vermont Primary Odds
Bernie Sanders -100000
Elizabeth Warren +10000
Joe Biden +10000
Michael Bloomberg +10000
Virginia Primary Odds
Joe Biden -500
Bernie Sanders +375
Michael Bloomberg +3000
Elizabeth Warren +12500