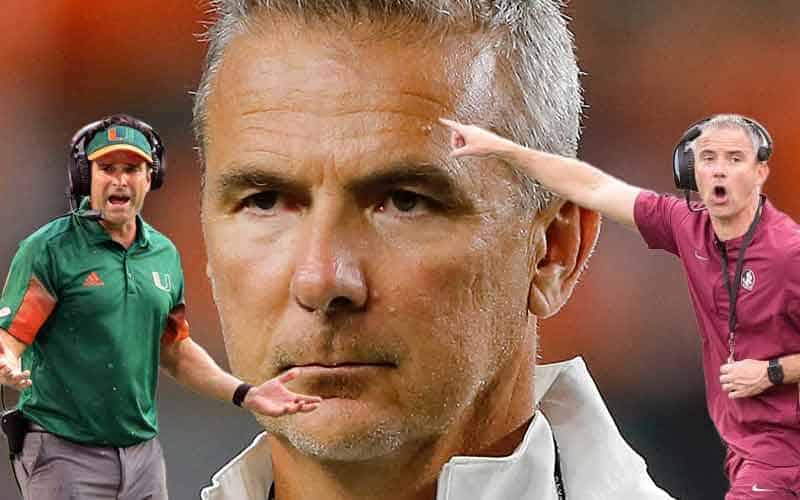 In the past, we've seen futures odds for the first head coach to get fired during a given season. They're actually a fairly common sight at online sports betting venues as there always seems to be a few signal-callers on the hot seat each year.
The following prop bet narrows that field down to the significant ball coaches in the state of Florida and their odds for becoming the next coach to lose their job.
Next Florida Football Head Coach Fired
Urban Meyer (Jacksonville Jaguars) -175
Leading the pack of potential firees is former University of Florida and Ohio State head coach Urban Meyer who is attempting to resurrect his career with the NFL's Jacksonville Jaguars. Meyer is in hot water after an 0-4 start and the surfacing of a compromising video of him dancing with an attractive woman that is not his spouse.
In the realm of NFL futures betting, having a negative moneyline indicates near a near-certain outcome. Translation: Get ready for the ax in JAX!
Mike Norvell (Florida State University Seminoles) +110
Just 160 miles west of Jacksonville, there's trouble brewing at FSU for the 1-4 Seminoles and head coach Mike Norvell. In hindsight, Norvell should have received his walking papers after going for it on 4th down in their own territory against Notre Dame and allowing them an easy TD after failing to convert. The game ended up going to overtime, resulting in a narrow FSU defeat to the Fighting Irish.
Norvell followed up that performance with a home loss to Jacksonville State on the final play of the game. It would be a miracle if Norvell is still calling the plays in Tallahassee next season. Right now, Norvell's odds for betting on College Football indicate a near 50/50 chance of him looking for another job soon.
Jeff Scott (South Florida Bulls) +200
The University of South Florida has struggled for years to attain relevance in college football, and considering their geographical placement among some of the best high school talent in the nation, they should have arrived by now. Jeff Scott is hoping to turn around USF's season and rebound from their current 1-4 status, but he could be on the outs unless something changes soon.
Manny Diaz (University of Miami Hurricanes) +250
"The U" began the 2021-22 NCAAF season intending to return to national prominence and climb to the top of the ACC rankings. Now they are under .500 with a 2-3 record and many are calling for head coach Manny Diaz to be removed. His +250 moneyline odds will payout at $2.50 for each dollar risked, but only if you partake in legal Florida sports betting now.
Butch Davis (Florida International University) +300
Head coach Butch Davis is now in his fifth season with FIU, and used to coach down the road at the University of Miami. Davis is probably safe to make it through the NCAAF season due to his early success with the Panthers, but another sluggish start next year could spell doom.
Willie Taggart (Florida Atlantic University) +500
Another re-tread coach in the state of Florida is Willie Tagard of FAU who used to be the head coach of the FSU Seminoles. Unlike all of the prior teams on this list, Taggart and FAU actually have a winning record at the moment and are in the lead in Conference-USA's East Division. Don't bet on Taggart to lose his job in 2021.
Brian Flores (Miami Dolphins) +550
The 1-3 Miami Dolphins are struggling to produce on offense with starting quarterback Tua Tagovailoa on the mend. Although Flores is not likely to get canned prior to anyone ahead of him in the odds, he does face the possibility of losing his gig at some point during the offseason if 2 out of his first 3 campaigns finish with dismal results.
Dan Mullen (University of Florida Gators) +800
Now that the Florida Gators have suffered two SEC losses, they can count themselves out of serious contention in the odds for betting on the College Football Playoff National Championship. The Gators are desperate to turn around their fortunes and win another NCAAF title, but Mullen appears poised to retain his position for at least another position.
Bruce Arians (Tampa Bay Buccaneers) +1000
Coach Arians must be included in this NFL prop bet just to simply say that they gave everyone a fair shot because there is literally zero chance of him getting fired unless something very serious from his personal life were to turn up.
Online football gamblers are much more concerned with betting on the Buccaneers and the odds to win Super Bowl 56 than they are with a potential Arians firing, so don't get suckered by his moneyline odds.