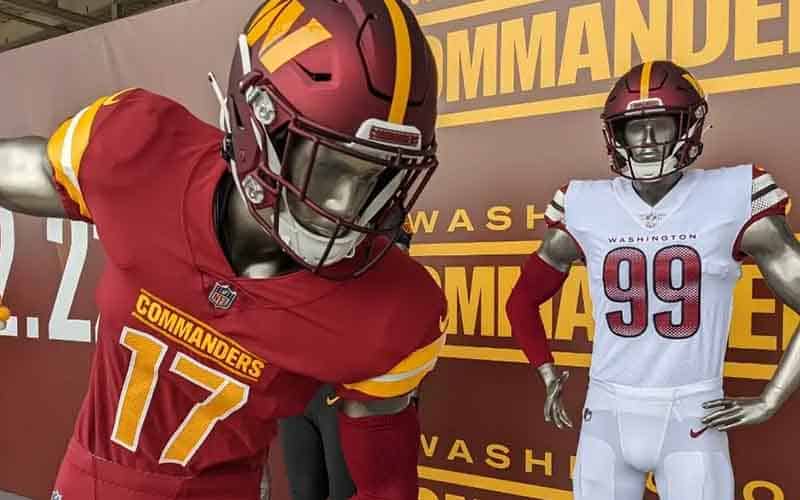 The National Football League's annual meetings will conclude this afternoon, and most of the buzz is surrounding the potential sale of the Washington Commanders franchise.
The current owner, Dan Snyder, is in hot water for allegations of sexual harassment and an overall toxic work environment. Calls for his ouster have only been silenced by this sale process that has been active since last November.
Legal online NFL sportsbooks have weighed in with betting odds for which person or investment group will purchase the Washington Commanders from Snyder.
Washington Commanders' Odds For Next Owners
Harris-Rales Group +125
Tilman Fertitta Group +300
Steve Apostolopoulos Group +450
Jeff Bezos +500
Behdad Eghbali Group +600
Todd Boehly +700
John Henry Group +800
The Field +1000
Daniel Snyder +1200
Byron Allen +1400
Ted Leonsis +2200
Jay-Z +3300
Mat Ishbia Group +4000
Leading the odds in this NFL prop bet is the Harris-Rales Group. Josh Harris is a billionaire who was recently interested in purchasing the Denver Broncos.
He's now recruited fellow billionaire Mitchell Rales to join the team in hopes of outbidding any competing offers. Their eagerness to jump into the realm of NFL ownership has granted them a +125 moneyline which is the closest thing to even on the boards.
Tilman Fertitta is a Houston-based billionaire that is known as "the world's richest restaurateur." He is the owner of the Landry's chain of restaurants which is made up of several nationally-known brands.
Fertitta also owns the Houston Rockets of the NBA and a piece of the Golden Nuggets Casinos and Hotels.
Steve Apostolopoulos is coming in third with a +450 moneyline. Apostolopoulos is a Harvard-educated founder of a private-equity venture fund who was recently pursuing the purchase of the Charlotte Hornets from owner Michael Jordan.
Apostolopoulos appears to have abandoned the pursuit of the Hornets and is now focused on acquiring the Commanders from Snyder. A $1 wager placed on his +450 odds of purchasing the Commanders will reward gamblers with $4.50 in profit if the sale goes through.
Amazon founder Jeff Bezos is ranked fourth. Bezos could probably purchase the Commanders with the loose change found inside of his Bentley, but current owner Snyder has been vocal in his opposition to a sale to the former Amazon CEO.
Their perceived rivalry could simply be a tactic that Snyder is using to drive up the price. Currently, the estimated value is just north of $5 billion, but the franchise is expected to fetch well north of that total after the bidding process concludes.
We'd normally suggest that gamblers submit their wagers immediately on this type of NFL prop, but the sale talks seem poised to last into the fall. As more information regarding the sale becomes public knowledge, the odds will change, so it may be wise to lock in these moneylines right now if you've got a hunch on which group will come out on top.
Washington Commanders Betting Odds – Bovada LV
Pro Football Talk, ESPN, Sports Illustrated