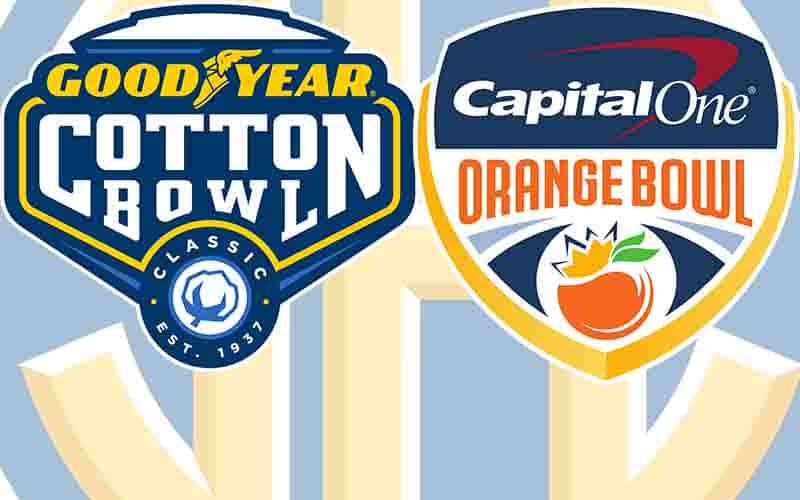 The College Football Playoffs begin this afternoon with semifinal matchups occurring at the Orange Bowl in Miami, Florida, and the Cotton Bowl in Arlington, Texas.
Lines have been posted at College Football betting sites and it should not surprise anyone that has been following the action this season that both SEC teams are heavily favored to win and advance to the NCAAF National Championship Game occurring in 10 days.
Cotton Bowl Betting Odds
This afternoon at 3:30 PM, College Football fans will find out if the Cincinnati Bearcat's Cinderella story will continue, or if the Alabama Crimson Tide will snuff out all of their championship fantasies and bring everyone back down to Earth with a dose of reality delivered by Nick Saban and his roster full of future NFL'ers.
The below CFP odds for the Cotton Bowl have held steady for the last two weeks at a point spread margin of just under two touchdowns which practically dares bettors to lay some action on Cincinnati to cover.
Cincinnati (#4) vs. Alabama (#1)
Point Spread: Cincinnati +13.5, Alabama -13.5
Moneyline: Cincinnati +360, Alabama -500
Over/Under: 57.5
One matchup to keep an eye on is Cincinnati's star cornerback Ahmad "Sauce" Gardner versus the Crimson Tide wide receiver Jameson Williams. Gardner could go at the top of the 2022 NFL Draft if he declares early, and how the Bearcats perform this postseason could heavily influence that decision.
Orange Bowl Betting Odds
The second CFP semifinal game of the day begins at 7:30 PM with the Georgia Bulldogs expected to defeat the Michigan Wolverines by a margin of just over a touchdown.
College Football Playoff betting sites are offering up the following odds for the Orange Bowl that aren't granting the Wolverines much of a fighting chance.
The Bulldogs have experienced issues with COVID-19 in recent weeks, but they appear to be at full strength for today's game and it has yet to impact the Orange Bowl betting lines.
"We had a little bout [with COVID-19] the last couple of weeks, when we lost some guys, but we got most of those guys back. The biggest thing is really being at full strength when you have to be, and that's what we're aiming toward."

Georgia Head Coach Kirby Smart
Georgia (#3) vs. Michigan (#2)
Point Spread: Georgia -7.5, Michigan +7.5
Moneyline: Georgia -290, Michigan +240
Over/Under: 45.5
The over/under and the point spread combine to imply a final score of Georgia 26, Michigan 19, indicating a strong probability of an SEC Championship Game rematch of Georgia vs. Alabama for the National Title.
2021-2022 NCAA Championship Odds To Win
Alabama (#1) +110
Georgia (#3) +130
Michigan (#2) +600
Cincinnati (#4) +1400
The above futures odds for betting on the CFP National Championship also forecast the same result as the two semifinal game lines, but betting on any other outcome will earn hefty profits if wagers are placed right now.
For instance, betting $1 on Michigan or Cincinnati to win it all in the above CFP title odds will net gamblers a win of $6 and $14, respectively.
The same can be said for betting on Cincinnati or Michigan and the moneyline odds to outright win their College Football Playoffs semifinal game today, but wagers must be placed as soon as possible to lock in those profits.