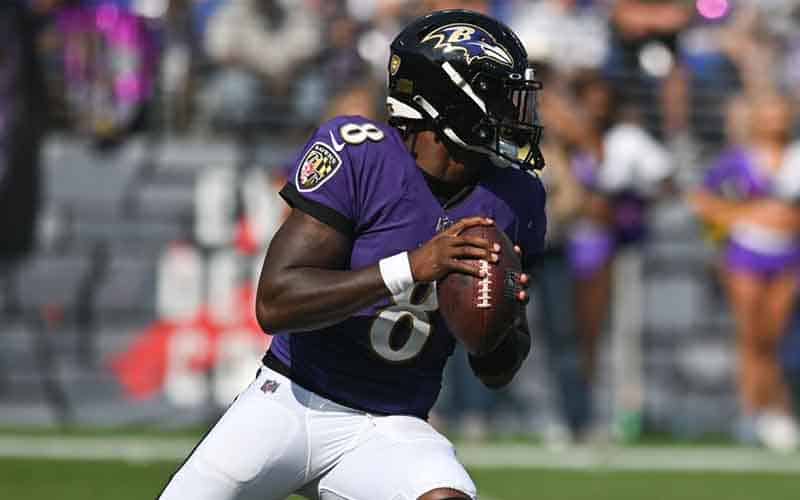 The saga of whether Lamar Jackson will continue his career with the Baltimore Ravens seems poised to last into the NFL Draft at the end of April, as the quarterback is now testing the market for offers from other teams.
As Lamar considers his options, online NFL betting sites have created prop bets that are taking action on the sixth-year QB's next franchise.
This first prop includes the Ravens as an option and has them favored to retain Lamar Jackson for the 2023-24 season.
Where Will Lamar Jackson Play Game 1 Of The 2023 NFL Season
Baltimore Ravens -200
Indianapolis Colts +300
Miami Dolphins +750
Atlanta Falcons +1000
New England Patriots +1400
Carolina Panthers +1500
Tampa Bay Buccaneers +1500
Washington Commanders +2000
New York Jets +2000
Tennessee Titans +2200
Houston Texans +3500
Detriot Lions +1500
San Francisco 49ers +2000
*Bovada.LV
His odds of staying in Baltimore translate to a 2/3 chance of it becoming a reality. Wagers of $2 will be required to net a dollar by betting on Jackson to remain with the Ravens for next season.
This next NFL prop bet removes the Ravens from the equation and also features a differing order for the teams interested in his services.
Odds For Lamar Jackson's Next Team (If not Ravens)
Indianapolis Colts +300
Detroit Lions +400
Atlanta Falcons +450
Tampa Bay Buccaneers +700
New England Patriots +700
Miami Dolphins +700
Tennessee Titans +1000
Carolina Panthers +1200
New York Jets +1400
San Francisco 49ers +1400
*BetOnline.AG
Since there is more than one sportsbook that has posted Lamar Jackson odds, gamblers can go line shopping for the best payouts possible.
For example, If you believe that Jackson will end up as the next starter for the Atlanta Falcons, your payout total will depend on where you place your bets.
Jackson is getting +450 odds to become a Falcon at BetOnline, while Bovada is offering +1000 for the same outcome. A $1 bet on Jackson signing with Atlanta will reward wins of $5.50 at BetOnline AG and $11 at Bovada.
Although Jackson still has plenty of years left in the tank and is a top talent in the league, his unique blend of rushing and passing skills requires that offenses be built around him.
Baltimore and head coach John Harbaugh have already committed to Jackson and his talents, but he's no longer returning the favor.
The Atlanta Falcons make a lot of sense, especially with the offense that Marcus Mariotta was running in 2022-23. Unfortunately, Falcons owner Arthur Blank has already gone on the record as not being interested in pursuing Jackosn.
The Indianapolis Colts could certainly use some help at quarterback. Since Andrew Luck retired in 2019, the Colts have featured a revolving door of recycled veterans with mixed results.
Signing Lamar in Indy would solidify the position for potentially the next decade, but is it a good fit? The odds imply it is his most likely destination for next season if he leaves Baltimore, so perhaps they're poised to revamp the offensive playbook upon his arrival.
Pro Football Reference. CBS Sports, Bovada Sportsbook (Bovada Review), BetOnline Sportsbook (BetOnline Review)