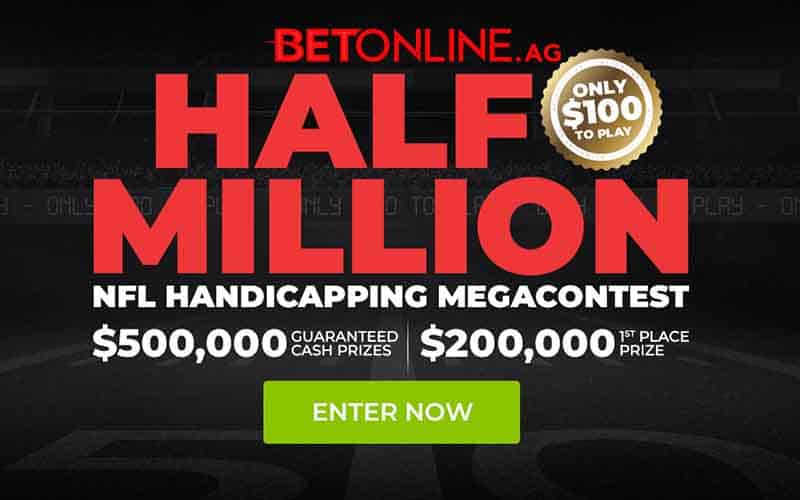 One of our best-rated online sportsbooks, BetOnline, is running a contest that awards the top 200 winners with a share of $500,000 in cash prizes.
BetOnline's MegaContest takes place from the first week until the conclusion of the NFL season and allows contestants to accumulate points by making correct picks against the spread.
Registration is open now through September 12th, but NFL betting selections should be made prior to the first game of the season on September 8th to give yourself the best shot at winning a portion of the cash prize.
The first MegaContest entry costs $100, but the price for entries 2 through 5 deescalates at a rate of $75, $50, $25, and $25. That's a total of $275 for 5 chances at a cash prize.
How To Play
BetOnline members must make five picks against the spread during all 18 weeks of the NFL season. These NFL point spreads can be locked in at any time prior to the start of the game, so it is advantageous for members to monitor the lines and pounce when it looks right.
Each correct point spread selection is worth 1 point, while pushes will reward a half point. Only one team in a given matchup can be selected. This is to keep contestants from securing a guaranteed win by betting on both sides of the action.
Once Week 18 of the season concludes, all points will be tallied, and cash payouts will be divided among winners along the following schedule:
1st – $200,000
2nd – $50,000
3rd – $25,000
4th – $20,000
5th – $15,000
6th – $10,000
7th – $9,000
8th – $8,000
9th – $7,000
10th – $6,000
11th – $5,000
12th – $4,000

13th – $3,500
14th – $3,000
15th – $2,500
16th – 20th – $2,000
21st – 30th – $1,400
31st – 40th – $1,000
41st – 50th – $800
51st – 75th – $700
76th – 100th – $600
101st – 125th – $500
126th – 150th – $400
151st – 200th – $300
There are also quarterly prizes of $5,000 for contestants that tally the most points during weeks 1-4, 5-8, 9-13, and 14-18.
The best part is that none of these cash prizes have any rollover terms attached. We say that because often, betting sites will reward in bonus cash where completion terms must be met before any withdrawals can be requested.
Entry fees are collected directly from BetOnline accounts and do not require a new deposit. If you are making a deposit, be sure to investigate BetOnline's sportsbook promos before finalizing the transaction.
Another perk of this MegaContest from BetOnline is that a $100 investment keeps the action going for 18 weeks. It helps online NFL gamblers remain informed of all the betting lines and resulting outcomes so that well-researched wagers can be placed outside of this contest.
BetOnline's $200,000 Survivor Contest
Another contest that BetOnline has brewing for the upcoming NFL season allows members a shot at a $200,000 grand prize, or a share of it if there are multiple entrants alive after Week 18 is in the books.
Members can enter up to 25 times, and once again, fees deescalate from $30-$10 as more are purchased. Here's how to play:
Pick one winning NFL team each week. There is no need to worry about point spreads – just pick the winner
Teams can only be selected once during the season – no repeats.
If your team loses, that entry is no longer eligible to win any cash prizes.
If more than one team is still alive after 18 weeks, they will split the $200,000 prize.
The contest will end immediately if only one contestant remains prior to Week 18.
Both contests can be entered right now, so consider joining over at BetOnline.AG if you have not already.