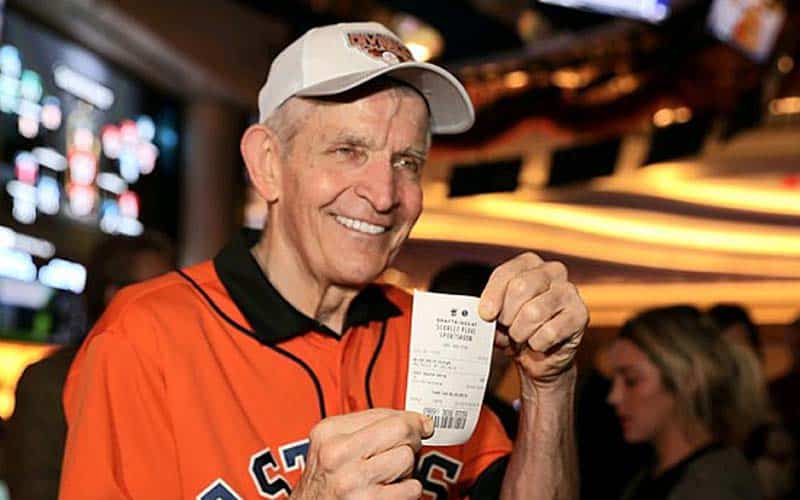 There aren't many nationally-recognized furniture salespeople in the world. But thanks to a mattress promotion and some strategic betting, Jim McIngvale has become the most famous Tempur-Pedic peddler in the United States.
McIngvale, better known as "Mattress Mack," ran a promotion throughout the MLB season: any mattress set purchase over $3,000 will be refunded if the Astros win the World Series.
If Houston pulls out its second title in three years, McIngvale will lose around $20 million in revenue due to the promotion. Thankfully for Mack, regardless of the World Series outcome, he could come out a winner.
So far, McIngvale has placed around $12 million in bets on the Astros. With one more Houston win, Mack is looking at a $22 million return on a World Series victory for his hometown 'Stros. By placing extra money on the Astros, McIngvale has effectively hedged his promotion "bet."
Of course, the Astros could still lose to the Washington National and McIngvale would lose a huge amount in bets. However, if Houston loses, Mack does not have to refund the $20 million in mattress sales.
At most, McIngvale stands to lose around $8 million, which is much less than the $20 million from the promotion alone. Plus, if the Astros do win, McIngvale wins back a little cash and feels the profound glory of having one's favorite team winning the championship.
Commenting on the amount of money he could win from Houston's win, McIngvale remained humble.
"It will be a pretty sizable bet, I would imagine. Hopefully, the tickets will be cashed in when the Astros win Tuesday or Wednesday," he said.
Flying between casinos in Las Vegas, Mississippi, and New Jersey, McIngvale is diversifying where he places his bets. Last week in Jersey, McIngvale bet $1.05 million across Unibet and William Hill.
On October 1, Mack placed the largest sports bet in Mississippi history with a $3.5 million bet at Biloxi's Scarlet Pearl.
So what are the chances that Mattress Mack actually comes out of this on top? According to the MLB betting odds, the bets could payout tonight. As a 1.5 run favorite, the Astros are projected to be the Nats tonight.
2019 World Series Game 6 Betting Lines
Washington Nationals vs. Houston Astros (-1.5)
Pitchers: Stephen Strasburg (WAS), Justin Verlander (HOU)
Spread: WAS +160, HOU -185
Total: O7.5 +105, U7.5 -125
Series odds: WAS +525, HOU -800
Despite their hot start, Washington has lost three straight games to the Astros. With Houston's odds favoring them to win Game 6 at -185 chances, Washington is at the end of their rope.
The series odds also heavily favor Houston, giving the 2017 champs -800 chances of winning the World Series this season. Without a doubt, Mattress Mack will be watching the game tonight on Fox at 8:07 pm ET.