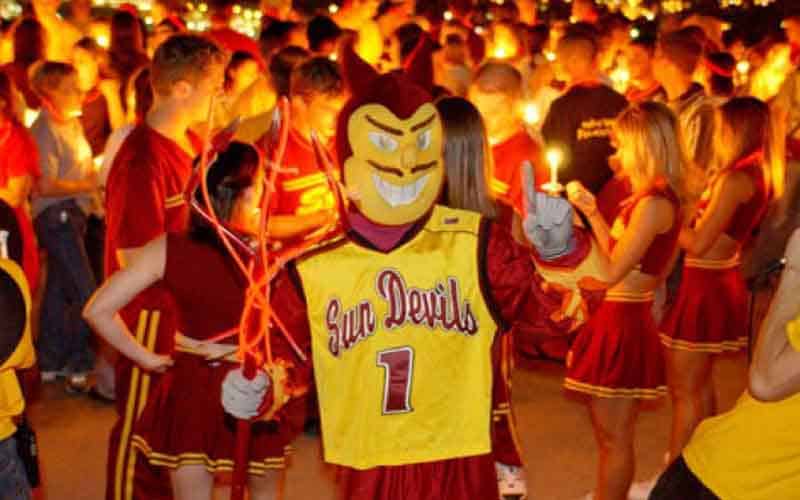 Since the approval of HB2772 in April, Arizona lawmakers have worked feverously to implement sports betting across the Copper State. With commercial names such as FanDuel, Caesars Sportsbook, and BetMGM entering the betting arena, AZ can look forward to a successful start.
Welcoming College Sports Betting
With the expansion of AZ gambling laws came the authorization of betting on college sports. Not very long ago, legal sports betting was unimaginable. Betting on college sports seemed even more far-fetched.
Arizona is one of the few states that allow betting on college sports. Despite how uncommon the practice is, Arizona legislators seemed to pass the bill without batting an eye.
Other state lawmakers have refrained from including such a measure, typically in fear of bill failure. Because of this, all eyes will be on AZ sports betting come September.
If Arizona can successfully kick off college sports betting and demonstrate a positive impact on university sports programs, other states may consider it. More than consideration, college sports betting could become a staple of the industry.
But what are the gains and losses of this kind of legislation?
Legislation For the Better?
Most of the controversy surrounds the fact that most players of college sports are not of legal age to place bets or gamble in their state. Although there are several 18+ gambling and betting states, a lot of the most recent sports betting legislation is drafted loosely around casino laws.
And since in-person casinos generally don't allow patrons under the age of 21, most US sportsbook legislation will not allow for betting on sports involving underage athletes.
Even so, the prospect of online and mobile betting removes the bar/club setting associated with casinos. Without alcohol sales, a sportsbook is just a sportsbook and does not pose the same kinds of risks towards minors.
On another note, college sports betting stands to help university athletics. Because of COVID, many universities lost a year's worth of income from athletics. Some are still operating with restricted seating capacities if any at all.
Legal betting on college football, for example, would encourage viewership and engagement both at home and in-stadium. Caesars Entertainment just struck a deal with the Fiesta Bowl Organization in which it will operate several betting lounges during the post-season bowls.
These kiosks, along with Caesars online betting platform, are expected to bring millions in tax revenue to the state. If the state is making millions in taxes, you can only imagine how much the university stands to make in ticket sales, television contracts, and licensing deals.
While individual states try to sort out their "morals" on college sports betting, patrons still have options. You can already place bets on college sports using a variety of offshore sportsbooks. We have several resources to help you pick one.