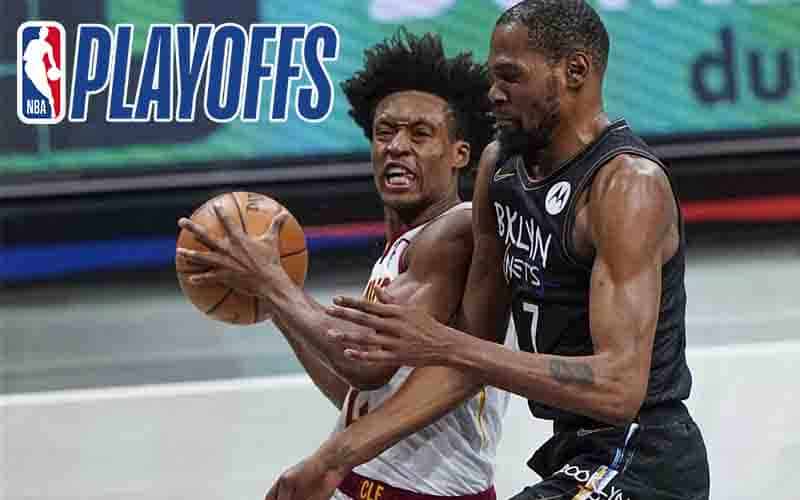 The NBA Play-In Tournament begins tomorrow night at 7 PM on TNT with two games featuring the 7 vs. 8 seed in the Eastern and Western Conferences.
The Winner of each of tomorrow night's play-in games will secure the 7th overall seed in their respective half of the bracket, with the losers moving on to face the winners of the 10 vs. 9 matchups.
2022 NBA Play-In Tournament Schedule
Tuesday, April 12
Game 1: (8) Cleveland Cavaliers vs. (7) Brooklyn Nets (7 PM on TNT)
Game 2: (8) LA Clippers vs. (7) Minnesota Timberwolves (9:30 PM on TNT)
Wednesday, April 13
Game 3: (10) Charlotte Hornets vs. (9) Atlanta Hawks (7 PM on ESPN)
Game 4: (10) San Antonio Spurs vs. (9) New Orleans Pelicans (9:30 PM on ESPN)
Friday, April 15
Game 5: Winner of Game 3 vs. Loser of Game 1 (TBD, ESPN)
Game 6: Winner of Game 4 vs. Loser of Game 2 (TBD, TNT)
Despite being involved in the play-in tournament, the Brooklyn Nets still feature futures odds for NBA Playoff betting that places them in the Eastern Conference Finals against the Milwaukee Bucks, the defending 2022 champions.
Cleveland Cavaliers vs. Brooklyn Nets
Cavaliers Point Spread: +8.0
Cavaliers Moneyline: -8.0
Nets Point Spread: +300
Nets Moneyline: -395
Over/Under: 229.5
The Nets appear poised to lock in the 7 seed and are favored to defeat the Cavaliers by 8 points and send them to the losers bracket where Cleveland will most likely face the Atlanta Hawks.
Charlotte Hornets vs. Atlanta Hawks
Hornets Point Spread: +4.5
Hornets Moneyline: +160
Hawks Point Spread: -4.5
Hawks Moneyline: -185
Over/Under: 238.0
The Los Angeles Clippers took a nose dive in the standings over the last eight weeks and are now clinging on to their slim playoff hopes as an underdog to the Minnesota Timberwolves.
L.A. Clippers vs. Minnesota Timberwolves
Clippers Point Spread: +2.5
Clippers Moneyline: +115
Timberwolves Point Spread: -2.5
Timberwolves Moneyline: -135
Over/Under: 230.5
The NBA Playoff picture odds suggest that the Clippers will drop the first play-in game to the Timberwolves and get one last crack at the postseason on the 15th against the winner of the San Antonio Spurs and New Orleans Pelicans.
San Antonio Spurs vs. New Orleans Pelicans
Spurs Point Spread: +5.0
Spurs Moneyline: +170
Pelicans Point Spread: -5.0
Pelicans Moneyline: -200
Over/Under: 229.0
The Pelicans have exceeded expectations for 2022 simply because they've finished with a winning record largely without the services of their star player, Zion Williamson.
Reports on Zion's injury status have been mixed, but it is clear that he is close to game ready after highlights of him practicing have surfaced in recent days.
Bovada Sportsbook has posted a unique NBA prop bet that offers insight into the playoff potential for each of the bottom-dwelling play-in qualifying teams.
2022 NBA Playoff Props To Make The Postseason
Brooklyn Nets -3000
Minnesota Timberwolves -1000
L.A. Clippers -600
Cleveland Cavaliers -250
Atlanta Hawks +250
New Orleans Pelicans+400
Charlotte Hornets +550
San Antonio Spurs+850
Once again all of the top seeds are favored to be included in the final 16 team NBA Playoff brackets for 2022, however, significant profits can be attained by laying some action on any of the bottom four franchises.
Net payouts ranging between $2.50 and $8.50 can be netted just by betting a dollar on any of the lower four seeds competing in the 2022 NBA Play-In Tournament, but only if wagers are placed now as the moneylines can and will shift between now and tipoff.