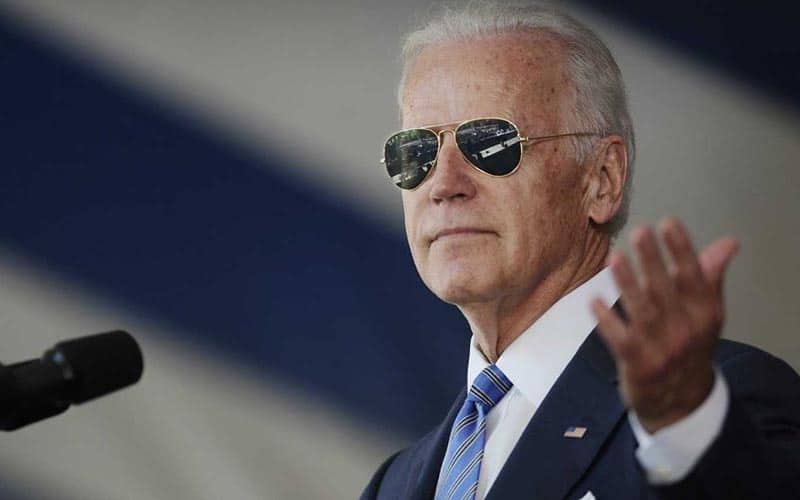 You can't teach an old dog new tricks, but when you've been around the block as much as Joe Biden, odds are you already know most — if not all — of the tricks the rest of the pack might pull.
When Biden steps on the debate stage this evening on the second night of the first Democratic primary debate of 2019, he'll do so as the candidate with the most experience.
So it's no surprise the former vice president will also be the party's frontrunner and betting favorite, according to the latest 2020 presidential election odds at most political betting sites.
Biden is listed at +425 ($100 bet wins $425) odds to win the general election next year, which means — after converting to an implied probability — Biden currently has a 19.05% chance of becoming the next President of the United States.
Only President Donald Trump, who already has a clear path as the incumbent Republican, has better odds than Biden at +100 — 50% chance — to win reelection.
Before Night 2 of the debate begins, here's a glimpse at who the oddsmakers think have the best chance of winning the White House on November 3, 2020.
2020 Presidential Election Odds
Odds via Bovada
Donald Trump +100
Joe Biden +425
Elizabeth Warren +750
Pete Buttigieg +750
Bernie Sanders +1000
Kamala Harris +1500
Andrew Yang +2000
Beto O'Rourke +3500
Tulsi Gabbard +4000
Amy Klobuchar +7000
Cory Booker +7000
John Hickenlooper +10000
Julian Castro +10000
Kirsten Gillibrand +10000
Mike Pence +10000
2020 Democratic Nomination Odds
Elizabeth Warren came out as the big winner of last night's debate if you look at the odds before and after she took center stage.
Warren was listed at +750 (11.76%) to win the Democratic nomination before the first night, but now, she's tied in second place with Pete Buttigieg at +450, an 18.18% chance to take on Trump in the general election.
Bernie Sanders and Kamala Harris aren't far behind either at +550 (15.38%), but the top four behind Biden still have some ground to gain on his +200 odds (33.33%).
However, leads aren't safe since the primaries are still months away, and Warren's significant jump in only one night — and surge over the past couple months — are why no candidate can rest on their laurels
This is especially important for Biden because make no mistake: he will have a target on his back tonight, and with such a huge lead in the polls, according to Real Clear Politics, everyone who isn't a former VP will look at his record and find anything they can to begin chipping away at his lead.
Here's a look at odds for the top 20 Democrats:
Joe Biden +200
Elizabeth Warren +450
Pete Buttigieg +450
Bernie Sanders +550
Kamala Harris +550
Andrew Yang +1250
Beto O'Rourke +1800
Tulsi Gabbard +3000
Amy Klobuchar +4000
Cory Booker +4000
Kirsten Gillibrand +8000
Bill De Blasio +10000
Eric Swalwell +10000
Jay Inslee +10000
John Delaney +10000
John Hickenlooper +10000
Julian Castro +10000
Marianne Williamson +10000
Michael Bennet +10000
Tim Ryan +10000
Democratic Debate Night 2 Prop Bets
The prop bets for Round 1 of the debate may be in the books, but odds for Round 2 are still available at Bovada.
Will Trump tweet out that it's past bedtime — tonight's debate lasts from 9 p.m. to 11 p.m. ET — for "Sleepy Joe?"
There's no way to be sure, but either way, below you can check out the odds for that prop bet and the remaining lines available.
Will Donald Trump mention "Sleepy Joe" in a tweet during the debate?
Will Joe Biden hug any of the women on stage with him tonight?
How many times will "Buttigieg" be mispronounced?
Under 1.5 -400
Over 1.5 +250
How many times will Andrew Yang mention "UBI"?
Which candidate will speak the most?
Joe Biden +175
Bernie Sanders +200
Kamala Harris +550
Pete Buttigieg +550
Andrew Yang +1000
Eric Swalwell +1500
Kirsten Gillibrand +1500
John Hickenlooper +2000
Marianne Willamson +2000
Michael Bennet +2000