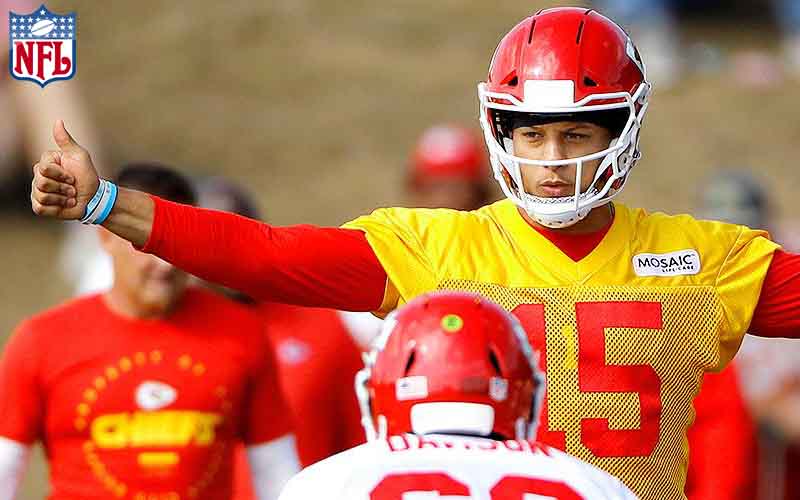 Last season, Kansas City Chief QB Patrick Mahomes burst onto the scene with 50 touchdowns and 5,097 yards in his first season as a starter. Mahomes's breakout year earned him his first MVP award, and among NFL betting sites he's the odds-on favorite to do it again in 2019.
According to BetOnline, Mahomes has +600 odds to win the NFL MVP this season, which would make the quarterback the first back-to-back winner since Peyton Manning did it in 2008 and 2009.
Philadelphia Eagles QB Carson Wentz has the second-best odds at +900 to win the MVP. Prior to his 2018 back injury, Wentz had 3,074 yards and 21 touchdowns in 11 games. If he can stay healthy, something he has struggled to do since he was drafted second overall in 2016, Wentz has a chance to win his first MVP trophy.
Other than Mahomes, Green Bay Packers QB Aaron Rodgers (+1200) is the only other player in the top-five of odds with an MVP already under their belt.
Rodgers has won the MVP twice before (2011, 2014) and with Matt LaFleur taking over as head coach for the Packers, Rodgers is expected to return to form. Over the last two years, Rodgers has had a 10-12-1 record but was still selected for last season's Pro Bowl with 4,442 yards, 25 TDs, and 2 picks.
Two more quarterbacks share the third-place spot with Rodgers: Andrew Luck of the Indianapolis Colts and Baker Mayfield of the Cleveland Browns.
Luck played all 16 games last year, his first time since 2014, and threw for 39 touchdowns and over 4,500 yards, winning the NFL Comeback Player of the Year Award. Luck is projected to have another great year, but a high-ankle issue has appeared this preseason that could sideline Luck for a game or two in 2019.
After taking the field for the first time in Week 3, Mayfield started the remaining 13 games for the Browns in 2018, posting a respectable 3,725 yards, 27 touchdowns, and 14 interceptions. But with the offseason acquisition of Odell Beckham Jr, Mayfield can help lead the Browns in their huge cultural shift and his first MVP nod.
A couple of elder statesmen, New Orleans Saints QB Drew Brees and 3x MVP New England Patriots QB Tom Brady, share +1400 odds. Both quarterbacks earned Pro Bowl honors in 2018 despite both being over 40 years old with Brady taking home his sixth Super Bowl victory.
Based on the odds, quarterbacks make up the first 17 spots. However, at +5000 odds, running backs Alvin Kamara of the Saints, Christian McCaffrey of the Carolina Panthers, and Ezekiel Elliot of the Dallas Cowboys are the first non-QBs on the list.
In 2018, Elliot put up the most rushing yards between the trio with 1,434 on the ground, but McCaffrey had the most all-purpose yards with 1,965.
MVP tracking can really begin when the season kicks-off September 5 with the Packers taking on the Bears at Soldier Field in Chicago.
A full list of this year's MVP odds can be found below, covering offensive and defensive players in the NFL.
2019 NFL MVP odds
@BetOnline
Patrick Mahomes +600
Carson Wentz +900
Aaron Rodgers +1200
Andrew Luck +1200
Baker Mayfield +1200
Drew Brees +1400
Tom Brady +1400
Philip Rivers +2000
Ben Roethlisberger +2500
Cam Newton +2500
Deshaun Watson +2500
Jimmy Garoppolo +2500
Matt Ryan +2500
Russell Wilson +2500
Jared Goff +3300
Lamar Jackson +3300
Mitchell Trubisky +3300
Alvin Kamara +5000
Christian McCaffrey +5000
Ezekiel Elliot +5000
Jameis Winston +5000
Kirk Cousins +5000
Kyler Murray +5000
Saquon Barkley +5000
Todd Gurley +5000
Aaron Donald +6600
Dak Prescott +6600
Antonio Brown +8000
David Johnson +8000
Derek Carr +8000
Joe Flacco +8000
Marcus Mariota +8000
Matthew Stafford +8000
Nick Foles +8000
Odell Beckham Jr +8000
Andy Dalton +10000
DeAndre Hopkins +10000
Eli Manning +10000
JJ Watt +10000
Joey Bosa +10000
Julio Jones +10000
Khalil Mack +10000
Melvin Gordon +10000
Sam Darnold +10000
Adam Thielen +15000
Dwayne Haskins +15000
Keenan Allen +15000
Leonard Fournette +15000
Nick Bosa +15000
Tyreek Hill +15000
Von Miller +15000