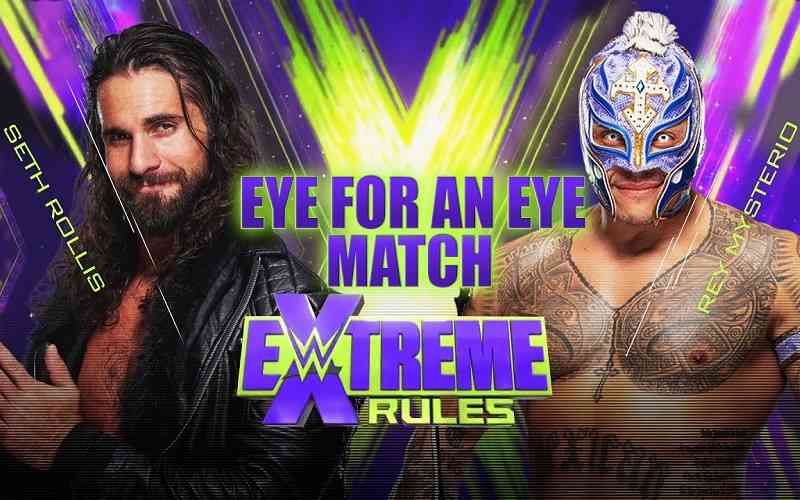 Are you ready for a Horror Show? That's exactly what the WWE plans to deliver Sunday night at their Extreme Rules pay-per-view when Seth Rollins faces off against Rey Mysterio in what they are calling an "eye for an eye" match.
The wrestling betting odds have been revealed and feature Mysterio as an underdog to Rollins.
The phrase for the match title stems from the old biblical adage, "An eye for an eye, a tooth for a tooth," which has served to define extreme retaliation measures for over two millennia.
The WWE is using that proverb literally for the Sunday evening's Horror Show match between Mysterio and Rollins, as no winner will be determined until the eye of one of the combatants is popped out.
The stipulation came about because Mysterio's eye was injured in a match against Rollins a few weeks ago, and now many are wondering if WWE owner Vince McMahon has lost his marbles for allowing such a contest to commence.
Professional wrestling results are scripted, but the injuries that are suffered due to the actions of the performers are legit. Falling onto a concrete floor from 10+ feet in the air is going to hurt whether it is scripted or not.
So how does the WWE plan to allow for this particular conclusion to the match? Surely, they aren't suggesting that a wrestler pop out another performer's eye, are they?
According to Ringside News, the WWE is planning to use computer-generated imagery (CGI) to provide the special effect of a wrestler's eye getting popped out. If you think adding that type of effect to a live match may seem like a lofty aspiration, it is.
This Horror Show match will be pre-filmed and presented in the same Hollywood-style manner as the Boneyard Match between A.J. Styles and the Undertaker at WrestleMania 36 last April. Apparently that match was a hit with viewers and the WWE will continue that trend on Sunday night.
If you have an opinion on which fighter will lose his eye first, you can earn some money by placing a wager on it.
WWE Extreme Rules pay-per-view odds provided by BetOnline.
Rey Mysterio vs Seth Rollins
Seth Rollins -200
Rey Mysterio +150
Because of wrestling's scripted nature, it falls into the realm of entertainment betting, alongside other popular categories like wagering on the Oscars and political odds.
There is the potential for the results to be revealed prior to the contest's occurrence, but that same possibility is present for almost any scripted entity or award show. In fact, those types of revelations can cause betting lines to completely disappear off the boards.
One factor that could be affecting the odds is Rey Mysterio's contract status. He is currently operating on a per-match basis and this oddball stipulation could be designed to write him off of television.
Seth Rollins is one of the top performers in the WWE, and is someone that the promotion will continue to lean on for years to come. It is incredibly unlikely that he will have his eye gouged out at Extreme Rules, but a great narrative will keep the viewer guessing, right?
Will one of the performers show up at Monday Night Raw the following evening with an eye missing?  Not likely. Chances are, Mysterio will lose, and depart the company for a while.
Either way, the Horror Show should prove to be an exciting match. Viewer reaction will go a long way in determining if the WWE will continue to offer these high-budget, pre-filmed matchups in the future.
Source: Ringside News