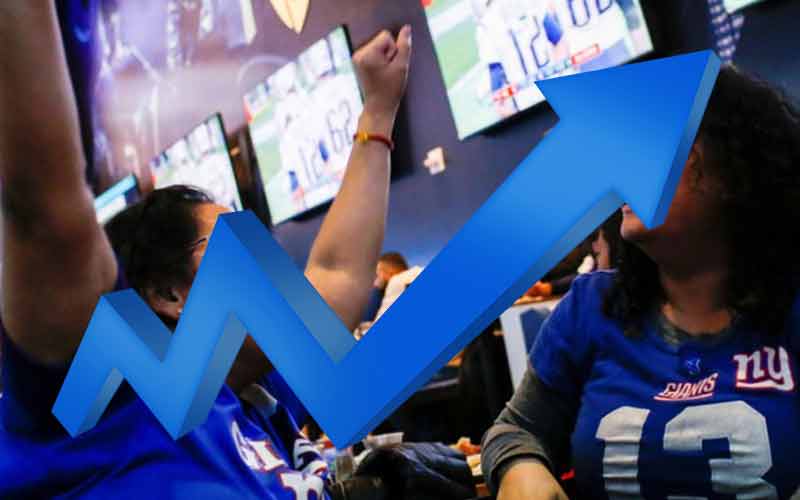 It's no secret that the expansion of legal sports betting across the United States is having an impact on televised sports.
Anyone that watched the Thursday Night Football game between the Washington Football Team and the New York Giants last night were treated to several advertisements from DraftKings asking customers to legally bet on the NFL online using their services.
We recently reported on the significant increase in Week 1 NFL television ratings across the board, and now, data is coming in suggesting that domestic National Football League betting is up 126% over the same period of time in 2020.
A Canadian company by the name of GeoComply Solutions has been analyzing domestic sports betting activity in the United States, and earlier this week, they reported that roughly 58.2 million wagers were placed on Week 1 NFL games.
When compared to 25.8 million domestic NFL bets placed during the same time period in 2020, it is easy to point the finger at the additional venues added during that 12-month span.
Sure, the amount of US States and districts that regulate domestic sports betting have increased during the last year, but they haven't doubled.
The tech firm specifically pointed to increased activity in Arizona as a hotspot for additional pro football betting activity.
Legal sports betting in Arizona was launched just in time to take in action for the 2021-22 NFL season's debut, and alongside New Jersey, Michigan, Illinois, and Pennsylvania, they rank among the top earners thus far.
AZ sports gamblers placed over 6 million wagers between last Thursday and Monday night, suggesting that regional 21+ customers have been anxious to get to the sportsbook window and lay some action on the Cardinals or bet on NFL teams located in other territories.
What is not directly represented in the data is the amount of action directed to domestic sportsbooks in AZ because of the inclusion of online sports betting options.
The revenue generated in states that allow for domestic online sportsbooks greatly outdraws the totals reported in regions that do not.
The other top-earning sports betting states mentioned above are also among those that include online and mobile sportsbook options that are government-regulated.
Offshore sports betting sites are still able to take bets over the web across the entire USA due to a lack of laws in place to prevent them, and it can be assumed that these internationally-based operations are doing most of their business in states where online sportsbooks are not domestically regulated.
Regions do not begin to rake in any significant revenue totals until online or mobile betting apps become a part of the equation. It is clearly shown in the state-by-state sports betting revenue, and is also revealed in the data produced by GeoComply Solutions.
Patrons would much rather bet on pro and college sports from the comfort of their own home than being forced to travel to a retail venue. States that do not opt for mobile or web-based sportsbooks force their citizens to visit another region, or do their business offshore.