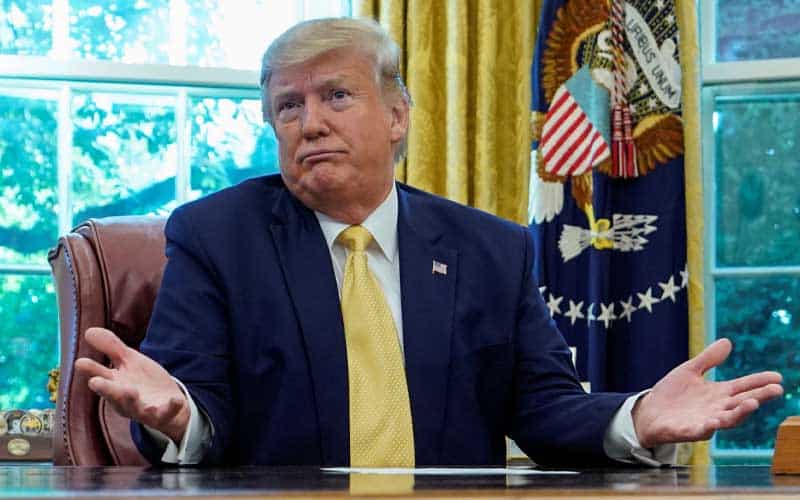 It's the day after the fourth Democratic debate, and President Donald Trump is still able to steal the headlines.
According to the oddsmakers at Bovada, Trump's impeachment odds are falling back into his favor. As they currently stand, the chances that Trump is or is not impeached both have -115 odds.
Will Trump be impeached during his first term?
Less than two weeks ago, Trump's chances were against him, favoring his impeachment at -150 odds.
After wagering took place during last night's Democratic debate, it appears the public betting market believes the 12 candidates on stage did not make a good enough case for impeaching the President when the issue was brought up.
Oddly enough, Trump's odds are shifting away from impeachment despite a slew of testimonies from current and former White House officials.
Former Russian adviser Fiona Hill became the first official to cooperate with the impeachment inquiry, giving her testimony to Congress on Monday. According to Hill, she met with a National Security Council lawyer on multiple occasions to discuss Rudy Giuliani's role in coercing the Ukrainian government to investigate Trump's political rivals.
George Kent, deputy assistant secretary of state for European and Eurasian Affairs, ran the gauntlet yesterday, testifying on Tuesday for nearly 10 hours. The Trump administration lawyers tried to block Kent from testifying in the inquiry, but after being subpoenaed, Kent obeyed the committee's demands.
Like Hill, Kent detailed Giuliani's role in the Ukrainian controversy. Kent also raised concerns over the unfounded charges against the Biden family that Guiliani seemed to believe and influence the President with.
After Kent's deposition, Sen. Chris Murphy said he was stunned by the details.
"The details we are learning about the shadow foreign policy operation Trump has been running to benefit himself personally are stunning."
Also set to appear this week is a former adviser to State Secretary Mike Pompeo, Michael McKinley. After resigning last week, McKinley plans to begin his testimony with his reasoning for relinquishing himself from duty: the Department's poor support for foreign service officers, exhibited by the lack of defense for former US Ambassador to Ukraine Marie Yovanovitch.
"If he had encountered something either that was happening in the State Department or he felt he could no longer carry out his duties without compromising his integrity and his principles," a former coworker of McKinley's said, "he is somebody who would feel he had no choice but to resign."
Trump lashed out on Twitter this morning, claiming that the impeachment inquiry was based on "Fraud and Fabrication" by the Democratic Party.
Republicans are totally deprived of their rights in this Impeachment Witch Hunt. No lawyers, no questions, no transparency! The good news is that the Radical Left Dems have No Case. It is all based on their Fraud and Fabrication!

— Donald J. Trump (@realDonaldTrump) October 16, 2019
It should be noted, however, that while Trump's impeachment odds are even on Bovada, other political betting sites differ.
PredictIt, an experimental project operated for academic purposes, allows the public to trade shares to determine future market odds.
The site's page dedicated to Trump's impeachment odds reveals that users still favor his impeachment 68¢ to 32¢, although the numbers have dropped from 72¢ per share in favor during the last 24 hours.