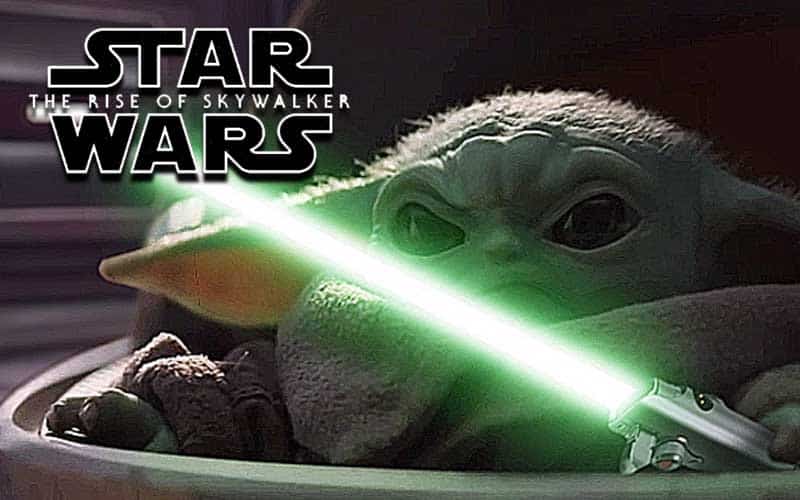 The Star Wars series began in 1977 with the release of the first movie, retroactively named Star Wars: Episode IV – A New Hope. Overall, there have been 12 films, multiple television shows– including the highly successful Disney+ original The Mandalorian– and even a holiday special.
The Skywalker saga, which includes the nine movies in the main storyline (1977-2019), is set to come to an end with Episode IX – The Rise of Skywalker later this month.
In preparation for the seismic release on December 20, BetOnline is accepting action on how the final film might play out, including some crossovers, possible deaths, and meme references.
One thing that fans of The Mandalorian will be looking for in The Rise of Skywalker is Baby Yoda. Taking place between Episode VI and Episode VII, The Mandalorian tells the story of a Mandalorian bounty hunter.
However, in what has become the star of the show, Baby Yoda is a child-like character that appears to be the same species as Master Yoda from the original and prequel trilogies.
As BY is likely alive during The Rise of Skywalker, barring any disaster in upcoming episodes of The Mandalorian, an appearance could happen. However, according to the entertainment betting odds, it's not likely.
Baby Yoda's odds of showing up in The Rise of Skywalker favor "No" at -2500 and "Yes" at +1000. All I know is that even a glimpse of BY would cause the theater to erupt louder than when Captain America used Thor's hammer in Avengers: Endgame.
I can't believe the big twist in Rise of Skywalker is that all the Skywalkers are descendants of Yoda and that Rey and Baby Yoda are cousins. Brave move.

— J. Dana Stuster (@JDanaStuster) December 10, 2019
Will Baby Yoda makes an appearance?
Speaking of Avengers: Endgame, there's also a bet on Episode IX's performance compared to the Marvel blockbuster. In just five days, Endgame was able to haul in $1.2 billion back in April 2019.
Oddsmakers favor Endgame's five-day total staying ahead of The Rise of Skywalker at -500 odds. There is a 20.62% chance that Episode IX can top it, though.
Which movie will have a higher worldwide gross after five days?
Avengers: Endgame -500
Star Wars: The Rise of Skywalker +300
The Star Wars saga has had plenty of memorable quotes over the years. However, other than Darth Vader's "I am your father" line, "May the Force be with you" has had more cultural impact on everyday lexicon than nearly any other movie line ever.
Despite this, the phrase is favored to be uttered under two times in the newest film with -200 odds while the over has +150 odds of hitting.
How many times will "May the Force be with you" be said?
Under 2 times -200
Over 2 times +150
One of the internal struggles throughout the sequel trilogy has been Rey's fight against the Dark Side within herself. Adding even more speculation that Rey could finally turn against the Light is the D23 Special Look trailer for Episode XI.
At the end of the trailer, a voice can be heard saying: "Your journey nears its end." Immediately after, Rey appears with a double-bladed folding red lightsaber and a black cloak, reminiscent of Sith like Emporer Palpatine, Darth Maul, Darth Vader, and even Kylo Ren.
Even with this quick moment in the trailer, the odds do not favor a Dark Side turn for Rey. Darth Rey only has +400 odds compared to Rey's Light Side prevailing at -700 odds.
Will Rey turn to the Dark Side?
Without giving up any spoilers, Star Wars has killed off a few main characters in its day. With the end of the Skywalker saga in the upcoming film, it is possible there could be more deaths to come.
Oddsmakers at BetOnline are accepting action on two characters dying in The Rise of Skywalker: C-3PO and Kylo Ren.
For 3PO, it's a toss-up as both the "Yes" and "No" on his death chances are at -120 odds. As for Kylo, his death is favored at -250 odds.
Will C-3PO die in The Rise of Skywalker?
Will Kylo Ren die in The Rise of Skywalker?
The final prop bet stems from a scene in The Last Jedi when Kylo and Rey Force bond to have a conversation about Luke Skywalker. In the scene, Kylo appears shirtless while chatting.
Shortly after, singer John Mayer posed shirtless for Instagram with the caption "#kylorenchallenge" and the meme began.
Unfortunately for fans of topless photos, Kylo's shirtless scenes are favored to happen less than one time at -200 odds.
How many times will Kylo Ren appear shirtless?
Under 1 time -200
Over 1 time +150