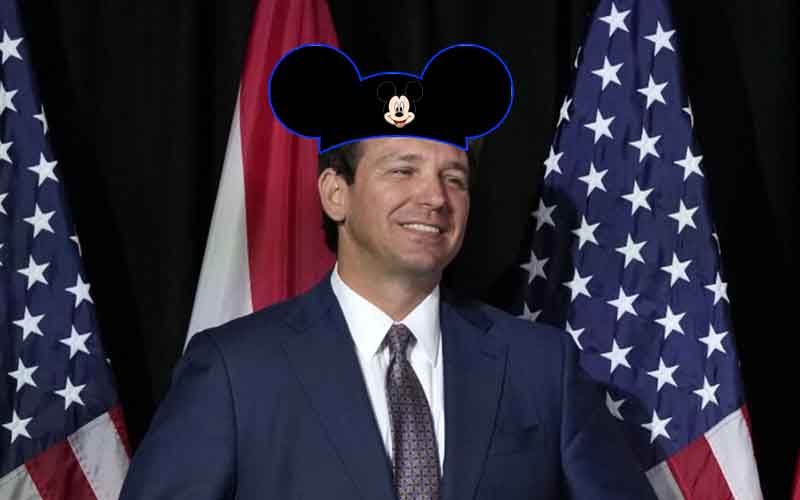 Florida Governor Ron DeSantis' feud with Disney enters another chapter as it appears the corporate monolith has gained an edge in its battle for self-regulation.
For decades, the Reedy Creek Improvement District Board granted the Walt Disney Company regulatory autonomy, but that all changed when the largest taxpayer in the state spoke out against one of Desantis' policies.
"A year ago, the company took a position on pending Florida legislation. And while the company may have not handled the position that it took very well, a company has a right to freedom of speech just like individuals do."

Bob Iger, CEO of the Walt Disney Company
Despite Disney providing 75,000 jobs and bringing in 50 million+ tourists to Florida annually, Gov. DeSantis has decided to go all-in against them in a move that reeks of revenge.
Legal online entertainment betting sites have now chimed in with a series of prop bets taking action on a number of Disney and Florida-related outcomes.
Disney & DeSantis Prop Bets
Donald Trump To Wear Mickey Mouse Ears On Stage At A Rally This Year +250
Disney's Self-Governing District To Be Reinstated Before 2025 +400
Bob Iger To Run For US President In 2024 +2000
Disney To Move Disney World Resort To Another State Before 2030 +3000
Ron DeSantis To Be Permanently Banned From Disney World's Amusement Parks In Florida This Year +3000
It has long been assumed that DeSantis is positioning himself for a 2024 Presidential campaign. He's been tagged as the next man up in the Republican Party for years now and has outranked Trump at times in the odds posted at online political sportsbooks.
The first special listed in the above Disney prop suggests that Donald Trump will potentially wear a Disney hat at some point during his campaign. Don't think for a second that Donald won't acknowledge DeSantis getting hoodwinked by Disney, but will be put on one of those silly caps just to accomplish the task?
Payouts of $3.50 are being offered by Bovada on one-dollar wagers.
Before DeSantis could install the Central Florida Tourism Oversight District to become the new governing body of Disney's FL properties, the prior board voted to grant the company near-autonomy until 21 years after the death of King Charles III's last descendant.
The above political prop bet is offering 4-to-1 payouts on the prospect of Disney's self-governing district being reinstated by 2025. The year that Bovada chose was not an accident.
There is a strong potential that DeSantis will become the next President of the United States. If so, Florida's next Governor will likely adopt a more friendly stance toward Disney and make a move to establish better relations.
Will Disney Leave Florida?
The odds of Disney packing up and leaving the Sunshine State are not favorable at the moment. The +3000 moneyline on a Disney departure from Florida roughly equates to a probability of 3.5%.
While a move is unlikely, continued political pressure from the state could cause a change of plans. DeSantis has asked that regulators investigate the legality of Disney's agreement with the Reedy Creek board. If that authority is overturned, Disney's plans could go into motion immediately.
Disney Betting Odds – Bovada Sportsbook (Read our Bovada review for more information)