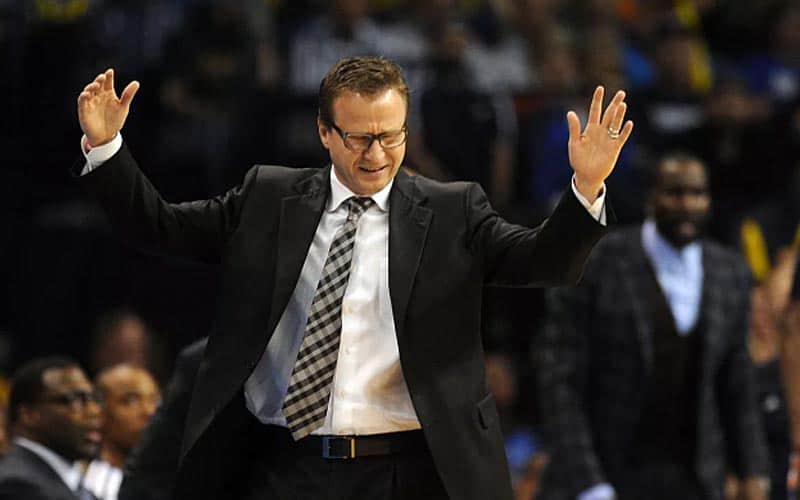 The life an NBA head coach can be grueling. Long hours, high stress, and the possibility of losing your job despite having a contract in place.
Every season, NBA coaches lose their job. Sometimes the team waits until the end of the season, but other times, the team will fire a coach in the middle of a season.
Oddsmakers at BetOnline have compiled a list of NBA coaches most likely to be fired this season, including many that have already been let go multiple times throughout their careers.
Unfortunately for Washington Wizards coach Scott Brooks, he tops the NBA betting odds for this list at +225.
First NBA head coach to be fired or leave his post
Scott Brooks +225
Billy Donovan +300
Mike D'Antoni +400
Brett Brown +700
Jim Boylen +800
Frank Vogel +1200
Dwane Casey +1400
Alvin Gentry +1600
Ryan Saunders +1600
David Fizdale +2000
Brad Stevens +2500
Luke Walton +2500
Nate McMillan +2500
Doc Rivers +3300
Terry Stotts +3300
Quin Snyder +6600
Brooks, a former NBA player himself, got his first head coaching job with the Oklahoma City Thunder in 2008. After going 22-47 in his 69-game interim season, Brooks won 50 games in OKC in the 2009-10 season.
During his tenure with the Thunder, Brooks won at least 45 games in each of his full-time coaching seasons. However, after the 2014-15 season, Brooks was fired by OKC.
Joining the Wizards in 2016, Brooks won 49 games. The next season, the team notched 43 wins. Continuing to trend downward, Washington only won 32 games in the 2018-19 season. If the team cannot turn things around this season, even with PG John Wall's injury, Brooks could be given the door early.
The coach with the second-best odds to be fired first is actually Brooks's OKC replacement. Billy Donovan took over for the Thunder in April 2015, winning 55 games in the 2015-16 season.
Donovan then won 47, 48, and 49 games in subsequent seasons. However, now that the Thunder are in a rebuilding phase, having traded away SF Paul George and PG Russell Westbrook, the team is not expected to be over .500 this season.
Coupled with three consecutive first-round playoff losses, Donovan is likely to be fired this season.
Other NBA coaches on the hot seat this season include Mike D'Antoni of the Houston Rockets (+400), Brett Brown of the Philadelphia 76ers (+700), and Jim Boylen of the Chicago Bears (+800).