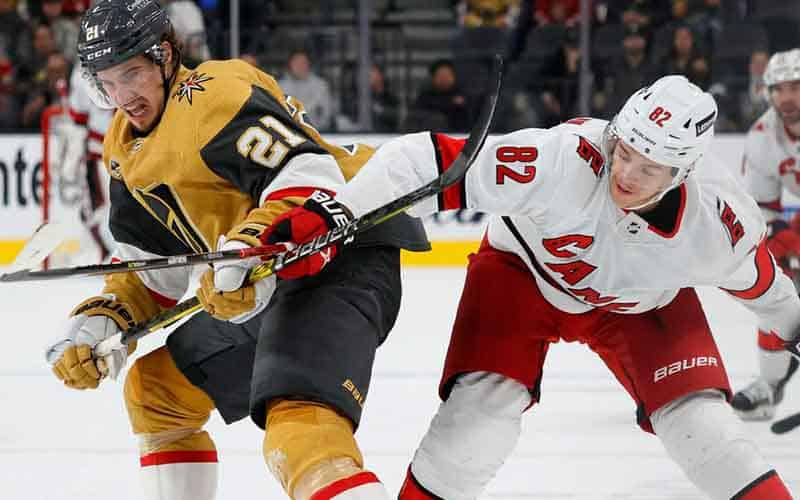 The Seattle Kraken lost Game 7 of their NHL Playoff series 2-1 to the Dallas Stars, setting the final four teams in play for the 2023 Eastern and Western Conference Finals.
Tonight's Game 1 between the Florida Panthers and Carolina Hurricanes sets off the Conference Finals, with a wide array of odds offered on the action from online NHL Playoffs betting sites.
Game 1 Betting Lines For The NHL Conference Finals
This evening at 8:05 PM, the Hurricanes host the Panthers for Game 1, where they're favored to win by -1.5 goals.
Florida Panthers @ Carolina Hurricanes
Puck Spread: Florida +1.5, Carolina -1.5
Moneyline: Florida +120, Carolina -140
Over/Under: 5.5
Tomorrow night at 8:35 PM, the Vegas Golden Knights are favored to win Game 1 at home against the Dallas Stars by -1.5 goals.
Dallas Stars @ Vegas Golden Knights
Puck Spread: Dallas +1.5, Vegas -1.5
Moneyline: Dallas +105, Vegas -125
Over/Under: 5.5
NHL Conference Finals Series Prices
The following series prices are taking action on the overall winner of the NHL's Western and Eastern Conference Finals, and the odds favor the projected game one series to be the first to win four games.
Carolina Hurricanes vs. Florida Panthers
Carolina -135
Florida +115
Vegas Golden Knights vs. Dallas Stars
However, the odds at NHL sportsbooks are not definitive, with moneylines no more than 40 points away from even for all four franchises. This suggests that both series have the potential to extend to 7 games.
NHL Prop Bets For The Conference Finals
The following Stanley Cup Playoff props also suggest a lengthy series in the East and the West, with 6 or 7 games leading the odds in both cases.
Number of Games in Series (Best of 7) – Golden Knights vs. Stars
6 Games +200
7 Games +200
5 Games +250
4 Games +575
Number of Games in Series (Best of 7) – Panthers vs. Hurricanes
6 Games +180
7 Games +200
5 Games +265
4 Games +600
The highest profit potential available is on either series resulting in a 4-game sweep, with 5.75-to-1 and 6-to-1 payouts on the line.
Who Will Win The 2023 Stanley Cup?
The futures for betting on the Stanley Cup Finals winner are also closely bunched together for all four NHL teams.
2023 Stanley Cup Odds To Win
Carolina Hurricanes +230
Vegas Golden Knights +250
Dallas Stars +280
Florida Panthers +325
The projected winner is separated from the bottom-ranked squad by only 105 points in the 2023 Stanley Cup odds – another strong indicator that any of the remaining teams have a solid chance of becoming NHL Champions.
Payouts of between 2.3-to-1 and 3.25-to-1 are being offered to hockey gamblers that have the courage to call their shot right now. The only catch is that cash winnings cannot be collected until the Stanley Cup Finals conclude in June.
NHL Conference Finals Odds Provided By Bovada.LV (Bovada Sportsbook Review) and BetOnline.AG (BetOnline Sportsbook Review)