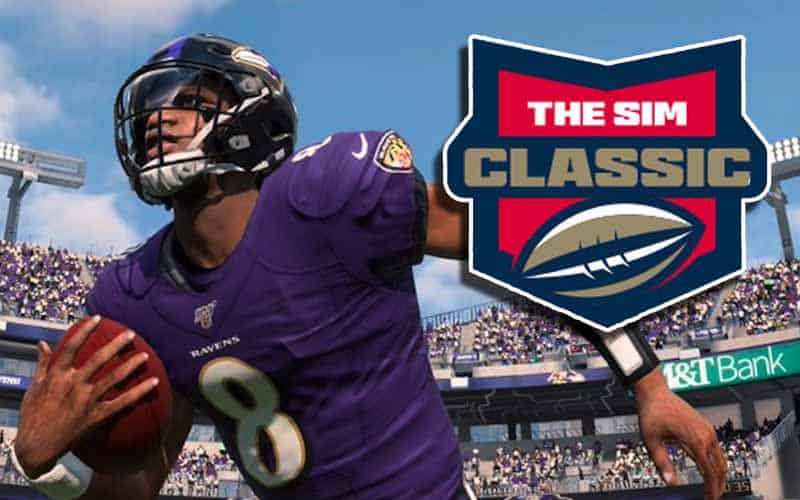 As the light of sports returning appears at the end of the at-home tunnel, the top legal US betting sites are making sure bettors aren't "Mr. or Ms. Irrelevant" during the remaining time in quarantine.
On May 9, Bovada Sportsbook raised the stakes by launching "The Sim Classic" — a month-long simulated tournament of the NFL season using EA Sports' Madden 20 with a FIFA World Cup-style bracket for the playoff format.
Alongside instantly making Roger Goodell's "No Fun League" actually enjoyable and fair by eliminating all tied outcomes, over 60 matches will take place before two teams from each division advance to the 16-team playoff to determine the sportsbooks' first-ever "NFL Sim Bowl I" champion on May 24.
The oddsmakers are using updated Madden 20 rosters with the most recent player ratings. A minimum of five games will be streamed daily from the LiveFootballSims Twitch Channel.
And what kind of sportsbook would it be without bets to place? Bovada has live betting odds, parlays, props, and futures available for the inaugural single round-robin group stage,  16-team playoff, and first-ever "Sim Bowl" title game.
The Baltimore Ravens are the betting favorites to win Bovada's The Sim Classic 2020 at +650 odds, meaning a $100 bet will win $650 if the computer AI leads MVP Lamar Jackson and company to a simulated pro football championship.
Today, betting on video game sims is both legal and has rapidly become one of the most popular ways to gamble responsibly during a time without sports. Below you can find the futures for Bovada's "The Sim Classic," and live odds are posted each morning on the site.
"The Sim Classic" Betting Odds
Madden 20 odds provided by Bovada
Sim Bowl 1 Odds
Baltimore Ravens +650
Green Bay Packers +700
Dallas Cowboys +750
New England Patriots +750
San Francisco 49ers +750
New Orleans Saints +850
Kansas City Chiefs +1000
Seattle Seahawks +1400
Minnesota Vikings +1600
Pittsburgh Steelers +1600
Houston Texans +2200
Philadelphia Eagles +2200
Tennessee Titans +2200
Los Angeles Chargers +3300
Atlanta Falcons +5000
Los Angeles Rams +6600
Tampa Bay Buccaneers +6600
Buffalo Bills +8000
Carolina Panthers +8000
Chicago Bears +8000
Denver Broncos +8000
New York Jets +8000
Cleveland Browns +10000
Indianapolis Colts +10000
Oakland Raiders +25000
Jacksonville Jaguars +30000
New York Giants +75000
Arizona Cardinals +100000
Cincinnati Bengals +100000
Detroit Lions +100000
Miami Dolphins +100000
Washington Redskins +100000
AFC Sim Odds
Baltimore Ravens +300
New England Patriots +350
Kansas City Chiefs +500
Pittsburgh Steelers +700
Houston Texans +950
Tennessee Titans +1000
Los Angeles Chargers +1200
Denver Broncos +2500
Buffalo Bills +2800
New York Jets +3300
Indianapolis Colts +4000
Cleveland Browns +5000
Jacksonville Jaguars +8000
Oakland Raiders +8000
Miami Dolphins +25000
Cincinnati Bengals +30000
NFC Sim Odds
Dallas Cowboys +425
Green Bay Packers +425
San Francisco 49ers +450
New Orleans Saints +525
Seattle Seahawks +700
Minnesota Vikings +850
Philadelphia Eagles +1100
Atlanta Falcons +2200
Tampa Bay Buccaneers +3300
Carolina Panthers +4000
Chicago Bears +4000
Los Angeles Rams +4000
New York Giants +25000
Washington Redskins +35000
Arizona Cardinals +40000
Detroit Lions +40000
Which division will win Sim Bowl 1?
AFC North +450
NFC West +450
NFC North +475
NFC East +575
AFC East +650
AFC West +650
NFC South +650
AFC South +1000