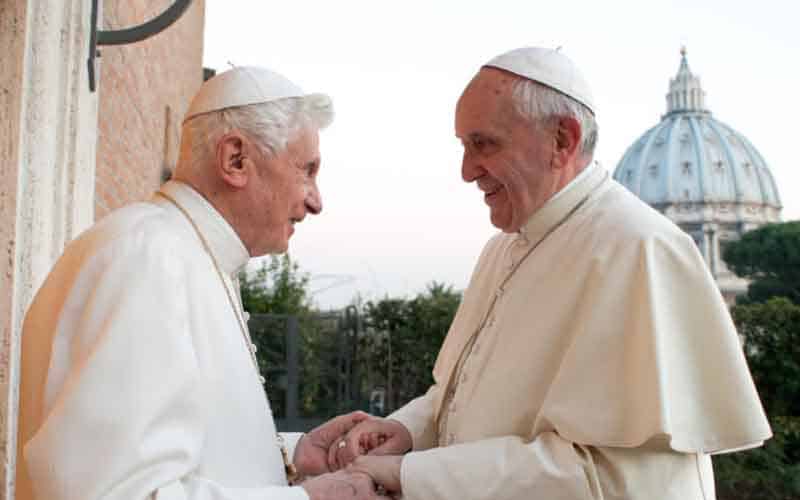 Pope Benedict XVI passed away on December 31, 2022. He was the first Pope to resign from his position since Celestine V in 1294, creating a scenario where his successor, Francis I, will become the only sitting Pope to ever preside over a Papal funeral.
Most papal reigns end when the sitting pope passes away. Papal funerals occur between the pope's death and the election of a new pope. Those that have left the office prior to death have been denied papal funerals, until now.
Could Francis I's elegy service inspire him to consider an early retirement? Entertainment betting sites think so, and more than one of our top online sportsbooks have weighed in on the subject.
Odds For The Next Pope After Francis I

Bovada

BetUS

Cardinal Luis Tagle (Philippines) +550
Cardinal Marc Ouellet (Canada) +600
Archbishop Angelo Scola (Italy) +1000
Cardinal Christoph Schonborn (Austria)+1000
Cardinal Peter Erdo (Hungary) +1000
Cardinal Sean O'Malley (United States) +1500
Cardinal Gianfranco Ravasi (Italy) +2000
Cardinal Robert Sarah (French Guinea) +2000
Cardinal Timothy Dolan (United States) +2000
Cardinal Albert Malcolm Ranjith (Sri Lanka) +2500
Cardinal Arthur Roche (England) +2500
Cardinal Oscar Rodriguez Maradiaga (Honduras) +2500
Cardinal Joao Braz De Aviz (Brazil) +3000
Cardinal Odilo Scherer (Brazil) +3000
Cardinal Pietro Parolin (Italy) +3000
Cardinal Vincent Nichols (England) +3000
Cardinal Leonardo Sandri (Argentina) +3300
Cardinal Mauro Piacenza (Italy) +3300
Cardinal Raymond Burke (United States) +3300
Cardinal Wilfrid Napier (South Africa) +3300
Archbishop Piero Marini (Italy) +4000
Cardinal Agostino Vallini (Italy) +4000
Cardinal Angelo Bagnasco (Italy) +4000
Cardinal Jose Tolentino De Mendonca (Portugal) +4000
Cardinal Matteo Zuppi (Italy) +4000
Cardinal William Eijk (Netherlands) +4000
Cardinal Anders Arborelius (Sweden) +5000
Cardinal Francis Arinze (Nigeria) +5000
Cardinal Mario Grech (Malta) +5000
Cardinal Reinhard Marx (Germany) +5000
Cardinal Vinko Puljic (Bosnia) +5000
Cardinal Francisco Robles Ortega (Mexico) +6000
Cardinal Thomas Collins (Canada) +6000
Cardinal Willliam Goh (Singapore) +6000
Patriarch Bechara Peter Rai (Lebanon) +6000
Cardinal Peter Turkson (Ghana) +7500
Cardinal Antonio Canizares Llovera (Spain) +8000
Cardinal Norberto Rivera Carrera (Mexico) +10000
Archbishop Diarmuid Martin (Ireland) +15000
The Iron Sheikh +100000

Mark Ouellet +300
Luis Antonio Tagle +400
Peter Turkson +500
Oscar Rodriguez Maradiaga +1200
Christoph Schonborn +1000
Raymond Leo Burke +1000
Angelo De Donatis +900
Angelo Scola +2000
Sean Patrick O'Malley +2000
Timothy Dolan +1800
Pietro Parolin +500
Peter Erdo +1200
Odilo Pedro Scherer +1400
Gianfranco Ravasi +2200
Mauro Piacenza +1400
Robert Sarah +900
Matteo Zuppi +1200
Joao Braz de Aviz +1800
Wilfrid Napier +1800
Dominik Duka +2000
Gerhard Ludwig Muller +2200
Malcolm Ranjith +2500
Mario Grech +3000
Willem Eijk +3300
Angelo Bagnasco +4500
Carlos Aguiar Retes +5000
Fernando Filoni +4500
Charles Maung Bo +3500
Vincent Nichols +1400
Leonardo Sandri +1600
Agostino Vallini +1600
Antonio Canizares Llovera +2200
Vinko Puljic +3000
Konrad Krajewski +900
Blase Joseph Cupich +2200
Lauro Tisi +2200
Albert Malcolm Ranjith +2800
Guido Marini +2800
Robert McElroy +2800
Giorgio Marengo +4000
The above two entertainment prop bets for the next pope have been created by Bovada and BetUS, two online sportsbooks that we rank at the top of the industry.
Both betting sites feature many of the same candidates in a similar order to the other, but there are some variances that can be exploited for gamblers seeking the highest profit potential.
The situation is the same in the following pope prop bet for next papal name.
Odds For Next Papal Name

Bovada

BetUS

Francis +150
John Paul +600
Leo +800
Benedict +1200
John +1200
Paul +1200
Gregory +1400
Clement +1600
Boniface +2000
Pius +2000
Stephen +2500
Celestine +3300
Honorius +3300
Peter +3300
Adrian +4000
Alexander +4000
Innocent +4000
Lucius +4000
Thomas +4000
Urban +4000
Sixtus +5000
Anthony +6600
Joseph +6600
Sebastian +6600
Jude +8000
Julius +8000
Paschal +8000
Florian +10000
Gerard +10000
Linus +10000
Marcellus +10000
Valentine +10000

Francis +300
Leo +300
Pius +400
John +400
Gregory +700
Benedict +700
Paul +800
Clement +800
John Paul +800
Stephen +1200
Boniface +1200
Innocent / Blessed Innocent +1200
Joseph / Josephus +1500
Alexander +1500
Celestine +2200
Urban / Blessed Urban +2000
As readers can see, the pope odds vary from site to site, and the only way to take advantage of this situation is to belong to more than one sportsbook.
Multiple sports betting site memberships allows gamblers to shop the odds for the best sportsbook payouts. Even on the most favored option of Francis, there is a 150-point disparity in the money line odds between the two sites.
To illustrate this point, a one dollar wager on Francis at Bovada will deliver a cash payout of $2.50, whereas the exact same bet made at Bovada will result in cash winnings of $4.
Continent Of Next Pope After Francis I
Europe -125
North America +400
Asia +450
Africa +550
Central Or South America +650
This final prop bet is only offered at Bovada and implies that the next pope will originate from Europe with odds listed in the negative.
Gamblers should keep in mind that these papal betting lines could take years to payout. On the other hand, these pope props could disappear soon.
Papal Betting Odds Provided By – Bovada, BetUS