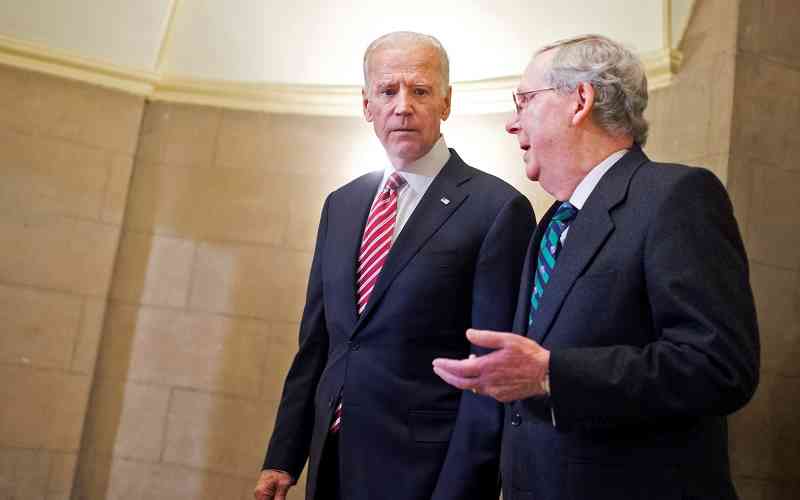 It's all over but the shouting, as presumed US Senate Majority Leader Mitch McConnell has acknowledged incoming President Joe Biden and has congratulated him on his victory.
Senator McConnell is fresh off of another victory in his home state of Kentucky and is poised for another six-year term in Washington, D.C. However, his leadership position in the US Senate is currently in jeopardy as two runoff elections in Georgia have the potential to topple the balance of power and give the majority back to the DNC.
Republicans Kelly Loeffler and David Perdue currently hold modest advantages in the political betting odds as well as the polls, so McConnell is already strategizing and plotting his next move to give the GOP the best stronghold during the Biden/Harris Presidential regime.
Mitch McConnell's acknowledgment of President Biden is one more step toward a final call being made on the 2020 Election, and hopefully blazing a path for Donald Trump to offer a proper concession, followed by an incident-free departure from the White House.
Bovada is anxious to wrap up Presidential betting lines as well because they'll earn the largest take on a single event in their history. Now, they've offered political prop bets on what Trump will do once his term is over on January 20, 2021.
Where Will Donald Trump's Permanent Residence Be After Leaving The White House?
Palm Beach, FL -450
New York City, NY +500
Washington, D.C. +750
If Trump is going to remain relevant in the political arena and make another run at the Oval Office in 2024, you'd figure he'd need to be centrally located near the D.C. region, but oddsmakers are implying that he'll set up camp in Mar-a-Lago where he can take in 18 holes at his leisure.
It makes sense. Donald isn't like normal people. If he needs to be somewhere, he can hop in a chopper that will escort him to a private jet. Like him or not, he travels in style and can suddenly appear anywhere in the country on a whim.
Will Donald Trump Accept A Contributor Deal Or His Own Show On A Television News Network In 2021?
Will Donald Trump Announce His Intention To Launch His Own Right-Wing Media Venture In 2021?
There have been rumors that Trump will attempt to establish either a right-wing news network or show once he leaves office. He's a large ratings draw, and was so before his political run, so it'd be no surprise to see him attempt to get back into television production.
With Rush Limbaugh no longer in the picture, perhaps Trump can fill that void and experience similar influence over the airwaves. Stranger things have happened, and he could parlay it into another term as President if he can lob criticisms toward Biden from the cheap seats and rally his base at the same time.
Will Donald Trump Create His Own Political Party By 2024?
Entertainment betting sites don't believe that Trump will attempt to create his own political party for the 2024 election and neither do we. Donald knows the game and will play by the rules set forth in front of him, and also realizes that any third-party campaign attempt could mean political suicide.
Count on President Trump to remain in the GOP and attempt to be the torch-carrier of the party for at least the next four years.
But what about the last four years? Will Trump want to capitalize by telling Americans how everything went down in his own words? You can bet that he will, and the odds suggest a strong likelihood of seeing it on the shelves of local bookstores before too long.
Will Donald Trump Publish A Memoir In 2021?
Most of these Presidential prop bets have action that end before the year is out, so make sure to read the fine print on each of the lines so you're not surprised by any of the stipulations involved.
Source: The Guardian