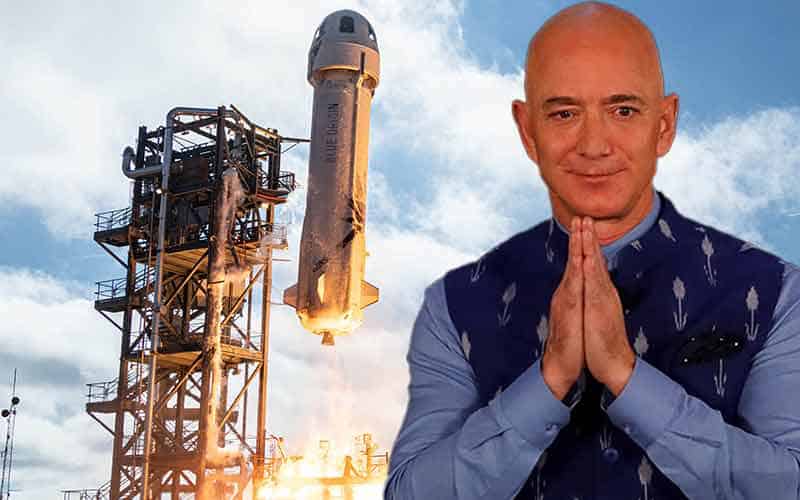 Jeff Bezos may have stepped back from his leadership role at Amazon, but that hasn't stopped him from remaining globally relevant in the realm of economics and space travel.
While he may be more well known for starting the online shopping juggernaut, Amazon, Jeff Bezos is now lighting up the odds at entertainment betting sites for outcomes relating to his upcoming space flight next Tuesday.
Blue Origin, the company responsible for this upcoming space mission, recently placed a spot on the flight up for auction. The anonymous bidder that secured the seat for $28 million had to bow out, thus his spot was awarded to 18-year-old Oliver Daemon who will become the youngest space traveler in history.
The rocket will carry the moniker of "New Shepherd," and will escort four human beings into space for an 11-minute flight that is intended to test the craft's capabilities.
The following entertainment prop bet lists Texas as the most likely landing spot for the returning capsule, but the slightest miscalculation on re-entry could cause for the state of New Mexico or the country of Mexico to receive Bezos and company.
Where Will The Capsule Containing Jeff Bezos Land On Re-Entry?
Texas -1000
New Mexico +350
Mexico +1200
Of course, upon landing in an international territory that is not governed by the United States, the craft and all people on board become subject to regional laws and governance.
The following Bezos odds at online sportsbook sites suggest that the Mexican government will not opt for an international incident and instead allow the New Shepherd and its crew to return to the USA.
Bezos Capsule To Be Seized By The Mexican Federales?
Who will emerge from the capsule following its landing? The odds suggest Bezos will indeed be the glory hog and exit the capsule first, but if he doesn't, the line implies that he'll come out last.
In What Order Will Jeff Bezos Emerge First From Capsule On Landing?
First EVEN
Fourth +150
Second +450
Third +450
All this extra attention on Jeff Bezos' space flight will certainly draw some investors toward Amazon stock. The odds on Amazon's stock price following next Tuesday's launch are predicting a change in value from the prior day.
Amazon Share Price At Close Of Launch Day Up Or Down On Previous Day's Close?
Although not favorable, odds on Jeff Bezos to become the 2021 Time Person Of The Year are currently at 20-to-1, and considering his Howard Hughes-like entrepreneurial and aeronautical endeavors, he is a legitimate contender.
Who Will Be Named Time Person Of The Year For 2021?
Doctors, Nurses, First Responders, Healthcare Workers +175
World Health Organization +400
Anthony Fauci +700
Joe Biden +700
Kamala Harris +700
Journalists +1000
Epidemiologists +1200
Black Lives Matter +1600
Climate Activists +1600
Angela Merkel +2000
Jeff Bezos +2000
Jacinda Ardern +2500
Médecins Sans Frontières +2500
Teachers And Educators +2500
Bill Gates +3300
Elon Musk +3300
Greta Thunberg +3300
Nancy Pelosi +3500
Marcus Rashford +4000
Chuck Schumer +5000
Kayla Barron +5000
LeBron James +5000
Michelle Obama +5000
Mitch McConell +5000
Pope Francis +5000
Stacey Abrams +5000
Beyonce +6600
Cardi B +6600
Mark Zuckerberg +6600
Rihanna +6600
Donald Trump +8000
Meghan Markle +8000
Narendra Modi +8000
Xi Jinping +8000
Boris Johnson +10000
Kim Jong-Un +10000
Jeff Bezos previously won Time Magazine's Person of the Year in 1999, and considering how often someone has won the award twice, think long and hard prior to placing a wager on him to repeat in 2021.