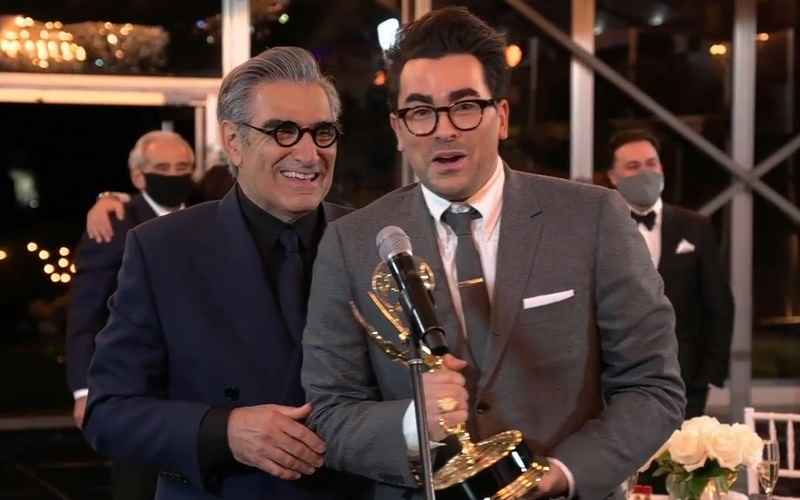 The 2020 Emmy Awards will certainly be a broadcast that is reflected upon for years to come, as its lack of audience and remote participation by the nominees will hopefully be an anomaly that will not be required in future airings.
The ceremony began swimmingly, with host Jimmy Kimmel delivering punchlines and opening remarks to slickly edited in video segments of crowds from previous years. Of course, this was done tongue-in-cheek, with some shots featuring Kimmel himself in the audience.
In show business, there is an old saying that states, "the show must go on," and go on it did, despite the hardships presented by travel restrictions and COVID-19 related precautions in place.
Conventional wisdom also suggests that when betting on the Emmys, or other similar awards shows, that the winner is often one of the top two options featured in the odds.
Let's see how that theory panned out for the 2020 Emmy Awards using the following odds that were originally posted by Bovada.
Outstanding Comedy Series
Schitt's Creek -175
The Marvelous Mrs. Maisel +145
Curb Your Enthusiasm +900
The Good Place +1200
Dead to Me +1400
The Kominsky Method +1800
Insecure +2500
What We Do in the Shadows +4000
Schitt's Creek, the Netflix original comedy series that just posted its final season, has been the favorite in the category of Outstanding Comedy Series since the odds debuted a few weeks back. The sixth and final season was the kicker for Schitt's Creek, as they took home awards for:
Best Outstanding Comedy Series
Outstanding Lead Actor in a Comedy Series
Outstanding Lead Actress in a Comedy Series
Outstanding Supporting Actor in a Comedy Series
Outstanding Supporting Actress in a Comedy Series
Eugene Levy, Katherine O'Hara, and company won every single award that they were nominated for that featured betting action. Although most of the nominees for Creek were featured toward the top of the odds, there was still some decent money to collect by wagering $100 on each contender.
Schitt's Creek: $100 wager = $57.14
Eugene Levy: $100 wager = $36.36
Katherine O'Hara: $100 wager = $13.33
Daniel Levy: n/a, odds locked*
Annie Murphy: $100 wager = $350
As you can see, If you have confidence in a particular show and its performance, betting across the board can create for a massive payday. Even though Schitt's Creek was favored to win in most categories, a cash payout of $456.83 could have been earned by wagering on all related nominees.
Outstanding Lead Actor in a Comedy Series
Eugene Levy -275 – WINNER
Ramy Youssef +300
Ted Danson +400
Don Cheadle +1200
Michael Douglas +1200
Anthony Anderson +1500
Outstanding Lead Actress in a Comedy Series
Catherine O'Hara -750 – WINNER
Rachel Brosnahan +350
Christine Applegate +650
Issa Rae +1200
Linda Cardellini +1800
Tracee Ellis Ross +3300
Outstanding Supporting Actor in a Comedy Series
Tony Shalhoub -300
Daniel Levy – WINNER
Alan Arkin +800
Mahershala Ali +1000
Kenan Thompson +1400
Sterling K. Brown +1600
Andre Braugher +3300
William Jackson Harper +3300
Outstanding Supporting Actress in a Comedy Series
Alex Borstein -500
D'Arcy Carden (locked)
Annie Murphy +350 – WINNER
Kate McKinnon +550
Marin Hinkle +1400
Betty Gilpin +2500
Yvonne Orji +2500
Cecily Strong +3300
The biggest money maker of the night was Zendaya and her +2000 odds for her role in HBO's Euphoria. Zandaya's victory represents one of the rare occurrences when a nominee featured toward the bottom of the betting odds surprises and takes home the trophy.
This is precisely why entertainment betting can be so profitable. Odds are set using a wide variety of factors and indicators, but ultimately, the winner is entirely decided by the voters and their individual opinions.
Outstanding Lead Actress in a Drama Series
Laura Linney +100
Olivia Colman +175
Jennifer Aniston +275
Jodie Comer +1400
Zendaya +2000 – WINNER
Sandra Oh +4000
Unfortunately, these 2020 Emmy odds will close out the major awards show season until late January of 2021 when ceremonies start popping up that lead to betting on the Golden Globes and the Academy Awards.
Below are the remaining betting odds for the 2020 Emmy Awards with their results in bold. We can't think of any better tool to use for studying up for betting on the 2021 Emmys.
Outstanding Drama Series
Succession -450 – WINNER
Ozark +350
The Crown +600
Better Call Saul +1000
The Handmaid's Tale +2000
Stranger Things +2800
Killing Eve +3500
The Mandalorian +5000
Outstanding Lead Actor in a Drama Series
Brian Cox -225
Jason Bateman +200
Jeremy Strong +350 – WINNER
Billy Porter +1400
Sterling K. Brown +1600
Steve Carell +2200
Outstanding Supporting Actor in a Drama Series Collapse
Billy Crudup -130 – WINNER
Kieran Culkin +250
Bradley Whitford +400
Matthew Macfadyen +500
Giancarlo Esposito +1000
Jeffrey Wright +3300
Mark Duplass +3300
Nicholas Braun +3300
Outstanding Supporting Actress in a Drama Series
Helena Bonham Carter -350
Julia Garner +450 – WINNER
Sarah Snook +450
Laura Dern +1000
Meryl Streep +1000
Samira Wiley +3300
Fiona Shaw +4000
Thandie Newton +4000