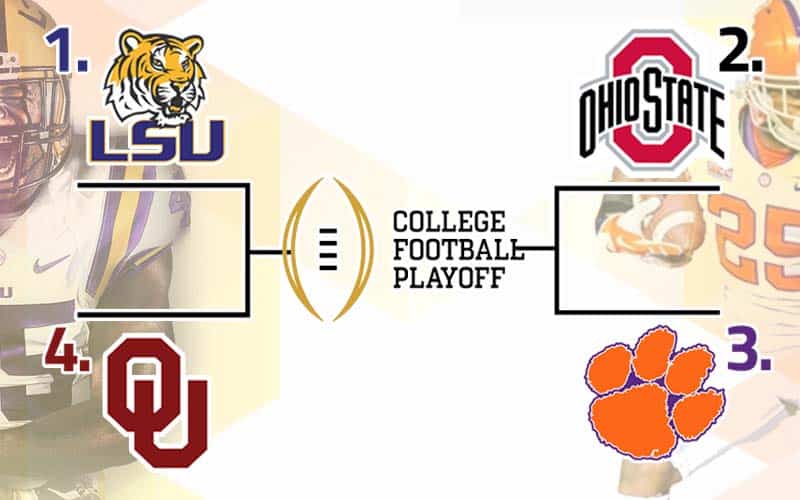 Following a weekend full of conference championships in college football, the playoff bracket is set: the LSU Tigers will play the Oklahoma Sooners and the Ohio State Buckeyes will play the Clemson Tigers in the College Football Playoff semifinals.
After bouncing in and out of the top spot in the college football rankings, LSU blew out the Georgia Bulldogs in Saturday's SEC Championship game to secure their undefeated season. As expected, a 13-0 SEC team was going to be the CFP pick for the #1 seed.
The Bayou Bengals will face the fourth-ranked Sooners in this year's Peach Bowl on December 28. Oklahoma was taken to overtime by the Baylor Bears in the Big 12 Championship game before winning 23-30. At 12-1, OU was selected at #4 to face LSU.
Based on the college football betting odds, LSU is almost a two-touchdown favorite in the Peach Bowl.  Entering the game as a 13.5 point underdog, the Sooners only have +375 odds of winning, according to Bovada.
When compared to LSU's -550 odds, OU only has an 18.12% chance of reaching the championship game.
Peach Bowl
#1 LSU (-13.5) vs. #4 Oklahoma
December 28, 4 pm ET | Atlanta, Georgia
Odds: LSU -550, OU +375
Total:5 -110, U75.5 -110
Ohio State, the previous #1 team in the CFP Poll before Sunday, is now the second seed in the playoffs. The Buckeyes were able to take down the Wisconsin Badgers in the Big 10 Championship game to finish their season 13-0.
The Buckeyes will take on the reigning champion Clemson Tigers in the Fiesta Bowl. Clemson, also finishing 13-0 this season, molly-whopped the Virginia Cavaliers 17-62 to claim the ACC title on Saturday. Entering the Fiesta Bowl, the Tigers are favored by two points.
Converting the odds into percentages, Clemson has a 53.39% chance of winning against Ohio State's 46.61% chances. Given the lopsided expectations for the LSU-Oklahoma game, the second semifinal showdown could prove to be much more interesting.
Fiesta Bowl
#2 Ohio State vs. #3 Clemson (-2)
December 28, 8 pm ET | Glendale, Arizona
Odds: OSU +105, CLEM -125
Totals: O63 -115, U63 -105
The winner of each semifinals matchup will play each other in the national title game on January 13 in New Orleans, Louisiana. The 2020 CFP title betting odds have LSU as the favorite with +120 chances of hoisting the championship trophy.
Clemson and Ohio State share +205 odds while Oklahoma is a longshot at +1200.
2020 College Football Playoff championship odds
@Bovada
LSU +120
Clemson +205
Ohio State +205
Oklahoma +1200