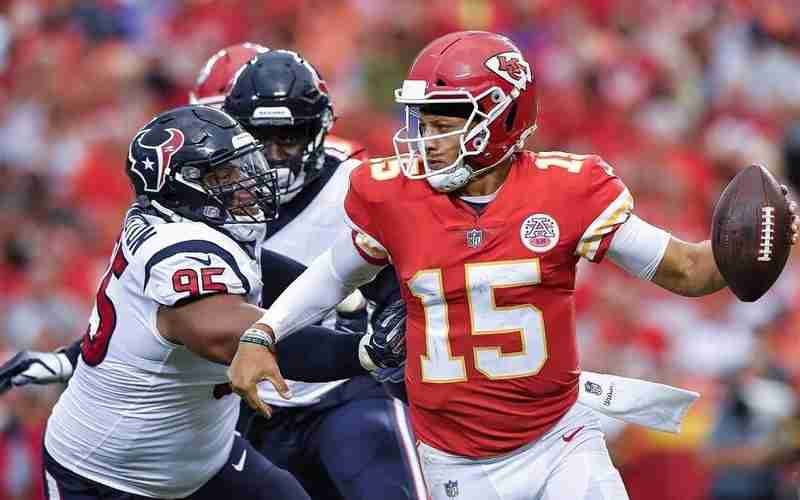 Everyone that has been paying attention to the game of professional football over the past two seasons is familiar with Patrick Mahomes and his impressive list of accomplishments during his brief career so far.
He was rewarded with the largest contract ever given to a pro athlete during the offseason, and now it is time to put up or shut up as he enters the 2020-21 NFL season as the favorite to win the league MVP trophy and his Chiefs have the best Super Bowl betting odds out of all 32 teams.
Anything less than a championship for Mahomes and the Chiefs will be considered a disappointment. Kansas City may have their quarterback locked up for the next twelve years, but this current championship nucleus of players may not stay together for much longer, so they need to pounce immediately and capture as many Lombardi Trophies as possible.
Although the nation is still experiencing COVID-19 setbacks, the NFL is planning to move forth with their opening weekend plans, with the first game of the season occurring Thursday night when the Houston Texans travel to play the Chiefs in Arrowhead Stadium.
NFL betting sites are predicting that the Chiefs will roll the Texans by nine points, but with preseason action nixed in 2020, offenses haven't had a chance to get up to full speed just yet.
Houston Texans @ Kansas City Chiefs
Thursday, September 10, 8 PM EST
TV: NBC
Spread: Chiefs -9.0
Straight Winner: Texans +345, Chiefs –425
Total: 54.5
*Odds provided by BetOnline AG
Defenses are typically ahead of offenses early on, so such a generous spread in week one is uncommon, especially against a quality opponent like Houston.
A potential reason for oddsmakers to think that Houston will be less effective than last season is the departure of all-pro wide receiver DeAndre Hopkins who is now wearing an Arizona Cardinals jersey.
Veteran receivers Will Fuller and Kenny Stills hope to fill the void left by Hopkins, and although both are skilled players, they have trouble staying on the field for a full, sixteen-game season.
Speaking of injuries, running back David Johnson will attempt to revive his career in Houston after missing time over the past two years. Johnson was sent to Houston in an off-season trade for Hopkins.
Houston's final game of the 2019-20 season was a playoff loss to the Chiefs where they saw a 28-3 first-quarter lead evaporate, as well as their championship aspirations.
NFL playoff betting lines predict that the Texans will finish third in the AFC South behind the Tennessee Titans and the Indianapolis Colts.
Odds to Win AFC South
Indianapolis Colts +120
Tennessee Titans +170
Houston Texans +325
Jacksonville Jaguars +2500
What a difference a year, and a player, can make for an entire franchise. Houston recently looked like a young team built for the future, but is now a ragtag patchwork of overpaid talent without any championships, mixed with journeymen free agents.
If you've got confidence that Houston is still hovering around the top of the AFC, then the time is now to place a bet. Once their success is known, oddsmakers will adjust the lines and payouts won't be as high. Either way, tune in Thursday night to see the Texans performance for yourself.