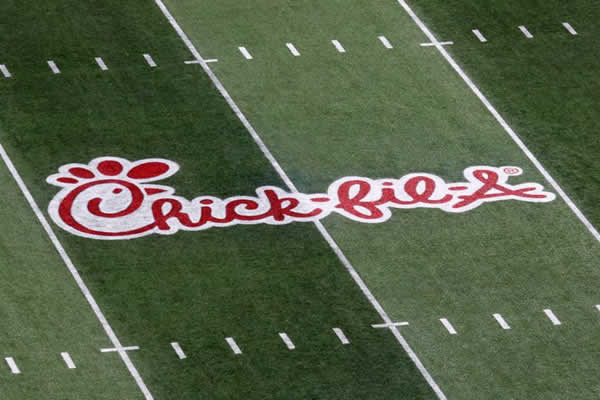 The first prop bet of 2019 Super Bowl is now getting paid out courtesy of Chick-fil-A not chickening out, never once waffling, and sticking to their company values.
The privately-owned Atlanta-based company whose slogan is "We didn't invent the chicken, just the chicken sandwich" told Sports Illustrated the company would not be opening the fast food chain's location at section 123 in Mercedes-Benz Stadium or any other location on Sunday, Feb. 3, for the Super Bowl 53 matchup between the Rams and Patriots.
Bovada was one of the first online sportsbooks to put out early odds on Super Bowl 53 prop bets and one of the odds that caught everyone's eye was the line on Chick-fil-A.
Will the Chick-fil-A franchise in Mercedes-Benz Stadium be open on Super Bowl Sunday?
And if you wagered "No" on the Chick-fil-A Super Bowl 53 prop bet, then it's time to collect your winnings.
Since being founded in 1946, the chicken sandwich company, which now has over 2,200 restaurants nationwide, has always closed all of its locations on Sunday.
The only exceptions are to provide food to first responders and emergency personnel in cases of emergencies or disasters, such as the Dallas tornadoes in 2015 or the Pulse Nightclub mass shooting in 2016.
From the Chick-fil-A website:
"Our founder, Truett Cathy, made the decision to close on Sundays in 1946 when he opened his first restaurant in Hapeville, Georgia. Having worked seven days a week in restaurants open 24 hours, Truett saw the importance of closing on Sundays so that he and his employees could set aside one day to rest and worship if they choose – a practice we uphold today."
Instead of Chick-fil-A, ticket holders for Super Bowl 53 will have "Fries Up" at Section 123 in Mercedes-Benz Stadium, which serves loaded French fries with several customizable toppings.