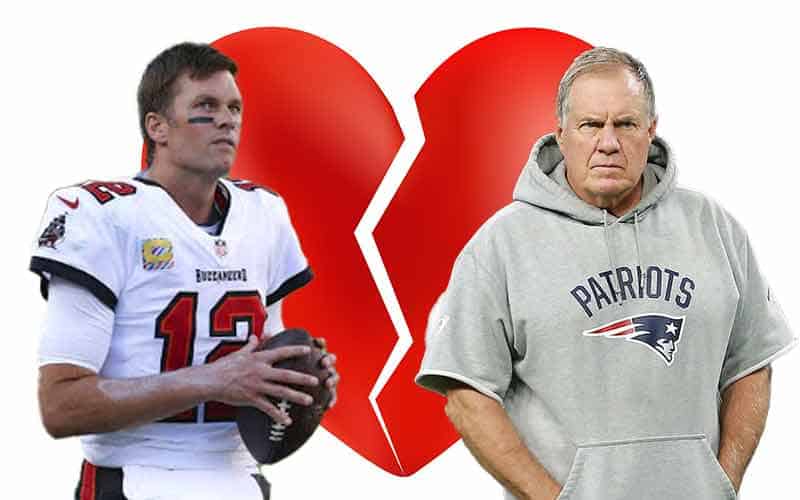 Now that we're in the home stretch of the 2020-21 NFL season, we've been given some perspective on the most high profile break up in the history of the National Football League.
No duo has ever matched the success of New England Patriots head coach Bill Belichick over the years that Tom Brady was the quarterback of his team, and now they each are trying to establish their own legacy.
Brady's career as a player is almost over, as he is now 43 and trying to earn one final Super Bowl ring with the star-studded Tampa Bay Buccaneers. Belichick has a few years left, but is at an advanced age and cannot coach forever.
The new-look Patriots suffered an embarrassing 24-3 loss to the Los Angeles Rams last night, proving that breaking up really is hard to do for Belichick.
Once the Patriots signed free-agent quarterback and former NFL MVP, Cam Newton, to the active roster in the preseason, NFL sportsbooks were quick to jettison New England to the top of the betting odds to win the AFC East.
On paper, it seemed to add up to a recipe for success for New England, but once COVID-19 ran amuck in the Patriots' locker room in late September, the team fell off the rails and struggled to get back on track.
Things have changed for the Patriots as of late, as they are running the ball with more authority and rattling off some wins, pulling even to a record of 6 wins and 6 losses.
While that's by no means a win-loss record worth bragging about, they were firmly entrenched in the hunt for an AFC Wild Card spot and a trip to the NFL Playoffs.
After last night's loss to LA, the NFL Playoff odds for New England are dismal, and another win by the Miami Dolphins, Cleveland Browns, or Indianapolis Colts will place them three games behind with only three games to go.
The same cannot be said for Brady and his Buccaneers. Their early season play seemed to match the incredible hype, but they've since come down to Earth a bit, taking the occasional loss.
Still, Tampa is 7-5 and currently holds the 6th seed in the NFC. A few weeks ago, oddsmakers were predicting them to go all the way to Super Bowl LV and lose to the Kansas City Chiefs.
Now, they are still given a fighting chance in the odds to win Super Bowl 55, but they are expected to lose in the first or second round.
Super Bowl 55 Winner
Kansas City Chiefs+200
New Orleans Saints+500
Green Bay Packers+800
Pittsburgh Steelers+800
Los Angeles Rams+900
Seattle Seahawks+1500
Tampa Bay Buccaneers+1500
Buffalo Bills+1600
Baltimore Ravens+2500
Cleveland Browns+3000
Indianapolis Colts+3000
Tennessee Titans+3000
Miami Dolphins+6000
Arizona Cardinals+6600
New York Giants+6600
Las Vegas Raiders+7500
Minnesota Vikings+7500
Washington Football Team+7500
San Francisco 49ers+12500
New England Patriots+20000
The best-case scenario for Tampa, since they cannot catch the New Orleans Saints at this point, is to continue to win and earn the 5 seed. That way, their first-round playoff game will be against the winner of the NFC East, which right now looks to be the New York Giants or the Washington Football Team.
The reality of this post-breakup rivalry between Brady and Belichick is that the only currency is Super Bowl wins. Unless either of them can capture another title before they retire, consider it a mulligan for both, regardless of win-loss records or other accomplishments.
Source: ESPN