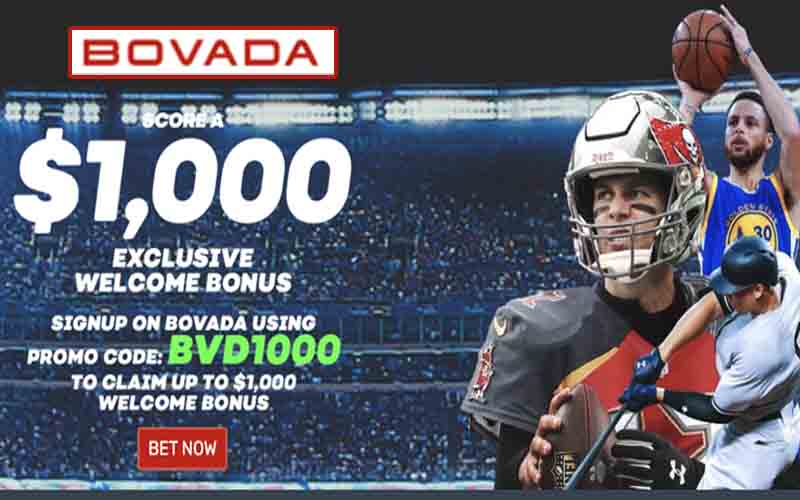 Bovada has long been one of our favorite legal online sportsbooks servicing the USA sports betting market.
The site has an intuitively streamlined interface and menus, supports crypto deposits and payouts, allows for P2P deposits via vouchers and MatchPay, and offers thousands of live betting odds every day along with a custom Prop Builder tool.
If you're a sports bettor, there's not a better sports gambling site on the market.
Of course, Bovada's not the only game in town, and one arena in which it historically lags is the bonus department.
Now, that's not necessarily a bad thing.
Some sites offer much larger deposit promos than Bovada, but they also attach much higher rollover limits to those promos.
The higher the rollover, the longer it takes players to meet the wagering requirements. The longer it takes players to meet the wagering requirements, the longer it takes players to become eligible for payouts.
For the most casual bettors, then, smaller bonuses are actually more user-friendly.
For example, at Bovada, if you're interested in joining the site and betting sports, you can claim the standard 50% deposit bonus for up to $250. (They've just rolled out a limited-time exclusive bonus, which we cover below.)
Meanwhile, at BetOnline – perhaps Bovada's biggest competitor (and another mainstay in our stable of legal sports betting sites, since we're unapologetic line shoppers) – new members can get a 100% bonus for up to $1000.
Let's say you deposit $100 into both sites and accept these online sportsbook bonuses.
At Bovada, you'll get another $50 added to your bankroll for a total of $150. At BetOnline, you'll get $100 in addition to your initial deposit, for a total of $200.
That's a better deal, right? More free money!
Maybe.
But maybe not.
At Bovada, the sports betting sign-up bonus comes with a 5X rollover requirement.
That means you've got to bet a total of $150 X 5 – or $750 – before you can pull out any winnings.
For casual gamblers, this is extremely easy. Most players can clear this handle in just a week or two.
Avid bettors can clear it in a day or two.
Now, at BetOnline, that sports welcome bonus comes with a 14X rollover.
In the industry, this is still considered fairly player-friendly, but it means members will have to risk a total of $200 X 14 – or $2800 – before being eligible to claim any associated payouts.
As a result, casual players may be unable to withdraw for up to a month or more, while more active gamblers might take a few weeks to hit the threshold.
As you can see, there are pros and cons to both promotions.
Now, however, Bovada's introduced a new promotion right in time for regular-season NCAAF betting and NFL betting:
50% Welcome Bonus Up To $1000 (Bovada Promo Code: BVD1000)
This puts Bovada's new member perks right in line with its biggest sportsbook rivals. Yes, it's not a 100% bonus, but it has the same low 5X rollover rate!
We've been online bettors and gamblers since the late 1990s, and this is definitely an attractive offer.
We also know this is a limited time offer as the fall sporting season kicks off, and it won't be online forever.
So if you've been thinking about joining Bovada or have been put off by the site's "lower" bonuses in the past, it's time to jump in.
Are you ready for some football…betting bonuses?
Check out Bovada's new bonus offer today!