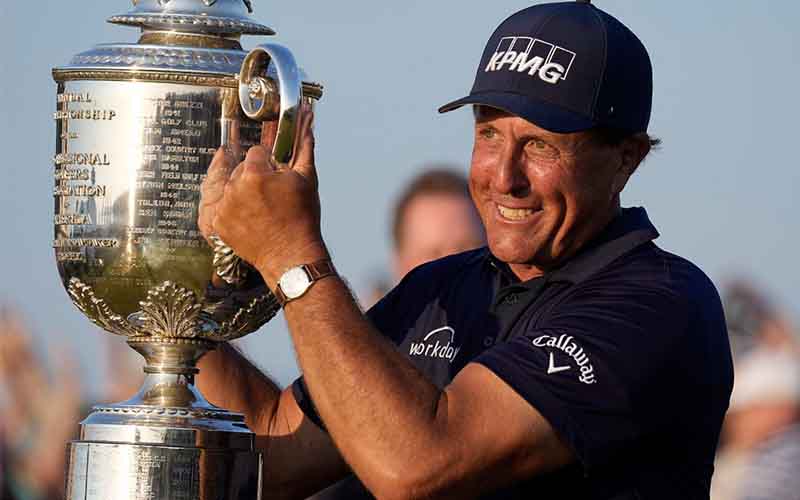 Here at SBL, we've created a Sports Betting Hall of Fame that acknowledges great achievements in the spectrum of wagering on pro and college games.
Spots in the Hall can be earned by the brazen nature of a big-money wager or through high-profile activity over the course of several years.
Outlandish wagers have garnered Hall nods for gamblers like Drake and Mattress Mack, but we've never heard of exploits the likes of what golfer Phil Mickelson has been accused of.
A new autobiography has been released about a legendary gambler by the name of Billy Walters. In his book, he alleges that pro golfer Phil Mickelson bet over $1 billion on sports during the past three decades.
Walters allegedly placed proxy bets for Mickelson between 2006 and 2014.
Walters also alleges that Mickelson attempted to bet on the Ryder Cup in 2012, placing a $400,000 wager on Team USA, of which he was a member. Ultimately, Walters refused to place the wager, knowing that betting on golf could ruin Mickelson's good standing with the PGA.
Phil denies the allegations that he attempted to bet on the Ryder Cup in a statement made yesterday on Twitter (X).
"I never bet on the Ryder Cup… While it is well known that I always enjoy a friendly wager on the course, I would never undermine the integrity of the game. I have also been very open about my gambling addiction. I have previously conveyed my remorse, took responsibility, have gotten help…"

Phil Mickelson
No matter how much wealth an individual acquires in a lifetime, a billion dollars in total wagers placed is a ridiculous sum. Phil has earned just under $100 million on the golf course during his PGA career.
Mickelson bagged $200 million in June 2021 when he signed a contract with the controversial, Saudi-backed pro golf tour LIV Golf.
Phil himself admitted to being a billionaire when asked about his gambling activities on social media in 2022.
According to Walters, Mickelson placed a majority of his wagers with offshore sportsbooks. Due to the success that Walters has experienced with domestic books, none will do business with him any longer.
Walters' inspiration to write the tell-all is based partly on vengeance. Mickelson refused to testify at a hearing that resulted in a five-year prison sentence for Walters for securities fraud and wire fraud.
President Donald Trump commuted Walters' sentence, granting him an early release in January 2021.
"Gambler: Secrets from a Life of Risk" is on sale now anywhere bestselling books are sold.
Sources