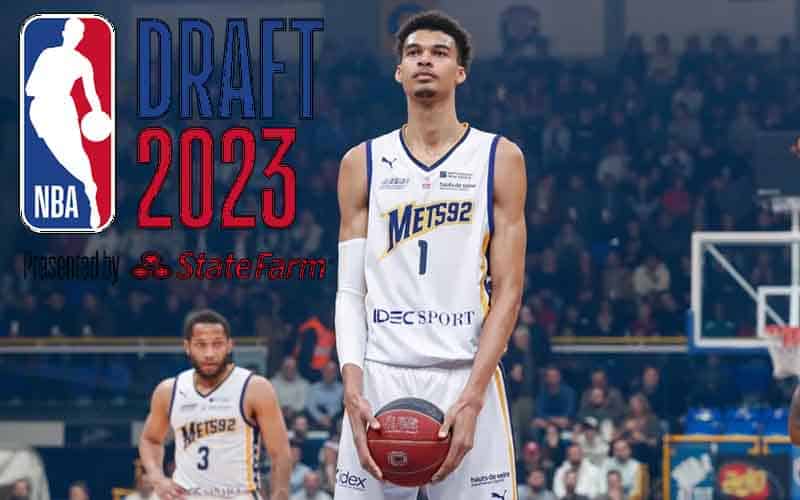 Being a member of the NBA's Draft Lottery means that you were among the fourteen teams that did not qualify for the playoffs last season (unless a team trades into the top 14).
This designation allows each of the bottom fourteen franchises to earn a shot in the NBA Draft Lottery, where teams one through fourteen have a diminishing chance of getting the number one pick based on ranking.
This year, the San Antonio Spurs have acquired the top pick in the 2023 NBA Draft and are on the clock for tomorrow night. Here's the draft order for the lottery NBA teams.
2023 NBA Draft Order
San Antonio Spurs
Charlotte Hornets
Portland Trailblazers
Houston Rockets
Detroit Pistons
Orlando Magic
Indiana Pacers
Washington Wizards
Utah Jazz
Dallas Mavericks
Orlando Magic (from Chicago)
Oklahoma City Thunder
Toronto Raptors
New Orleans Hornets
Online NBA sportsbooks agree that the Spurs will select Victor Wembanyama first overall. Wembanyama is 19 years old and stands 7'3″ tall. He has been playing professional basketball in France since 2019.
If you want to earn a dollar betting on Wembanyama being drafted first, you'll have to wager $500.
Odds For 1st Overall Pick
Victor Wembanyama -50000
Scoot Henderson +5000
Brandon Miller +15000
Amen Thompson +20000
Anthony Black +20000
Ausar Thompson +20000
The Spurs finished with a record of 22-60 last season. Adding Victor to the lineup will certainly add a spark, but will he make a similar impact to that of Tim Duncan?
Critics are suggesting that Wembanyama could be the greatest teenage prospect the game of professional basketball has ever seen. He'll be drafted as if that is the case, but the NBA has seen plenty of can't-miss athletes that didn't measure up.
Once beyond the top selection, the odds for betting on the NBA Draft get a little more competitive.
Odds For 2nd Overall Pick
Brandon Miller -400
Scoot Henderson +175
Amen Thompson +5000
Anthony Black +10000
Ausar Thompson +10000
Cam Whitmore +10000
The Charlotte Hornets hold the second overall pick, and the above NBA Draft prop bet suggests they'll select University of Alabama forward Brandon Miller.
Miller stands at 6'9″ and fits well with the Hornets' current lineup. G-League point guard Scoot Henderson is also listed near even with a +175 moneyline.
Many experts consider Miller and Henderson to be 2A and 2B. Their draft grades are similar, and which player goes where could be dictated by the makeup of each roster.
If Henderson lasts until number three, then he is a pretty sure bet to be selected by the Portland Trailblazers.
Odds For 3rd Overall Pick
Scoot Henderson -300
Brandon Miller +150
Amen Thompson +1400
Cam Whitmore +2000
Ausar Thompson +6500
Anthony Black +7500
Jarace Walker +7500
Tune into the 2023 NBA Draft tomorrow night at 8 PM on ESPN and check out the basketball betting sites listed in our online sportsbook reviews for more odds.
Sources