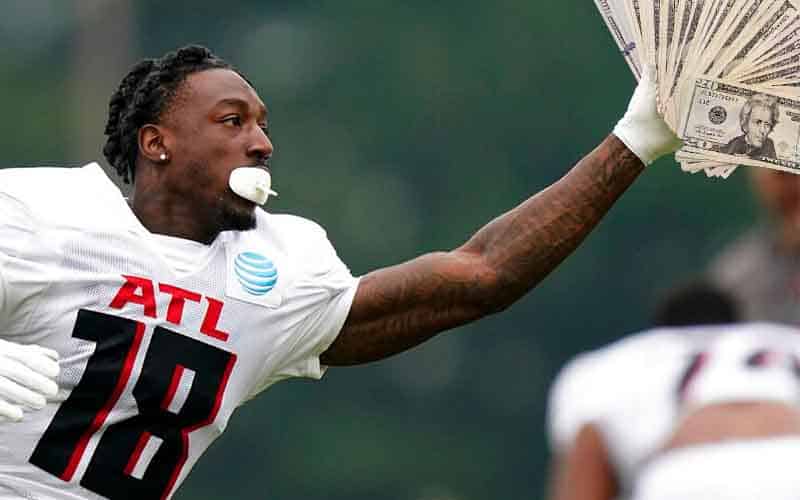 Over the course of 5 days surrounding Halloween of 2021, Atlanta Falcons wide receiver Calvin Ridley placed thousands of dollars worth of bets on NFL games, the NBA, and other sports.
The bets were made legally using a mobile sportsbook app from an undisclosed state outside of Georgia, with the state of Tennessee being the most likely culprit due to proximity to Atlanta.
Ridley was on a hiatus from the Atlanta Falcons while the wagers were placed due to mental health reasons, and his engagement in betting on the NFL over that time has cost him his entire 2022-23 NFL season after the league rendered their judgment yesterday.
The one-year suspension could be just the beginning for Ridley, and the punishment does seem light when compared to that of Pete Rose and "Shoeless" Joe Jackson in Major League Baseball.
Both received lifetime bans from MLB's Hall of Fame, and the thirty-plus years have not softened the league's stance on allowing Pete Rose to participate at any level.
An uptick in professional players betting on pro and college sports should exceed the growth ratio of the general US public due to their abundance of disposable cash and general interest in athletic competition.
With the growing number of legal US sports betting states and sportsbook partnerships with major leagues, the comfort level with gambling on games is growing, even in the offices of league executives.
Prop bets have emerged at online sportsbooks asking which professional league will be the next to suspend a player, coach, or executive for laying some action on pro or amateur athletics.
Next League To Suspend A Player For Gambling
NBA +150
NHL +200
MLB +250
NFL +450
The NBA has had their issues with gambling in the past when referee Tim Donaghy was caught shaving points on pro basketball games, and they are currently leading the odds to be the next to hand out a suspension.
Another prop bet has been posted asking which player or coach will be the next to receive a gambling-related suspension.
Next NFL Personnel To Be Suspended For Gambling
Antonio Brown +350
Odell Beckham Jr. +500
Deshaun Watson +650
Jameis Winston +700
Sammy Watkins +800
Robert Kraft +800
Jon Gruden +900
Richard Sherman +1000
Dan Snyder +1200
Darren Waller +1600
Rob Gronkowski +1800
DeSean Jackson +2500
Cam Newton +2500
Jerry Jones +2500
Aaron Rodgers +3300
Jim Irsay +3300
Kliff Kingsbury +3300
Tom Brady +5000
Sean McVay +5000
Brian Flores +6600
The intriguing aspect of the above betting line is that many of those included are not currently on an NFL roster or a part of any franchise's front office.
For instance, we last saw Antonio Brown walking off the field mid-game in protest of Tampa Bay Buccaneers head coach Bruce Arians, and due to the nature of his exit, that could be the last time he dawns a pro football uniform.
It is also hard to imagine a scenario where Jon Gruden is welcomed back into the league in any fashion, yet there he is with a stout +900 moneyline that will reward 9-to-1 net payouts if he receives a gambling-related suspension.
Is there something lingering in Gruden's emails that may point to betting on the Tampa Bay Buccaneers or the Las Vegas Raiders during his tenure as their head coach? Not likely, but he must be on the board for a reason.