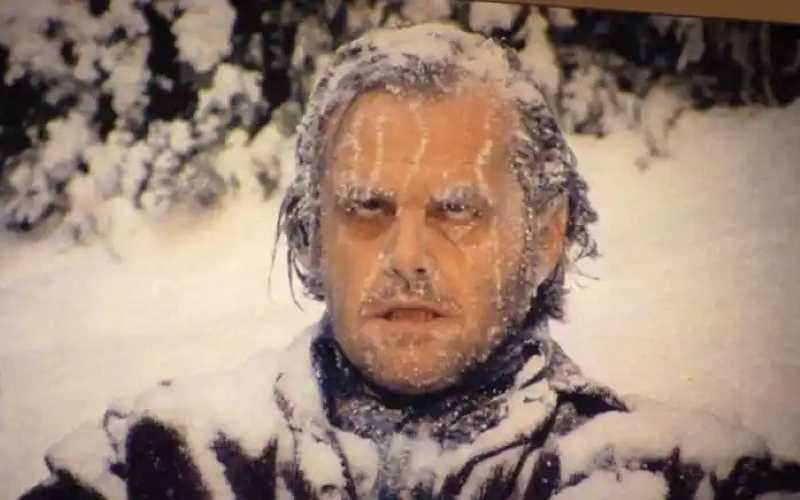 How's this for a headline to knock your s(t)ocks off:
Celsius becomes third major crypto firm in two weeks to file for bankruptcy
That terror-inducing gem is from Yahoo! Finance. (Isn't it weird that Yahoo! still uses that exclamation point?)
Of course, if you read the lede right under that headline, you'll see this, which probably alleviates some of your concerns:
"Crypto lender Celsius Network has initiated bankruptcy proceedings…marking the third high-profile crypto firm to do so in the last two weeks. …
The firm joins Three Arrows Capital as well as another lender, Voyager Digital, in the list of major crypto firms filing for bankruptcy protection."
"Crypto firm" is financial sector speak for "get rich quick scheme."
I found this part of Yahoo!'s (see how problematic that exclamation point is?) writeup especially – if unintentionally – amusing:
On June 12, Celsius showed the first signs of stress, freezing customer accounts on its platform. … Between freezing customers' accounts and filing for bankruptcy, the firm has remained largely silent.
Now, that last part isn't funny. In fact, none of this is all that funny. But I just wanted to point out that a company called Celsius froze out all its customers and in doing so, burned them all but good.
But I digress. Because again, none of this is particularly funny.
But none of this is all that concerning, either – at least not to me.
I've never taken the approach of treating crypto like a "new stock market" with all the convoluted investment strategies and puts and calls and day trading nonsense that comes with that mess.
No hedge funds, no account managers, nothing like that.
To me – and to most crypto users – the entire point of these products is that they buck those trends. They're supposed to be an alternative to the traditional investment racket.
The very second large firms started applying the Wall Street Method™ to crypto, millions of hodlers shouted in unison against the idea.
But there's no stopping fools and their money. They're a force of nature, and there will always be sharks out there to see that those fools' needs are met.
The smart way to invest in crypto is to buy the stuff, use it to purchase goods and services (i.e. fund your legal online sports betting account and so on), and to keep your holdings in a private wallet.
If your coin is stakeable (such as Cardano or Solana), then stake it and earn more coin. If it's not, then hodl it and watch the value of your existing stack grow. It's that simple.
It's only when investors tried to get fancy – and unprecedentedly greedy (you know, when organic 1000% returns year over year just aren't enough) – that all this bad business started happening.
In Celsius' case, per CBS News, the red flag was a part of the company's business plan:
Celsius marketed itself as a type of crypto bank, encouraging people to deposit their digital currencies with the firm, and then earning money by either borrowing or lending against the crypto deposits.
Oops.
As for the other two firms mentioned above, let's start with Three Arrows Capital.  That company, right on its About Us page, spilled the beans long before you should have ever given them yours:
"Three Arrows Capital Ltd. is a hedge fund established in 2012 and focused on providing superior risk-adjusted returns, founded by Su Zhu and Kyle Davis."
And that's all the About Us page says, by the way. The rest is blank all the way down to the footer. As empty as their reserves. Seriously, look: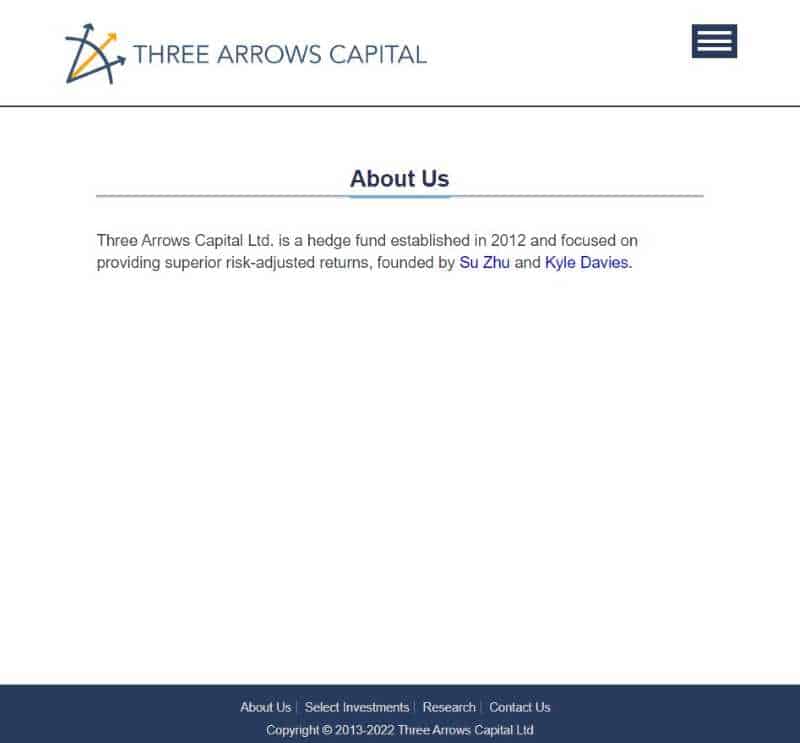 Why would anyone trust something like this?
Since the brand fell apart, of course, the founders disappeared. After two days of seeking Kyle and Zhu, though, the pair reemerged only to accuse court-ordered liquidators of malfeasance.
It's quite the interesting story if you're unaffected.
Finally, in the case of Voyager Digital, you just have to shake your head.
A quick Google search comes up with a Page 1 snippet that's literally everything you need to know. Texbook Scam Spotting 101:
Q: Is Voyager better than Coinbase?

A: Coinbase and Voyager offer a similar number of cryptocurrencies, but Coinbase gets the edge here because they allow you to swap crypto for other crypto directly, whereas on Voyager you have to always swap back to USD before buying another asset.
FFS.
Also, it turns out that Voyager made a whole bunch of unsecured loans to Three Arrows Capital. Two birds with one stone, I guess.
So what about other big crypto platforms? What about, say, Coinbase?
Well, it's important to remember something, here. Coinbase – despite its recent announcement that it's laying off about 18% of its staff (roughly 1100 people) – isn't in the kind of trouble the above firms are because it doesn't engage in the kind of practices those firms did.
Per Coinbase CEO Brian Armstrong, the layoffs are a natural byproduct of the financial market as a whole (and not just the crypto market, albeit that's the biggest driver).
According to Armstrong, the current global recession – coupled with a potential "crypto winter" a la 2017 – means that trade volume, and thus commission volume, will necessarily drop on the platform.
Less money to pay employees generally necessitates a layoff, and that's what's happening here.
It's not ideal, but it's not remotely close to the same thing as those situations outlined above.
Additionally, consider that Coinbase is the only major crypto exchange that's publicly traded. The regulatory oversight and strict public scrutiny of public companies – if nothing else – offer another barrier of protection between your funds and a whole lot of FUD.
Nevertheless, while we trust Coinbase as a buy-in and cash-out platform, we insist that you move your coins off the platform in between that buying in and cashing out.
Private wallets are the way to go, and if you're counting on growing your crypto via any means other than basic appreciation or staking (or, naturally, online sports betting), you'll probably have to learn to count backwards to zero.
Sources: Yahoo! Finance, CBS News, NPR