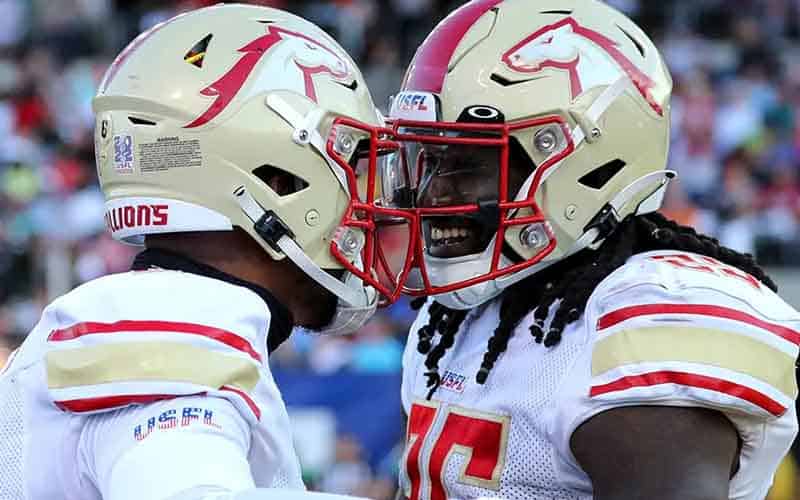 Tomorrow at 4:30 PM, the opening kickoff of the 2023 USFL season will go down at Simmons Bank Liberty Stadium in Memphis, Tennessee. The league has expanded from one venue to four, leaving some local USFL markets at least a season away from a potential home game.
USFL betting is now commonly featured at online sportsbooks, with lines for each game and futures for the eventual champion. Below, we've compiled the latest game lines for the Week 1 schedule and how they vary from book to book.
2023 USFL Week 1 Game Lines
While each of our most recommended online sportsbooks have posted USFL odds, they differ in the bet types. For instance, point spreads were offered at BetUS, Bovada, and BetOnline, but moneyline odds were only available at Bovada and MyBookie.
The USFL point spreads and the over/unders for Week 1 were identical across the board, where posted. The moneylines for each game and for USFL futures offer variances that can be exploited for additional gains at the sites included in our online sportsbook reviews.
Philadelphia Stars @ Memphis Showboats
Point Spread: Stars -2.5, Showboats +2.5 at Bovada, BetUS, and BetOnline
Moneyline: [Stars -140, Showboats +120 at Bovada] [-151/+118 at MyBookie]
Over/Under: 38.5
Up first this Saturday at 4:30 PM on FOX is the Stars vs. Showboats, where Philadelphia is favored to win by 2.5 points. At Bovada, Memphis is garnering two extra points in the moneyline odds and they are also offering more cost-friendly wagers on the Stars winning the game.
New Jersey Generals @ Birmingham Stallions
Point Spread: [Generals +5.5, Stallions -5.5 at Bovada and BetUS] [+5.0/-5.0 at BetOnline]
Moneyline: [Generals +185, Stallions -225 at Bovada] [+166/-215 at MyBookie]
Over/Under: 40.0
The final game on Saturday takes place at 7:30 PM on FOX where last year's champions, the Birmingham Stallions, are favored to win by a spread of -5.5. Bets on the Stallions to win should be made at MyBookie. Moneyline odds for the Generals deliver higher profits at Bovada.
BetOnline has posted point spreads with half-a-point of differential from other books, but introduces the element of a push if the Stallions win by exactly 5 points.
Michigan Panthers @ Houston Gamblers
Point Spread: EVEN at Bovada, BetUS, and BetOnline
Moneyline: Panthers -111, Gamblers -114 at MyBookie
Over/Under: 38.5
Sunday at 12:00 PM on NBC, the Panthers and Gamblers are a pick'em in the point spread. Moneyline bets on either Michigan or Houston are only available at MyBookie as of this writing, with odds in the negative for both teams.
Pittsburgh Maulers @ New Orleans Breakers
Point Spread: [Maulers +4.5, Breakers -4.5 at Bovada, BetUS] [+4.0/-4.0 at BetOnline]
Moneyline: [Maulers +170, Breakers -200 at Bovada] [+145/-186 at MyBookie]
Over/Under: 37.5
The last Week 1 game kicks off at 6:30 PM on FOX, with lines favoring the Breakers to beat the Maulers by at least 4 points. The point spreads are different at BetOnline, offering 0.5 of variance from other betting sites.
The Pittsburgh moneyline will payout better at Bovada. Less risky bets can be placed for a New Orleans win at MyBookie.
These Week 1 USFL games will be going up against the XFL's Week 9 schedule, with some airing at the exact same time. There are also odds for betting on the XFL, with lines for all remaining games and futures for championship winners taking action now.
Final Preseason USFL Futures
There are also significant differences in the USFL Championship odds for 2023. Futures have been posted at Bovada and BetUS, with different odds for each of the 8 USFL teams. They are also posted in a slightly different order,
Odds To Win The 2023 USFL Championship
Birmingham Stallions +300
New Jersey Generals +300
New Orleans Breakers +500
Philadelphia Stars +500
Memphis Showboats +500
Houston Gamblers +600
Michigan Panthers +650
Pittsburgh Maulers +700
*Bovada.LV
Odds To Win The USFL Championship
Birmingham Stallions +250
New Jersey Generals +350
Philadelphia Stars +525
New Orleans Breakers +600
Michigan Panthers +700
Memphis Showboats +700
Houston Gamblers +800
Pittsburgh Maulers +1000
*BetUS.com.pa
USFL's Official Website, FOX News
Learn more about the online sportsbooks providing these betting odds at the following links: