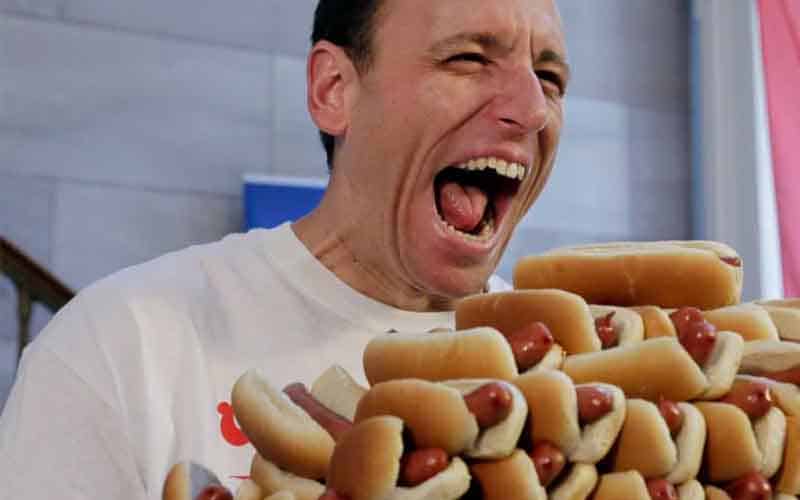 July 4th is perfectly situated on the annual sports calendar. Major League Baseball's regular season is in full swing, but other than that, no major sports are underway once the nation's birthday comes around each summer.
Nay, the only significant wagering opportunity that occurs during the early hours of the holiday is Nathan's Famous Hot Dog Eating Contest, a tradition that dates back to 1972.
During that span, no competitor has dominated the ranks of hot dog-eating more than Joey Chestnut. The odds for betting on Nathan's Hot Dog Eating Contest once again favor him to win, and the nearest contestant is an astronomically distant second.
Men's Hot Dog Eating Contest Odds To Win – Men's
Joey Chestnut -2500
Geoffrey Esper +750
Any Other +900
Nick Wehry +1000
James Webb +2300
Darron Breedon +1400
Gideon Oji +2000
Chestnut has won the Hot Dog Eating Contest a record 15 times. Second place all-time is held by Takeru Kobayashi, who has won the contest on 8 occasions.
Joey Chestnut has eaten the most hot dogs every year since 2007, except for 2015, when Matt Stonie captured the win. On that occasion, Stonie bested Chestnut by two dogs.
Entertainment betting sites are favoring Joey for the win so much that gamblers will have to wager $25 just to net a dollar in gains.
Even longer odds are being offered for the women's half of the competition. If there is a female counterpart to Chestnut, it would have to be Miki Sudo.
Miki has won the Women's Hot Dog Eating Contest every year since 2014, except for 2021, when she missed the competition due to her pregnancy.
Payouts of $51 can be earned by betting $50 on Miki Sudo to win this year, indicating she is a near-certain victor.
Hot Dog Eating Contest Women's Odds To Win
Miki Sudo -5000
Michelle Lesco +900
Any Other +750
Entertainment prop bets are suggesting that Miki Sudo's chances of winning are set at 98%. If a contestant plans on beating Sudo this year, online sportsbooks have set the mark at 43.5 hot dogs.
Miki Sudo Total Hot Dogs Eaten 2023
Over 43½ Hot Dogs -120
Under 43½ Hot Dogs -120
The most Sudo has ever eaten was 48.5 back in 2020, which is also the only time she has eclipsed 43 hot dogs. Her second-highest finish was 42, which was set last year.
Keep in mind that Sudo will play to her competition. She is only geared toward winning, so she won't likely aim to set a new record if she is several dogs ahead of the closest eater.
There'll be no live betting on this year's Hot Dog Eating Contest because of timing differentials between the contest and the airtime, so place your wagers early if you want to get some action in.
Sources