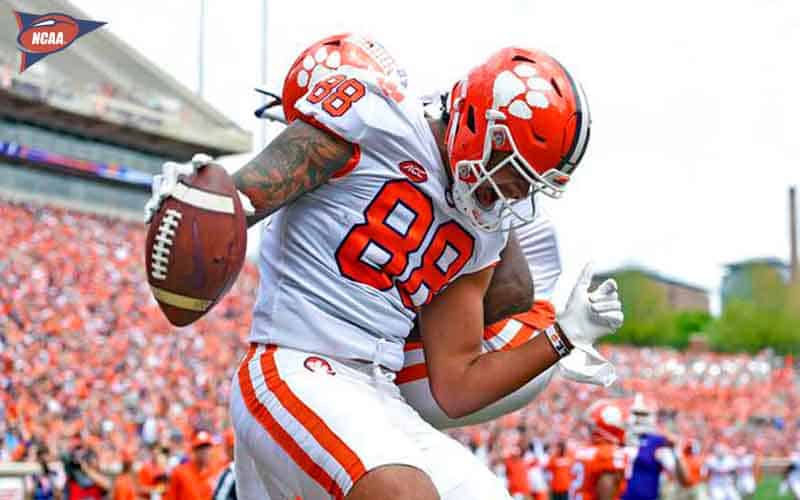 I think we can say it's truly college football betting season. In a matter of days, the 2019 season will kick off on August 24 with a Sunshine State showdown between the Miami Hurricanes and Florida Gators.
There will be no shortage of bets during the season, whether it be props, money lines, or spreads. But before the action officially starts, BetOnline has released a comprehensive list of win total over/unders for every NCAA Division I FBS team in America.
We have broken the list down into conference for easy viewing and categorization when deciding on what NCAAF bets to place.
The number after the team is the projected number of wins (ex. UCF: 9 means that the target number in this bet is 9 wins for UCF) followed by the over/under in parentheses.
With any positive numbers, such as +120, wagering $100 would earn you the positive number's amount, which would be $120 in this example. A negative number, such as -150, means that you would need to wager $150 to win $100.
2019-20 college football win totals
Via BetOnline
ACC
Clemson: 11.5 (Over +100, Under -120)
Miami (FL): 8.5 (Over -145, Under +125)
Virginia Tech: 8 (Over +140, Under +120)
NC State: 7.5 (Over +120, Under -140)
Florida State: 7.5 (Over -115, Under -105)
Wake Forest: 6 (Over -105, Under -115)
Boston College: 6.5 (Over +130, Under -150)
Duke: 5.5 (Over +100, Under -120)
Pittsburgh: 6 (Over -130, Under +110)
Virginia: 7.5 (Over -130, Under +110)
Syracuse: 7.5 (Over -120, Under +100)
North Carolina: 4.5 (Over -165, Under +145)
Georgia Tech: 4 (Over +120, Under -150)
Louisville: 3.5 (Over -130, Under +110)
Big Ten
Ohio State: 10 (Over -120, Under +100)
Michigan: 9.5 (Over -190, Under +165)
Nebraska: 8.5 (Over -115, Under -105)
Penn State: 8.5 (Over -115, Under -105)
Wisconsin: 8 (Over -140, Under +120)
Purdue: 7 (Over +120, Under -140)
Iowa: 7.5 (Over -160, Under +140)
Michigan State: 8 (Over -160, Under +140)
Minnesota: 7.5 (Over -130, Under +110)
Northwestern: 6.5 (Over +110, Under -130)
Indiana: 6 (Over -155, Under +135)
Maryland: 4 (Over -135, Under +115)
Illinois: 4.5 (Over +105, Under -125)
Rutger: 2.5 (Over -170, Under +150)
Big 12
Oklahoma: 10.5 (Over -120, Under +100)
Texas: 9.5 (Over +180, Under -220)
Iowa State: 8 (Over +100, Under -120)
TCU: 7.5 (Over -105, Under -115)
Baylor: 7.5 (Over -120, Under +100)
Oklahoma State: 7.5 (Over +110, Under +110)
Texas Tech: 6 (Over -135, Under +115)
Kansas State: 5.5 (Over +125, Under -145)
West Virginia: 5.5 (Over +130, Under -150)
Kansas: 3 (Over +105, Under -125)
Pac-12
Washington: 9.5 (Over -110, Under -110)
Oregon: 9 (Over +125, Under -145)
Utah: 9 (Over -145, Under +125)
Washington State 8 (Over +105, Under -125)
Arizona State: 6.5 (Over -145, Under +125)
Arizona: 6.5 (Over +120, Under -140)
Stanford: 6.5 (Over -140, Under +120)
USC: 7 (Over -110, Under -110)
Cal: 5.5 (Over +100, Under -120)
UCLA: 6 (Over -115, Under -105)
Colorado: 4 (Over -110, Under -110)
Oregon State: 2.5 (Over -140, Under +120)
SEC
Alabama: 11 (Over -145, Under +125)
Georgia: 10.5 (Over -140, Under +120)
Florida: 9 (Over +140, Under -160)
LSU: 9 (Over -130, Under +110)
Mississippi State: 7.5 (Over -145, Under +125)
Auburn: 7.5 (Over -135, Under +115)
Texas A&M: 7.5 (Over -120, Under +100)
Missouri: 8 (Over -155, Under +135)
Tennessee: 6.5 (Over -135, Under +115)
Arkansas: 5.5 (Over +130, Under -150)
Kentucky: 6.5 (Over -140, Under +120)
South Carolina: 5.5 (Over -145, Under +125)
Ole Miss: 5 (Over +110, Under -130)
Vanderbilt: 5 (Over +105, Under -125)
Independent
Army: 10 (Over -120, Under +100)
Notre Dame: 9 (Over -130, Under +110)
BYU: 6 (Over -130, Under +110)
Liberty: 5.5 (Over -125, Under +105)
UMass: 3 (Over +110, Under -130)
New Mexico State: 3.5 (Over -120, Under +100)
AAC
UCF: 9 (Over -140, Under +120)
Memphis: 9.5 (Over -130, Under +110)
Houston: 7.5 (Over +105, Under -125)
South Florida: 6.5 (Over -120, Under +100)
Temple: 6.5 (Over -130, Under +110)
Cincinnati: 6.5 (Over -300, Under +250)
Navy: 5.5 (Over +105, Under -125)
SMU: 6 (Over -135, Under +115)
Tulane: 5.5 (Over -155, Under +135)
Tulsa: 4.5 (Over +105, Under -125)
East Carolina: 4.5 (Over -185, Under +160)
UConn: 2.5 (Over -105, Under -115)
Conference USA
FAU: 7.5 (Over -110, Under -110)
FIU: 7.5 (Over +110, Under -130)
Louisiana Tech: 7.5 (Over -130, Under +110)
North Texas: 7.5 (Over -140, Under +120)
Southern Miss: 7.5 (Over +130, Under -150)
UAB: 7.5 (Over -110, Under -110)
Marshall: 7.5 (Over -140, Under +120)
Middle Tennessee: 5.5 (Over +120, Under -140)
Western Kentucky: 5 (Over -120, Under +100)
Charlotte: 4.5 (Over +105, Under -125)
Old Dominion: 4.5 (Over +180, Under -220)
UTEP: 2.5 (Over -145, Under +125)
Rice: 2.5 (Over +180, Under -220)
UTSA: 2.5 (Over -200, Under +160)
MAC
Toledo: 8 (Over +135, Under -155)
Ohio: 7.5 (Over -160, Under +140)
Western Michigan: 7.5 (Over -130, Under +110)
Northern Illinois: 7 (Over +170, Under -200)
Eastern Michigan: 6.5 (Over +120, Under -140)
Buffalo: 6 (Over -135, Under +115)
Miami (OH): 5.5 (Over +100, Under -120)
Ball State: 4 (Over -130, Under +110)
Central Michigan: 4 (Over +120, Under -140)
Kent State: 4 (Over +145, Under -165)
Akron: 3.5 (Over +130, Under -150)
Bowling Green: 3 (Over -140, Under +120)
Mountain West
Boise State: 10 (Over +105, Under -125)
Fresno State: 8 (Over +100, Under -120)
San Diego State: 8 (Over +110, Under -130)
Utah State: 6.5 (Over -145, Under +105)
Air Force: 7.5 (Over -110, Under -110)
Nevada: 6 (Over -120, Under +100)
Hawaii: 5.5 (Over -130, Under +110)
Wyoming: 5.5 (Over -110, Under -110)
New Mexico: 4.5 (Over +110, Under -130)
UNLV: 4 (Over -115, Under -105)
Colorado State: 3.5 (Over -125, Under +105)
San Jose State: 2.5 (Over -190, Under +160)
Sun Belt
Appalachian State: 9 (Over -140, Under +120)
Arkansas State: 7.5 (Over -145, Under +120)
Georgia Southern: 6.5 (Over -130, Under +110)
Troy: 7 (Over -160, Under +140)
Louisiana: 5.5 (Over -130, Under +110)
Louisiana-Monroe: 5 (Over -130, Under +110)
Georgia State: 3.5 (Over +-150, Under +130)
Coastal Carolina: 4.5 (Over +130, Under -150)
Texas State: 4.5 (Over -110, Under -110)
South Alabama: 2.5 (Over -120, Under +100)