Legal Virtual Horse Racing Betting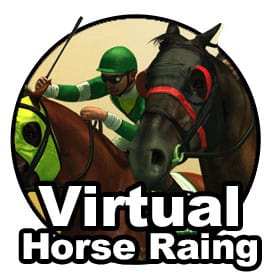 Wagering on virtual horse racing sims is exclusively available only at the best offshore sportsbooks, alongside their other virtual sports betting offerings. Like those, horse racing sims are entirely computerized and randomized using certified RNG (random number generation) software from the best brands in the industry, so your horse – and your bets – will never come up lame.
If you want to learn more about how to bet on virtual horse races, our brief guide explains the details of the pastime, where you can find the best lines and odds, and how you can join safely, legally, and quickly to enjoy your days – and nights! – at the best virtual horse racing tracks online. Saddle up, amigo – It's gonna be a smooth ride!
Is It Legal To Bet On Virtual Horse Racing?
In America, it is legal to bet on virtual horse racing simulators, but only if you use an offshore racebook site to do so. While horse racing laws are different from sports betting laws and casino laws in the US, none of the above has actually accounted for virtual horse betting. While that may change in the future, right now, the only legal option is to use a reputable offshore operator like those listed here.
Note: Residents of WA are nominally barred from all forms of online gambling, though the laws are apparently not enforced, and we're not aware of a single resident in either state being cited, fined, or arrested for online horseplay. Still, if you live in Washington and want to bet on the virtual ponies, you must do so only at your own risk.
Best Sites For Virtual Horse Racing Betting In 2023
Virtual Horse Racing Explained
When you bet on virtual horse racing online, the process is slightly different from how betting works in horse racing proper. That's because the game itself is different. Traditional horse racing involves real horses, jockeys, tracks, and various other things (i.e. weather conditions, horse health, etc.) that factor into the sport.
Virtual horse racing, on the other hand, has no real-world influence and is 100% simulated and computer-controlled according to strict RNG parameters. The horses do not reflect real-life horses, so you won't find the likes of American Pharoah or Justify in the stables. In this way, virtual horse racing is like a horse-themed lottery that allows players to make traditional horse bets and horse racing picks.
Additionally, the horse racing schedule is comparatively condensed, with races being held every 4-5 minutes, all day long, 24/7/365. While a champion racehorse might only compete a dozen times in their career, these virtual horses are running nonstop for years on end. Only Secretariat could keep up with that!
Virtual Horse Racing Odds And Lines
If you know how to place bets on the Kentucky Derby or other horse racing events, you'll know how to wager on virtual horse racing, as the same kinds of lines and wager types are available.
There is only one key difference to consider between horse racing sims and the real thing when it comes to betting, and that's the fact that real horse racing uses a pari-mutuel or pool-based model. This means that when you place your bet, you won't know the exact winning ratio until all betting closes. When the odds shift, so does your payout potential.
Virtual racing, however, usually uses fixed odds, so you know exactly how much you stand to win, no matter what. That said, some virtual betting sites may use pari-mutuel style wagering, shifting their lines and payouts accordingly. Each online racebook is different, so we recommend joining several and shopping around for the best lines and most favorable horse racing sim experiences.
Types Of Horse Racing Bets
There are two primary types or categories of horse racing betting odds: straight bets and exotic bets. We briefly describe these below, but there are so many horse racing betting strategies out there that for a full tutorial, you'll have to do a bit of studying.
Virtual Straight Bets – Straight bets simply require you to pick a horse you think will Win, Place, or Show. A Win bet means your specific horse must win the race. A Place bet means that your chosen horse can finish in first or second. A Show bet means that your horse can finish in first, second, or third. These are also called WPS bets for short.
Virtual Exotic Bets – Horse racing exotics are all parlays, or multi-horse bets. The most popular are Exactas (pick the first-place and second-place finishers in order), Trifectas (pick the first three finishers in order), and Superfectas (pick the first four finishers in order). There are other exotics, too, and your sportsbook will have all these as options under the race tab in their Virtual Sports sections.
You can also box your bets in horse racing. This is basically a way to pick all possible outcomes for an exotic bet on one ticket. Say you want to bet on a Trifecta, but you want to give yourself some wiggle room. To do this, you can box the three horses so they don't have to win in order, they merely have to win the first three positions in any order.
Further, you can box four, five, or even six or more horses into a Trifecta or Superfecta box, increasing you chances even more. Boxed bets cost more than regular wagers, but if you hit on one, it can be more than worth it.
Mobile Betting On Simulated Horse Racing
If you're looking for a virtual horse racing betting app on the App Store or in Google Play, you won't find one. These storefronts don't allow real-money mobile gambling apps from offshore operators, and no domestic operators have horse racing sims in their portfolios.
However, you don't need a special iPhone horse betting app or Android racebook app. Instead, all you need is a mobile device, an Internet connection, and a membership at one of the sites listed here. Their mobile interfaces work with everything on offer, so you can wager on the electro-ponies while they – and you! – are on the go, anywhere in America. These connections are encrypted and secure, and there's never anything to download or update. So git along, little dogie!
Live Betting On Virtual Horse Races
Live betting, as it is traditionally understood in the sports betting world, is often not in play for virtual sports, since the events are condensed and over in mere minutes.
However, live betting has never been possible for legal horse racing betting, as the pari-mutuel betting system – and the brevity of the event itself – doesn't allow for in-game bets. All wagers must be in before the horses start their runs, and that's as true in the online virtual space as it is in the real world.
However, at many racebooks (like Bovada, our top choice for virtual horse racing wagering), you can actually watch the races "live" right on the site via a video player embedded above the odds. These simulated races have video game-like graphics, and they even have real (if somewhat generic) announcing. This is great for extra immersion, and it's a feature you can only expect from the very best horse racing betting sites.
Historical Horse Racing Vs. Virtual Horse Racing
Many people might confuse virtual horse racing with Historical Horse Racing, or HHR. This is also called Instant Racing, and it uses an interesting legal approach to get around typical gambling classifications in most states. Pragmatically, virtual horse races and Instant Racing events play out the same way and are equally difficult to handicap for an edge, but there are technical differences to be aware of.
Historical Horse Racing machines are available across the US, in bars, cardrooms, and Class II casinos. These are not technically gambling games, as they use defined historical data in all of their races. Basically, Instant Racing machines take decades of horse racing results from tracks nationwide, strip away all identifying markers (horse names, jockey names, years, sites, weather, etc.), and then bettors wager on the outcomes. Since the races play out identically to their real-world counterparts, they are not random in any way and are thus not "gambling" by definition.
Virtual racing, of course, doesn't use any historical data and isn't based on real-life horses, tracks, or other details. The games are driven (ridden?) purely by the RNG software that governs their parameters, and bettors make their picks according to the odds (which is the only real clue to the strengths and weaknesses of the horses in question).
Virtual Horse Racing FAQs