Legal Betting On Virtual Car Racing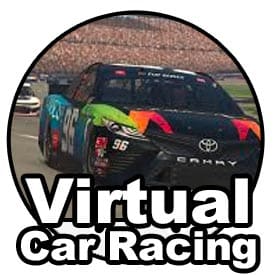 Virtual sports have emerged as a top betting option at online sportsbooks, captivating bettors who are looking for action after the checkered flag has been waived and the NASCAR engines have cooled down for the season. Fortunately, legal betting on virtual car racing is tearing up the race tracks online every few minutes, so don't get left behind in the dust (or that tire guard rail thing)!
Is it legal to wager on a virtual racing game? You bet, and our guide will cover the details surrounding those legalities and much more. We'll describe the differences between this new auto racing market and the popular eSports (like iRacing and eNASCAR) and video game sims betting categories. Our experts will also provide a list of the best places to bet on racing on the web and what kind of promotions they offer.
Is It Legal To Bet On Virtual Car Racing?
Currently, betting on virtual racing and wagering on simulated sports, in general, only takes place online. Physical sportsbooks have been slow to adopt this new kind of gambling, but with the drastically increased level of activity in the genre, we suspect that they'll add it to their offerings sometime before the final lap.
If you want to legally bet on a virtual car racing simulator right now, it'll need to be with one of our top-rated offshore sportsbooks. Because offshore gaming is not addressed in or governed by US gambling laws, that means that it is not against the law to wager with online betting sites operating outside of the country.
Best Sportsbooks for Betting on Virtual Car Races in 2023
What Is Virtual Car Racing?
Dedicated gear-heads flock to the racetracks in droves each weekend to watch their favorite drivers try to finish in first place. But what about on a Wednesday afternoon when you want to legally wager on a live race and none are available? Virtual racing can be a cure for any post-race hangover or pre-race anxiety.
Virtual auto racing most closely resembles the NASCAR circuit, with "stock cars" navigating an oval track. Effectively, these are unbranded, unaffiliated eNASCAR events (as opposed to, say, virtual IndyCar racing sims). But these races don't last all afternoon. Instead, each one is just a few laps, with the duration of the video feature lasting for around 2-3 minutes.
There is a very brief break in between races to allow for betting, and then the action begins again. There are several simulated participants in these races, each with their own fictional cars and names.
There is no human involvement in computer-controlled racing. The car racing simulator software provides results through the use of RNG, or random number generation. Minimal historical data can be gleaned from previous race results.
The only real indicator of racer performance is contained in the odds themselves. Legal virtual race betting is a bit of a crap-shoot, but that's part of the fun that these regularly recurring features are here to provide.
How To Bet On Virtual Car Racing
When you enter your legal online sportsbook, locate the section for betting on virtual sports. Once inside, you'll discover many options, including several choices for racing. Different sportsbooks may label them with different names. One major betting site calls the section Supercars, for example, while another may call it eRacing or even iRacing (though this latter is a popular branded eSports league, which we discuss further below).
Once inside the virtual racetrack, bettors will see a video display to show each race. Below that screen are a series of betting lines offered in moneyline form. Simply select the odds that appear most favorable to you, and place a wager. Gentlemen, start your bankrolls!
Legal Virtual Car Racing Odds And Betting Lines
When browsing an online legal sportsbook for virtual racing odds, they will appear similar to those that seasoned bettors would come to expect when wagering on NASCAR, betting on the Daytona 500, or other real-world auto races such as Formula 1 race betting or IndyCar racing. Moneyline odds are offered in the following racing categories:
Win
Place
Show
Exacta
Trifecta
Over/Under Finishing Placement
Even/Odd Finish Placement
While WPS, exactas, and trifectas are most common in horse racing betting (and virtual horse racing betting), they are used when wagering on simulated car races, too. This gives bettors opportunities to hit big payouts, especially on the exotic parlays.
Mobile Betting Options On Virtual Car Races
Sometimes, gamblers need a betting fix in a pinch, and the web apps offered by our top-rated offshore sportsbooks can rescue desperate auto racing fans with the Jaws of Life. From almost anywhere on the planet, as long as your iPhone or Android device has a signal, you can connect to a top virtual racing app and legally bet on simulated auto racing.
Just click on one of our recommended virtual auto racing sportsbooks on this page using a major mobile web browser such as Google Chrome, Safari, Opera, or Firefox and the site's web app will conform to the dimensions of any screen.
The betting interface and gameplay are just like those you'd find in a native app, with the additional security protocols that only web apps can offer. Plus, there's never anything to download or update. For iRacing on your iPhone or eRacing on your Android, you can't go wrong!
Virtual Racing vs. NASCAR 21 eSports and Video Game Simulations
When browsing through legal online betting sites that offer v-sports, bettors may notice that there are other similar offerings on the table, such as eSports and video game sims. While these two betting options are somewhat related, betting on eSports and wagering on video game sims differ in a few significant areas, and they are both fundamentally different from the virtual racing market discussed above.
eSports and video game simulations use different software than virtual sports. Virtual auto racing uses software designed specifically for gaming purposes by top RNG developers, with cars and drivers that are entirely fictional. eSports and sims use the NASCAR 21 video game series and the immensely popular iRacing platform as the software to host their contests.
These platforms feature drivers and cars that are designed to look and act just like their real-life equivalents, down to individual racing habits, team performances, and even sponsorship decals, paint colors, and more. The tracks are all based on real-life venues, as well, and they're accurate down to every detail.
These races are shown to completion and last for much longer than abbreviated virtual car races, though they usually don't last for the several hours that a typical NASCAR race does, as there are fewer laps to run.
Where eSports (including eNASCAR or iNASCAR and iRacing) and video games simulations differ is the inclusion of human control. eSports feature human gamers dictating the action on-screen, where sims deliver CPU controlled action. Sims and eSports do tend to use the same games for their basis, and they also usually allow for live betting due to the increased length of the events. Even external factors – like weather conditions – can play a role. Better change out those slicks, slick!
Live Betting Options
There is no live betting available for legal virtual auto racing because the contests only last for a couple of minutes, and there's barely enough time to get regular wagers in. Betting frequency is the name of the game in this market, with races starting fresh every 3-5 minutes.
Live betting would have trouble keeping up with the betting pace of virtual racing, just like you'd have trouble keeping up with the driving pace of Jimmie Johnson on those big ovals IRL.
Betting Financial Options
Reputable sportsbooks offering racing simulations betting provide a large variety of legal deposit and withdrawal options and have tapped into the latest trends in international financial markets. The methods listed below represent the most commonly available options.
Our top choice for funding virtual racing gambling is, fittingly, a virtual currency like Bitcoin or other supported cryptos, as these carry the most benefits for the most players, but any of the following will work for your needs at the sites that accept them:
Deposit
Bitcoin deposits and other cryptocurrency
Credit Cards
Debit Cards
Money Orders
Wire Transfers
Person-to-Person (MoneyGram, etc.)
Cashier's Checks
Zelle (Cash to Crypto Exchange)
Withdrawal
Bitcoin and other cryptocurrency
Money Orders
Wire Transfers
Courier Checks
For gamblers that fancy cryptocurrency, they better hold on to their virtual racing seat! Online sportsbooks prefer crypto and offer additional levels of promotional bonuses when it is used.
Don't have any Bitcoin to spend? You can buy crypto on various commercial exchanges, but there's a 5-10-day wait for first-time purchasers. Cryptocurrency is also the only form of payment that will allow for a same-day payout and never comes with any added transfer fees.
Bonus Options for Virtual Car Racing
When joining a legal online sportsbook for the first time, promotional welcome bonus offers will be presented that will match a portion of the new member's first deposit. If Bitcoin is used as a method of deposit, that welcome bonus is usually increased for even more free plays so you can be off to the races!
Just remember, sportsbook bonuses come with rollover requirements. But if all terms and conditions are met (and they're usually quite easy to meet), then it is basically free money for additional betting. There is no obligation for a new member to accept any bonus.
Virtual Racing Tips
While the main focus of simulated sports is entertainment, we can offer a few tips on how to win on virtual racing contests. Our first suggestion is to watch these virtual car racing games online free. It doesn't cost a penny to observe the action and the betting lines, and we can't think of a better way to practice.
Our virtual racing school doesn't end there. We know it is entertaining to bet big on every race, but don't blow past your your bankroll right off the starting line. Setting a 3% maximum bet limit will allow for the most betting exposure and will make bankroll management a breeze. Just angling your perspective towards responsible gambling will go a long way to enhance your overall gaming experience.
Finally, remember not to go on a betting binge. Since virtual racing events are held so frequently, you could find yourself wagering your day away. Take breaks and bet responsibly, and you'll be able to enjoy legal RNG racing for real money anytime you want, 24 hours a day. It's like Le Mans, only better – and with stock cars!
What Is Virtual Reality Car Racing?
Virtual reality auto racing is, for now, a video game category that doesn't have a gambling market attached to it. There are numerous video games that offer VR races, and in the future, it's likely that offshore legal sportsbooks will offer VR racing betting.
As virtual reality becomes more mainstream and the price of VR headsets and other equipment comes down, a whole simulated world of car racing will be opened up to bettors everywhere. You'll be able to sit behind the wheel and experience the rush of the competition as you have money on the line and the checkered flag in your sights. With 360 degrees of freedom, just be careful not to spin out!