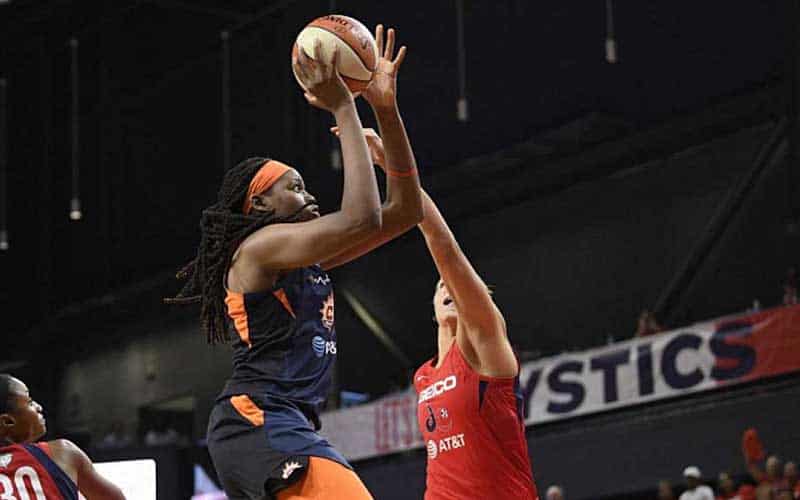 The Connecticut Sun were able to tie the 2019 WNBA Finals at one game apiece with a 99-87 victory over the Washington Mystics Tuesday night. Rallying behind Jonquel Jones's 32 points and 18 rebounds, the Sun could have stolen the entire series with just one game.
Bovada does not feel the same, however.
Despite the Sun's Game 2 win, Washington is still the favorite in the Finals at -200 odds. Oddsmakers give the Mystics a 66.67% of winning the series even though Washington may be without their best player and the matchup is tied 1-1.
2019 WNBA Finals odds – series winner
Washington Mystics -200
Connecticut Sun +160
What is more surprising is that Washington is favored even with Elena Della Donne's herniated disk.
The 2019 league MVP lasted less than four minutes in Game 2, leaving the contest with back spasms. After an exam on Wednesday, it was revealed that Delle Donne had a herniated disk in her back.
The Washington forward is undergoing treatment, but her status is uncertain for Game 3 on Sunday.
This is not the first time Delle Donne has faced injuries in the WNBA playoffs.
Playing for the Chicago Sky in 2014, Delle Donne dealt with back pain throughout that season's Finals, too. Then, during last season's playoffs, Delle Donne suffered a knee injury during the semifinals. The Mystics still made the 2018 Finals, but were swept by the Seattle Storm.
With the Delle Donne injury stealing headlines after Game 2, Jones's heroics have been overlooked.
The Bahamian Beast, as she has been dubbed, set a WNBA Finals record with nine offensive rebounds. Her 32 points were the most since 2011 and fifth-most in Finals history.
"I think I just got on the offensive glass a lot, and that allowed me to really get everything else going," Jones said in her postgame interview. "Honestly, I just want to keep my confidence. I feel like people think it dwindles, but it doesn't."
Delle Donne's absence in Game 2 definitely benefitted Jones, apparent from the jump in stats between the first and second games.
In Game 1, not only did Delle Donne go for 22 points and 10 rebounds, but she also held Jones to 12 points for the game. Remove Delle Donne as the primary defender, as the Mystics were forced to do in Game 2, and Jones goes off for a record-setting night.
The Mystics and Sun play Game 3 Sunday at 3:30 pm ET on ABC. With the possibility that Delle Donne is inactive and Jones is just as electric as she was in Game 2, the Sun could take a 2-1 over Washington.