If you bet sports online, chances are you bet sports online with cryptocurrency.
All things considered, there's no better way to wager, as you get rapid deposits, high limits, enhanced bonuses, and access to same-day payouts.
No other online betting banking method offers all that, and the legal offshore gambling market has contributed to the overall crypto market – and has pushed crypto into the mainstream – more than most other industries.
Of course, there are other drivers, but the overlap between crypto and sports betting cannot be denied.
This is true for crypto advocates and crypto naysayers alike. For the latter especially, crypto trading has been compared to gambling addiction.
But the Venn cross section is even bigger than the sports betting angle.
The overlap between crypto and sports itself cannot be denied.
You've already heard about big-name athletes across several major sports taking portions of their salaries in cryptocurrencies.
Russel Okung of the Carolina Panthers received half of his $13 million base salary in Bitcoin, while Jaguars savior Trevor Lawrence is getting a crypto signing bonus to boost his Blockfolio sponsorship bona fides.
But those guys are small potatoes.
If you want big potatoes, you've got to get the GOAT involved.
And the GOAT is definitely involved.
We reported earlier that Tampa Bay Buccaneers quarterback Tom Brady was stepping into the NFT market, and today, that initiative is finally ready for primetime.
Per ESPN:
"DraftKings Marketplace, the NFT ecosystem that will house Brady's Autograph platform, is now live, with Autograph's first preseason pass collection dropping Wednesday and featuring Brady, Wayne Gretzky, Tony Hawk, Naomi Osaka, Derek Jeter and Tiger Woods."
Built atop Ethereum (which, until Cardano rolls out its own smart-contract and NFT phase, will remain the standard for non-fungible tokens), Autograph's gallery will be available to anyone with a DraftKings account.
Brady, for his part, has long been bullish on crypto.
His social media profile images show him with "laser eyes," which is a noted trend among those high on crypto's potential.
About the rollout of Autograph's NFTs via DraftKings, Brady had this to say:
"NFTs bring an entirely new dimension to the collector experience, and I cannot wait for people to discover and engage with this first ever drop of Autograph's official digital collectibles. We created Autograph as a way for fans and collectors to own a piece of iconic moments in sports and entertainment through authenticated and official digital collectibles and we are just getting started!"
This, of course, represents more investment in crypto not just by overseas betting sites, their clientele, and actual athletes, but it also shows a distinct embracing of the market by domestic sportsbooks.
While those who live in legal sports betting states that have DraftKings betting apps or sports gambling lounges up and running cannot actually use crypto to bet on sports with the operator, the tide could be turning in that direction sooner than later.
For example, the state of Wyoming recently passed new sports betting legislation that explicitly includes crypto coins as a valid bet funding method.
Naturally, there are crypto doubters, even among the avid sports betting world.
And though NFTs have made the concept of smart contracts and blockchains more accessible to the mainstream, not everyone is convinced about those, either.
After all, you can "own" a digital image by long-holding or right-clicking on said image and saving it to your mobile device or computer hard drive. Try it for yourself: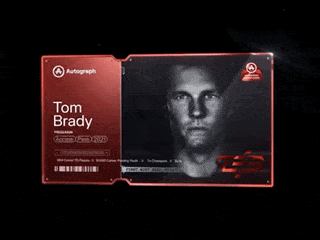 If you were to buy the NFTs of the above, the first image would cost you $12, while the second image would set you back $1500.
What's the point, right? Why bother?
Fair enough.
But to that, we also say this:
What's the difference between placing a friendly bet and having actual skin in the game?
Crypto is still very much on the ground floor, but as these kinds of initiatives become more commonplace in sports and entertainment, the elevator doors could be starting to close.
Get in now before it's too late.
It could be the best bet you ever make.
*You can check out the DraftKings Marketplace NFT Drop Schedule here.