There is an added air of intensity to this year's election season. Come November, registered voters in several states will decide whether or not to authorize legal mobile sports betting.
A Gamble In The Golden State
California is at the heart of these discussions as residents are set to review several domestic betting proposals at the ballot box. Bearing the title of the US' most populous state, it has become the gilded prize of the North American gambling market.
Anyone in their right mind would want a piece of that multi-million-dollar pie. That's why commercial and tribal gambling interests are dueling it out in the best way they know how—using the power of their pockets.
The Corporate Online Sports Wagering Initiative, #21-0017A1, aims to lock American Indian gaming operators into contracts with commercial sportsbooks. The measure was designed and funded by a coalition of commercial gaming entities including FanDuel and DraftKings.
And while legal online sports betting would be an exciting development for the Golden State, California's tribes have already submitted and cleared their own ballot initiative.
Tribal Interests Take Priority
The California Legalize Sports Betting on American Indian Lands Initiative qualified for the November election last summer. The proposed sports gambling law comes with more limitations than that of the commercial initiative.
Agua Caliente tribal chairman Reid Milanovich told reporters at the Desert Sun the following:
"Our measure also will help create more jobs and economic opportunities that support local communities and Indian self-reliance by generating tens of millions of dollars each year in new revenues for public schools, wildfire prevention and other state priorities."
Mindful of the online sportsbook buzz, California's tribes have also warned that welcoming commercial entities could threaten American Indian sovereignty.
Nonetheless, the decision remains in the hands of the public.
Survey Says 'No' To Sportsbooks
The Coalition For Safe, Responsible Gaming recently published the findings of a California legal sports betting survey.
In November, a pool of 1,094 registered in-state voters was asked whether they planned to vote 'Yes' or 'No' to the Corporate Online Sports Wagering Initiative. Participating parties had to first read the Initiative's official Title and Summary before submitting a response.
In April, the group returned and participants were surveyed again. Attached below are the findings of the study.
The study demonstrates the steep tumble of the American sportsbook hype. It seems that Californians are marginally less anxious to go ahead and legalize. Knowing that California is a gold mine for corporate sportsbooks, voters may be inclined to bargain for a better deal.
During that same April session, participants were asked to declare their expected vote once more. This time, they answered only after surveyors read through a list of pro and con statements from tribal and commercial interests.
Legal Betting Loses Traction
And, based on the findings, it seems that the statements aided in skewing opposition even further. You can look at the figures in the image below.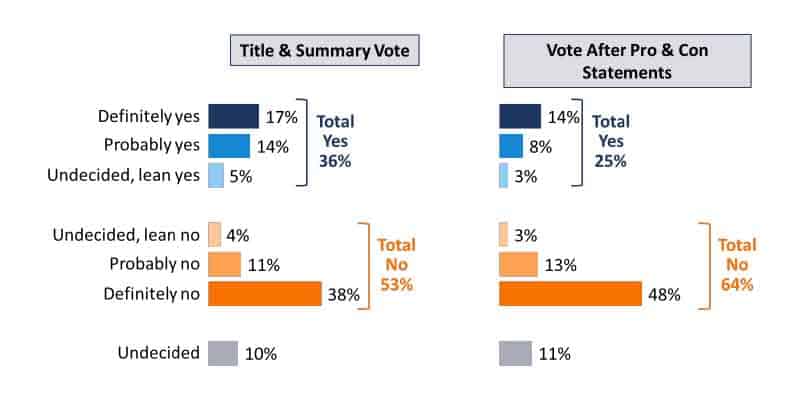 California voters will have a lot to consider in the fall. But it's important to remember whose interests are most important—that of the people.
Of course, gambling interests are going to emphasize the urgency of becoming a legal sports betting state. There is nationwide pressure for non-domestic states to hop on the bandwagon to catch up on missed revenues.
But California will set a precedent for the rest of the nation. If voters decide that 10% of mobile betting proceeds is enough to fill their cup, operators will continue to push for even lower rates across the country.
And who wins then?
Source: Desert Sun, Stand With CA Tribes