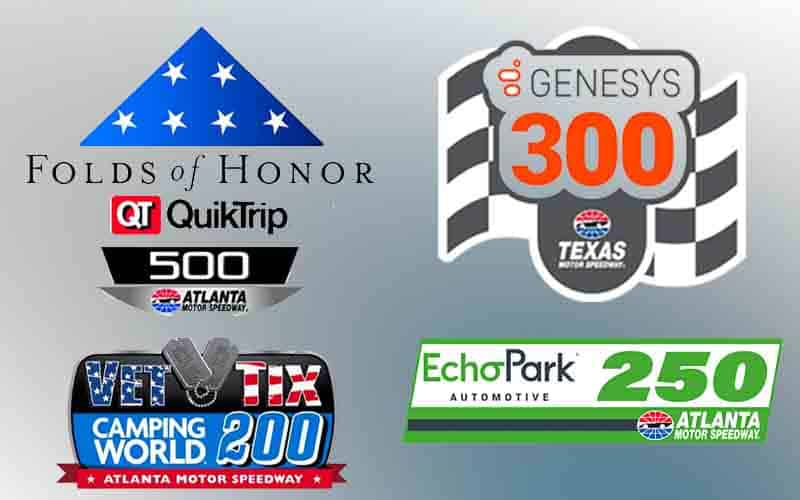 If there is a legal sports betting drought due to the COVID-19 pandemic, someone forgot to give professional auto racing the memo.
NASCAR and IndyCar are filling up this weekend's gas tank with four races that are sure to entice eager sports bettors that are anxious for pro sports to return.
NASCAR is hosting three races this weekend at the Atlanta Motor Speedway. The Camping World Truck Series and Xfinity Series will hold races on Saturday, with the main event Cup Series QuikTrip 500 race occurring on Sunday.
IndyCar is also hosting the Genesys 300 at the Texas Motor Speedway, rounding out a weekend full of car racing betting options.
NASCAR Camping World Truck Series Vet Tix 200
Saturday @ 1 PM EST on FS1
Kyle Busch is a busy man, as he competes in NASCAR's Truck Series as well as the NASCAR Cup Series, oftentimes racing on both Saturday and Sunday. Busch is dominant in the Truck Series, winning an all-time high 57 races over the course of his career.
This dominance is reflected in the odds for NASCAR betting, as he is the only driver in any of this weekend's races to feature odds in the negative on an overall winner betting line (which is uncommon for any such racing bet, to say the least). Kyle has won all three of NASCAR's series events at Atlanta Motor Speedway in the past, and it would be a minor upset if he is not the first to cross the finish line after the checkered flag on Saturday.
NASCAR and IndyCar odds are provided by Bovada Sportsbook.
Winner
Kyle Busch -150
Chase Elliott +350
Ross Chastain +1200
Brett Moffitt +1600
Johnny Sauter +2000
Austin Hill +2500
Ben Rhodes +2500
Matt Crafton +2500
Sheldon Creed +2500
Field +2800
John Hunter Nemecheck +2800
Zane Smith +2800
Christian Eckes +3000
Grant Enfinger +3500
Stewart Friesen +3500
Todd Gilliland +5500
Tyler Ankrum +5500
Ryan Truex +8800
Ty Majeseki +9000
Jeb Burton +10000
NASCAR Xfinity Series EchoPark 250
Saturday @ 4:30 PM EST on FOX
Next up is NASCAR's Xfinity Series, which serves as the junior varsity level of stock car racing. Despite it being the equivalent of NASCAR's minor league, top-level racers often drop down to enter the fray.
All betting odds for EchoPark 250 Xfinity Series stock car drivers are in the positive, meaning that regardless of which racer you pick, you will multiply the amount risked significantly if you can accurately select the winner. A wager on all remaining unlisted racers has odds of +2800, meaning a wager of $100 will earn a payout of $2800 if any racer not listed wins.
Winner
Chase Briscoe +245
Justin Allgaier +425
Noah Gragson +650
Ross Chastain +700
Austin Cindric +725
Brandon Jones +725
Harrison Burton +825
Daniel Hemric +1300
Allmendinger +1800
Field +2500
Justin Haley +3000
Riley Herbst +4400
Ryan Sieg +7700
Michael Annett +8800
Anthony Alfredo +10000
Myatt Snider +12500
Brandon Brown +25000
Brett Moffitt +25000
Jeremy Clements +27500
Joe Graf Jr +55000
Josh Williams +55000
Timmy Hill +55000
NASCAR Cup Series Folds Of Honor QuikTrip 500
Rounding out NASCAR's weekend of activities at the Atlanta Motor Speedway is their Cup Series Folds of Honor QuikTrip 500. Once again, we find Kyle Busch and Chase Elliot among the favorites, with Kevin Harvick favored to win. Brad Keselowski was the winner of last weekend's race, and he currently has +800 odds placed on his chances of victory on Sunday, which pays out at a multiple of 8X.
Winner
Kevin Harvick #4 +450
Chase Elliott #9 +550
Kyle Busch #18 +650
Alex Bowman #88 +750
Brad Keselowski #2 +800
Martin Truex Jr. #19 +800
Ryan Blaney #12 +800
Joey Logano #22 +900
Jimmie Johnson #48 +1100
Denny Hamlin #11 +1200
Kurt Busch #1 +1400
William Byron #24 +1700
Clint Bowyer #14 +2200
Erik Jones #20 +2600
Aric Almirola #10 +4400
Matt DiBenedetto #21 +4400
Matt Kenseth #42 +6000
Tyler Reddick #8 +6600
Austin Dillon #3 +8800
John H. Nemechek #38 +8800
Ricky Stenhouse, Jr. #47 +8800
Christopher Bell #95 +12500
Ryan Newman #6 +12500
Chris Buescher #17 +17500
Cole Custer #41 +20000
Darrell Wallace Jr. #43 +30000
Ryan Preece #37 +35000
Ty Dillon #13 +55000
Daniel Suarez #96 +75000
Michael McDowell #34 +75000
Corey LaJoie #32 +100000
Joey Gase #51 +100000
Josh Bilicki #27 +100000
Reed Sorenson #7 +100000
BJ McLeod #78 +200000
Brennan Poole #15 +200000
Garrett Smithley #53 +200000
JJ Yeley #77 +200000
Quin Houff #00 +200000
Timmy Hill #66 +200000
Because Sunday's race is the marquee event of the weekend, top-rated online sportsbooks have prepared additional betting lines that provide NASCAR gamblers more intriguing options.
The following three lines feature groupings of drivers and create a new "race" outside of the actual event. Just select who you think will finish first among the five racers listed, and you can earn a nice payout because all odds are in the positive despite the limited options.
Folds Of Honor QuikTrip 500 – Group Winner
Kevin Harvick #4 +260
Chase Elliott #9 +320
Kyle Busch #18 +320
Brad Keselowski #2 +360
Alex Bowman #88 +440
Folds Of Honor QuikTrip 500 – Group Winner
Kurt Busch #1 +250
Erik Jones #20 +305
Clint Bowyer #14 +320
William Byron #24 +380
Matt DiBenedetto #21 +475
Folds Of Honor QuikTrip 500 – Group Winner
Joey Logano #22 +285
Martin Truex Jr. #19 +300
Denny Hamlin #11 +340
Ryan Blaney #12 +370
Jimmie Johnson #48 +380
Other NASCAR prop bets have been included for Sunday's QuikTrip 500, including manufacturer odds, which are unique to car racing.
Ford is by far the most dominant auto manufacturer in NASCAR history, but a majority of that supremacy occurred during the league's founding years. Lately, Chevy and Toyota have been narrowing the gap, and now you can place a wager on which manufacturer will win the race on Sunday.
Also available are odds on total caution flags during the event, which suggest that there will be at least a few. Be careful out there!
Folds Of Honor QuikTrip 500 – Winning Manufacturer
Ford +140
Chevrolet +165
Toyota +225
Folds Of Honor QuikTrip 500 Total Cautions
Over 5.5 -200
Under 5.5 +150
IndyCar Genesys 300 @ Texas Motor Speedway
Saturday @ 8 PM EST on NBC
IndyCar didn't want to be left out of the party, and they are hosting their Genesys 300 this Saturday night at the Texas Motor Speedway. The race beings promptly at 8 PM, so be sure to get your wagers in before then, as all bets will be cut off when the contest starts. Gentlemen, start your engines!
Winner
Josef Newgarden #1 +450
Alexander Rossi #27 +525
Scott Dixon #9 +650
Will Power #12 +650
Simon Pagenaud #22 +750
Colton Herta #88 +1100
Ryan Hunter-Reay #28 +1700
James Hinchcliffe #5 +1800
Graham Rahal #15 +1900
Takuma Sato #30 +2500
Ed Carpenter #20 +2600
Santino Ferrucci #18 +2800
Felix Rosenqvist #10 +3500
Marco Andretti #98 +3500
Marcus Ericsson #8 +3500
Pato Ward #5 +6600
Tony Kanaan #14 +6600
Zach Veach #26 +6600
Alex Palou #55 +11500
Charlie Kimball #4 +11500
Conor Daly #20 +11500
Jack Harvey #60 +11500
Oliver Askew #7 +11500
Rinus Veekay #21 +11500