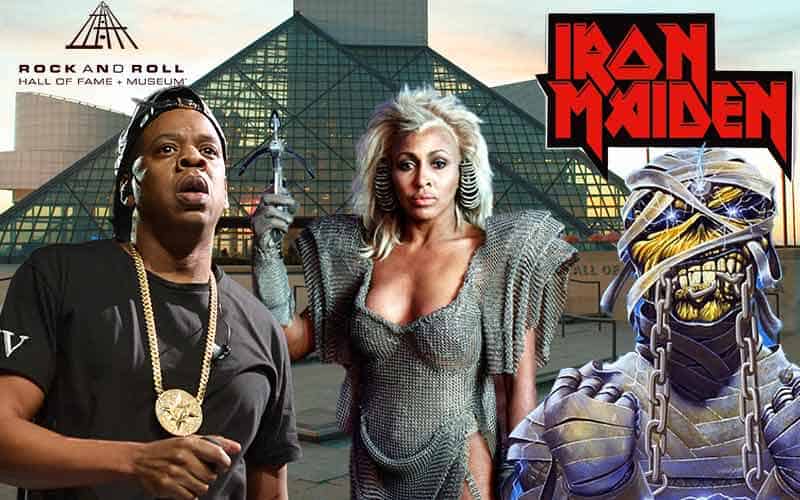 Can you think of anything less rock & roll than a bunch of corporate suits cramming themselves into a concert hall to watch elder musicians recite rehearsed speeches and stumble through reunion performances?
Yeah, we can't either, but nevertheless, the Rock & Roll Hall of Fame is still attempting to cling to relevancy by weakly attempting to infuriate the very fans they are supposed to be catering to by constantly pushing a list of nominees that don't play rock music.
No one expects to see a display for the Beastie Boys when they visit the Country Music Hall of Fame in Nashville, TN, but for some reason, this monolithic Cleveland institution insists on nominating and inducting performers in the realm of R&B and Hip Hop.
The R&R HOF employs these tactics to draw cheap heat, and now the industry's top entertainment betting sites have produced a flurry of odds asking whether certain artists will make the cut in 2021.
2021 Rock & Roll Hall of Fame Odds – Hip Hop/Rap
Will Jay Z Get Inducted?
Will LL Cool J Get Inducted??
The two entertainment prop bets above ask whether Hip Hop legends LL Cool J or Jay Z will enter the Hall in 2021, joining their fellow musicians Led Zeppelin, the Beatles, and Chuck Berry.
The money lines suggest that Jay Z will become a Hall of Famer in 2021, but LL will have to wait until a future induction opportunity because let's face it, there cannot be two Hip Hop artists inducted in the same year as it would bog down the performances with too much non-rock.
2021 Rock & Roll Hall of Fame Odds – R&B
Will Tina Turner Get Inducted?
Will Chaka Khan Get Inducted?
Will Dionne Warwick Get Inducted?
Will Mary J. Blige Get Inducted?
Rhythm & Blues, or R&B music, has been comparable to rock music in many ways over the years, but today, the genre is more closely aligned with the structure and subject matter of country music and incorporates more gospel elements.
Tina Turner and Dionne Warwick would be a natural fit for the HOF because of the era they performed in, but Mary J. Blige is part of the newer style of R&B, and her music is nearly a complete departure from Rock & Roll.
2021 Rock & Roll Hall of Fame Odds – Actual Rock Music
The following betting odds represent the artists that are most closely aligned with rock music, although they each fall into different sub-genres that include Heavy Metal, New Wave, Grunge, and Punk Rock.
Will Iron Maiden Get Inducted?
Will The Go-Go's Get Inducted?
Will Foo Fighters Get Inducted?
Will Rage Against The Machine Get Inducted?
Will Devo Get Inducted??
Will New York Dolls Get Inducted?
Ultimately, the decision is up to industry insiders and fan voters, and the results for the final inductees will be announced in May.
The Rock & Roll Hall of Fame Ceremony will take place in October in Cleveland, but bets will need to be placed on your nominee of choice in advance of May's announcement.
If these categories are not refined enough to attract the attention of entertainment industry gamblers, then perhaps one should consider betting on the Grammys instead.
Sure, the Grammys have screwed up in the past and awarded Jethro Tull – a classic rock band – the best Heavy Metal artist of the year over Metallica in 1989, but for the most part, they separate the genres appropriately – unlike a certain Ohio-based entity that could use some help in that department.
Betting Odds: MyBookie
Source: CNN