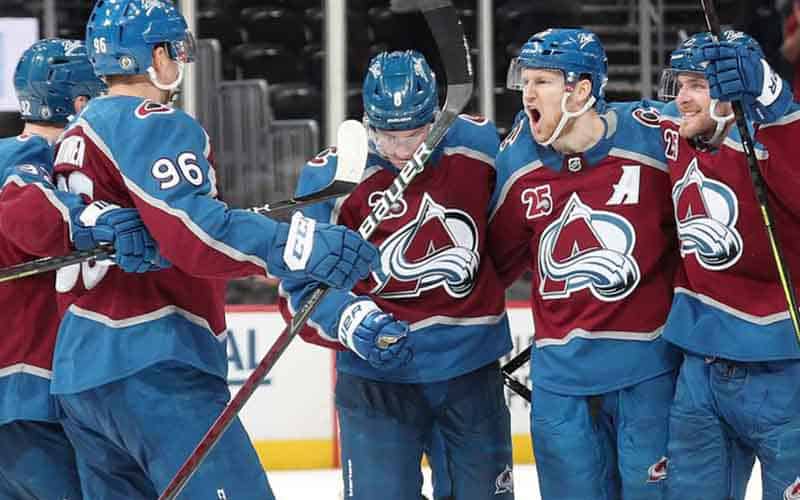 The NHL Playoffs Begin May 2nd, 2022
NHL Playoff Betting Sites Predict Colorado Avalanche Will Win 2022 Stanley Cup
This week's NHL Playoff picture betting odds and associated Stanley Cup brackets have been posted and the Colorado Avalanche are still favored to trek through the entire postseason and win the 2022 crown.
The exact same prediction was forecast last season during the weeks leading the 2021 Stanley Cup Playoffs, but ultimately, the Avalanche fell in the second round to the Vegas Golden Knights.
The Tampa Bay Lightning are the reigning Stanley Cup Champions and would qualify for the 2022 NHL Playoffs if the season were to end today. The Lightning's odds for NHL Playoff betting have slipped over the last calendar week as they are no longer favored to make it out of the first round.
Tampa Bay has lost three out of their last four games but will face a favorable opponent in the expansion Seattle Kraken tomorrow at 10 PM.
Kraken vs. Lightning betting lines should appear tomorrow morning, but Seattle's Stanley Cup futures odds of +300000 should give pro hockey gamblers an idea of how poorly they are performing in their first season of play.
The 2022 Stanley Cup odds for the Tampa Bay Lightning are intriguing and are worthy of a late-season championship wager that could pay off very well once the finals are over.
Tampa's +750 moneyline odds to win the 2022 Stanley Cup have the potential to deliver $7.50 on the dollar if wagers are placed right now.
Legal NHL sportsbook sites are now favoring a finals matchup of the Florida Panthers vs. the Colorado Avalanche, and bets can be placed on either pro hockey team that will deliver in excess of 4-to-1 net payouts.
The Vegas Golden Knights have also slipped in the most recent NHL Playoff bracket odds as they are no longer projected to escape the second round. The Calgary Flames have now assumed the dominant stance in that portion of the postseason NHL bracket and appear poised to clash with the Avalance for the Western Conference Championship.
The Carolina Hurricanes still hold the number one prognosis that they've held since we began updating the NHL Playoff brackets in February.
While hockey oddsmakers continue to lay a path for Carolina that leads them straight into the Eastern Conference Championship round of the NHL Stanley Cup Playoffs, a revolving door of contenders keeps spinning each week with all involved favored to beat the Hurricanes and move on to the finals.
The +800 odds of the Carolina Panthers winning the 2022 Stanley Cup might be worth a second look since they seem like such a sure bet to reach the Eastern Conference Finals.
While no experts seem to be suggesting that the Panthers will win it all, their Stanley Cup odds grant solid potential for a $1 or $2 hedge bet that could provide a nice surprise come early July of 2022.