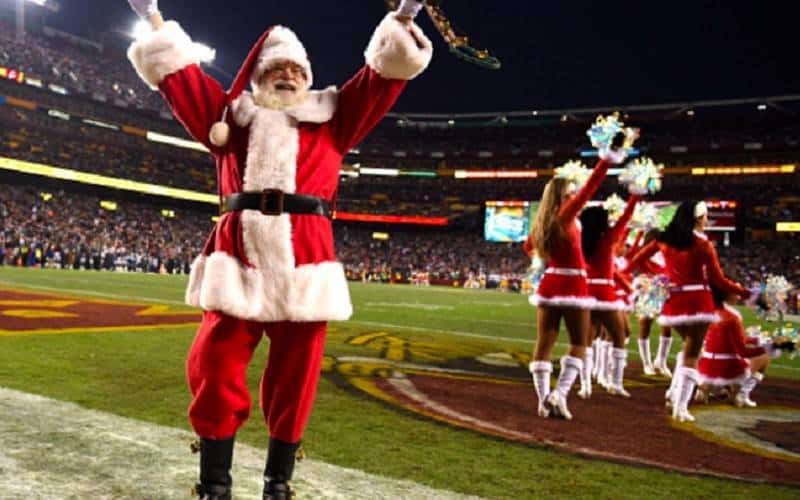 The 2019 NFL campaign is nearly over, and only two playoff spots remain unclaimed as we head into Week 17. But never mind that. Today is Christmas, and that means that it's time to sit back and look back on a season of ups and downs and everything in between.
For football betting fans, the year has had plenty of drama, with some bad breaks, a few high points, and a couple of big paydays. And like Roger Goodell, we've been keeping a list and checking it twice, putting together a list of who's been naughty and who's been nice. Merry Christmas!
Naughty Teams
Atlanta Falcons – The Falcons still haven't recovered from their epic collapse in Super Bowl 51, and maybe they never will. Starting the 2019 season at +3000 odds to win the NFL championship, the Dirty Birds lived up to their nickname and played like garbage for the first half of the season. Heading into the final week, they're 6-9 after a 1-7 start. That improvement's been good for fans, but for bettors, the Falcons have been baffling, losing to comparative scrubs like the Colts and Cardinals while beating superteams like the Saints and 49ers. Present: A cheap recliner from which to watch the playoffs in appropriate discomfort.
Carolina Panthers – The Panthers started the year at +5000 to win the NFL title, so nobody really expected much. But everyone probably expected more than the last-place 5-10 record they've mustered in the NFC South. In Week 16, they laid the biggest egg of the year by getting crushed 38-6 by the Luckless Colts. Present: Cam Newton might finally be gone for good, but maybe Carolina deserves another year of him. Can you trade up for coal?
Chicago Bears – The Bears play in arguably the toughest division (NFC North), with the first-place Packers and 10-4 Vikings ahead of them. Still, at 7-8, the season has been underwhelming for a team that carried preseason odds of +1200 to win the Super Bowl. The Bears almost certainly won't get anything they want for Christmas this year, not the least of which is clarity at the quarterback position currently helmed by Mitchell Trubisky. Present: Warby Parker gift certificate.
Cincinnati Bengals – Naughtiest team in the league. 1-14. Just awful. Present: First overall pick in the stacked 2020 NFL Draft (which they'll still probably screw up).
Cleveland Browns – Given the preseason hype for this Baker Mayfield- and Odell Beckham, Jr.-led offense, the Browns have cost more bettors more money than anyone (at least on NFL futures). And then, they really made the naughty list with this absolute nonsense. What a circus. Present: Tickets to the latest Star Wars tragedy, because the Ringling Brothers and Barnum & Bailey aren't around anymore.
Dallas Cowboys – At 7-8, the Cowboys are somehow still not mathematically eliminated from the playoffs. If they beat the lowly 3-12 Redskins and the Eagles lose to the 4-11 Giants in Week 17, they're in. And Jason Garrett is still going to get let go. Present: Jason Garrett is still going to get let go.
Denver Broncos – Under the advice of GM John Elway, the Broncos traded a fourth-round pick to Baltimore for Joe Flacco. In eight games, Flacco threw for 1822 yards, 6 TDs, 5 INTs, and then injured his neck (presumably from whiplash as so many better players kept passing him by). Present: This pointlessly expensive Newton's Cradle executive desk toy so Elway can learn about actions and their equal and opposite reactions.
Detroit Lions – By starting the 2019 campaign with +8000 odds to win the Super Bowl, the Lions were a known quantity this year. They've gone 3-11 on the season, and they'll miss the playoffs for the third year in a row. They shouldn't give Belichick alum Matt Patricia another chance at the helm, but they probably will, masochists that they are. Present: 50 Shades of Grey DVD box set.
Jacksonville Jaguars – The Jags started the season by signing Super Bowl-winning backup Nick Foles to an $88 million contract. Nick Foles then broke his collarbone in Week 1 against the Chiefs and missed most of the rest of the season. For a minute, Gardiner Minshew's mustache-fueled Minshew Mania was a compelling storyline, but the kid may not get a chance to shine with Foles eating up all that cash. Present: Harry's Holiday Winston Gift Set with Razor Stand. 
Los Angeles Chargers – The Chargers were supposed to contend, especially with a reinvigorated Philip Rivers coming off an MVP-caliber 2018 season. However, they just didn't. It's probably because the team moved from San Diego to play in a two-bit soccer stadium in Los Angeles for some reason. Present: A used copy of the Complete Idiot's Guide to Real Estate Investing at ThriftBooks.
Los Angeles Rams – Given their expectations (+1400 to win the Super Bowl after making it to the Big Game last year), the Rams are among the naughtiest teams in the NFL, costing bettors big at seemingly every turn before unceremoniously getting eliminated from the playoffs last week. At least Jared Goff is still good. Present: Goody's Hangover medication, re-gifted from the Falcons who never used theirs after Super Bowl 51.
Miami Dolphins – The Dolphins literally can't do anything right. They started the year with +50000 odds to win the Super Bowl, about +20000 more than the next-worst team. And then they actually won enough games to drop down a few spots in the draft order! When you're as bad as Miami and you don't tank, that's about as naughty as it gets. Present: 1972 and some cheap champagne.
New England Patriots – The 2019 Patriots have somehow assembled one of the best defenses in NFL history, but now their offense has fallen apart. Tom Brady hasn't been bad, per se, but he hasn't got many receivers, and the O-line has been more porous than in years past. For a team with a 12-3 record and an 89th straight division title, they sure look beatable. Present: Another NFL cheating scandal, naturally.
New York Giants – Naughty. Naughty, naughty, naughty. Like the Dolphins, the G-Men were not expected to contend, and they haven't. But also like the Dolphins, they've been completely outclassed by the Bengals, and they're now sitting at 4-11 with a chance to really fall down the draft boards. Saquon Barkley might not even get 1000 yards rushing this season, and they'll still have nothing to show for it. Embarrassing. Present: The Decline and Fall of the Roman Empire: Volumes 1-6.
Philadelphia Eagles – Just a couple of years removed from an epic Super Bowl victory, the Iggles aren't very good, and quarterback Carson Wentz hasn't been the killer talent he showed flashes of before getting injured and watching his team win it all from the sidelines. That said, they just beat the Cowboys and leapfrogged them for first place in the NFC East at 8-7. If they beat the woeful Giants next week at The Meadowlands, the Cowboys will be out, Dak Prescott's new contract might be cut by a few million bucks, and America's Team will have to go coach shopping. Here's hoping! Present: A lifetime ban from Wahlburgers and their horrible garbage.
Tampa Bay Buccaneers – The Bucs suck. Sure, they're 7-8, and quarterback Jameis Winston leads the NFL in passing yards. But he also leads the league in turnovers, with 28 picks on the year. If he tosses two more in Week 17 against the Falcons, he will become the first player in NFL history to throw 30 TDs and 30 INTs in the same year. Present: Luxxi 6" Plastic Afro Pik (3-pack).
Washington Redskins – With the worst owner in sports, the Redskins can't ever seem to hope for much but wasted draft picks and endless controversy. Also, Dwayne Haskins doesn't seem to be very good. And Urban Meyer is probably going to the Cowboys. Buckle up for another year of awful. Present: How to Kill Your Boss – An Erotic Love Story.
Nice Teams
Arizona Cardinals – The Cardinals haven't made the playoffs in forever, and they're not starting now, but the team has put together a respectable campaign this season behind rookies Kyler Murray and Kliff Kingsbury. With a record of 5-9-1, the Cards are on a decidedly upward trajectory despite Murray's diminutive size. Present: Skyrunner Kangaroo Shoes (Child Size).
Baltimore Ravens – The Ravens are the best team in the NFL, are the favorites to win the Super Bowl at +230 odds, and have the runaway NFL MVP in quarterback Lamar Jackson. Head Coach John Harbaugh might even finally win Coach of the Year. For Baltimore fans and bettors, the entire season has been one big Christmas present. There really isn't that much more to say. Present: Power Wheels Ford F-150 in Purple Camo.
Buffalo Bills – The Bills are playoff bound and by far the best NFL team in New York (though that's saying less than ever). At 10-5 on the season so far, they gave New England a scare during the first half, hanging with them in the AFC East. Of course, the Pats clinched the division, but the Bills have the tools – and the defense – to make a deep playoff run. For bettors, the biggest gift of the season out of Buffalo was their Thanksgiving Day trouncing of the hapless Cowboys, who were heavily (and stupidly) favored. Buffalo was the easiest +300 on the boards this year. Present: A bag of frozen Buffalo wings from Office Depot. Duh.
Green Bay Packers – After seemingly endless questions about Aaron Rodgers' desire and leadership, the Pack is atop the NFC North and currently carry +1400 odds to win Super Bowl 54. The season has been workmanlike and without controversy. Present: The Original Cheesehead hat, what else?
Houston Texans – Deshaun Watson is having another almost-MVP-caliber season, and the Texans – at 10-5 – have already punched their ticket to the playoffs. But Watson, who's still playing under a $14 million rookie deal, is about to come up for renewal, and he won't come cheap. Present: Pamphlet for the Keiser University Accounting program, just in case they even think about not paying up.
Indianapolis Colts – The Colts started the year as decent contenders, but Andrew Luck retired unexpectedly and the whole team fell apart overnight. Given that turn of events, Jacoby Brissett stepped in and led the team to a surprising 7-8 record so far. With a stat line of 2780 yards, 18 TDs, and only 6 INTs, Brissett has been solid. All in all, it's been a decent season in Indy. Present: Proctor Silex Alex's Lemonade Stand Citrus Juicer.
Kansas City Chiefs – The Chiefs are good. Very good. Maybe not as good as they were supposed to be after starting 2019 with +600 odds to win the Super Bowl, but they weathered some early adversity when superstar QB Patrick Mahomes went down, and they're now 11-4 and champions of the AFC West. And their Super Bowl odds have only dipped a hair to +650. Present: Troy Polamalu's Head & Shoulders on a platter, obviously.
Minnesota Vikings – At 10-4 and just a game back of the Packers, the Vikes are a surprisingly strong club. Most bettors thought the Bears would displace Minnesota this season, but that hasn't happened under the leadership and efficient passing of quarterback Kirk Cousins, who sliced up the competition all year with one of the league's best TD-to-INT ratios. Present: Cold Steel Viking Sword.
New Orleans Saints – The Saints were robbed of a chance at the title in the 2018 NFC Championship, with the NFL's perennially naughty officials swallowing their whistles in the most corrupt and/or incompetent way anyone's ever seen in the history of ever. But Drew Brees is still every bit the Hall of Famer, and Alvin Kamara is a bus. Plus, they just signed an elite defender who talked his way off a bad team and onto a Super Bowl favorite. Present: Guess Who? board game. Oh, and another Super Bowl ring. Bet on dat!  
New York Jets – The Jets opened the season at +6000 to win the championship, so it isn't as if they failed to live up to expectations by going 6-9 with one week left. Indeed, after sophomore starter Sam Darnold went down for a month with freaking mono, they didn't wilt as badly as they might have. And though the offseason addition of running back Le'Veon Bell didn't pay off this season, there's still time to build something here. Present: New York Jets NFL 3D BRXLZ Puzzle Helmet Set.
Oakland Raiders – The Raiders are still alive in the 2019 NFL Playoffs hunt, albeit they need an unlikely confluence of events to take place in order to make it in. However, they're already better than anyone expected in Jon Gruden's second year at the helm, and when the Raiders move to Las Vegas next year, you can bet the betting action will be brisk (especially if they axe Derek Carr). Present: Chucky: The Complete 7-Movie Collection (Blu-ray).
Pittsburgh Steelers – After Ben Roethlisberger blew out his right elbow in Week 2 against the Seahawks, their season had been considered a loss. Still, backup Mason Rudolph has played reasonably well despite getting clubbed in the head with his own headgear, and the Steelers are still mathematically alive in the playoff race. The real question, though, is whether or not Big Ben will ever suit up for Pittsburgh again. Present: Riddell Pittsburgh Steelers Black Matte Alternate Speed Mini Football Helmet because it probably hurts way less to get bludgeoned with this one.
San Francisco 49ers – The Patriots traded Jimmy Garoppolo to the 49ers in 2017, and San Francisco's quarterback of the future had a middling, injury-riddled couple of seasons in the Bay. But this year, he's been positively elite, leading the 49ers to a 12-3 record and first place in the NFC West. Additionally, the team went from +4000 odds to win the Super Bowl at the start of the season to +600 odds to win it all today. Nobody's going to take a knee for that! Present: Air Force 1 x Colin Kaepernick shoes and a huge dose of schadenfreude.
Seattle Seahawks – This year, Russel Wilson – one of the only dual-threat quarterbacks to survive intact over more than a few years of action – signed the biggest contract in NFL history. Then, the Seahawks made the playoffs. And now, with depth issues at running back, word is that local favorite Marshawn Lynch might sign with the club for their playoff push. Maybe they'll run the ball this time. Present: 950 Beastmode Black Word Snapback Hat and an apology for not being adequately about that action, boss. 
Tennessee Titans – The Titans have the dumbest, most pointlessly alliterative name in the NFL, and they're not all that good, either. The Marcus Mariota experiment seems to have fizzled, and there's a good chance the team moves on from the former first-rounder in 2020. In the meantime, however, the Titans are still alive in the playoff race at 8-7 in the AFC South, and if they beat the Texans Sunday (who are likely resting starters in advance of the postseason), they're in. Present: Ryan Tannehill. Seriously.