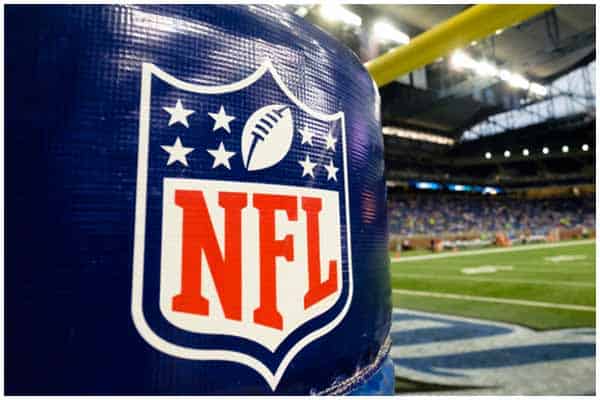 It's a historic deal, but don't bet on seeing the NFL shield at a Caesars sportsbook any time soon.
On Thursday, Jan. 3, the National Football League announced the league's first-ever casino partnership with Caesar Entertainment in a three-year deal worth $30 million per year, but the casino will not be allowed to use any NFL trademarks for sports betting or fantasy football.
According to the league's press release on NFL.com, Caesars will become the "Official Casino Sponsor of the NFL," and the multi-year agreement will go in effect by the start of the 2019 NFL playoffs on Saturday.
"We couldn't be more excited to work with one of the world's largest gaming and entertainment companies," Renie Anderson, senior vice president of NFL partnerships, sponsorship and consumer products, said in the press release announcement. "Combining the NFL with Caesars' expertise in world-class entertainment will provide our fans unique experiences both here in the United States and abroad."
"All of us at Caesars Entertainment are thrilled to be the first-ever casino partner of the NFL, the most prominent sports league in North America," Caesars Entertainment CEO Mark Frissora added in the press release. "Combining the league's 180 million fans with our 55 million Total Rewards loyalty program members will expose millions of people to the exclusive and exciting year-round opportunities at our properties."
The league's release stated the NFL-Caesars partnership will provide "unique experiences for NFL fans by using its casino properties, celebrity chefs, premier music artists, and a wide range of entertainment elements."
Caesars is given the "exclusive right" to use any of the NFL trademarks to promote casino properties in the United States and the United Kingdom, including at big events such as the Super Bowl and the NFL Draft – the latter of which will feature Caesars throughout the event when Las Vegas, Nevada host the 2020 NFL Draft.
However, the announcement specifically states the deal is for the "Casino category only and does not include sports betting, daily fantasy or hotels/resorts," meaning Caesars will not be permitted to use NFL trademarks at either state-based sportsbooks or with online sportsbooks
The Atlanta Falcons, Baltimore Ravens, Chicago Bears, Indianapolis Colts, New Orleans Saints, Oakland Raiders and Philadelphia Eagles already have partnerships with Caesars and all team deals will also fall under the "Casino category."
Last year, the NBA, NHL, and MLB all partnered with MGM Resorts International to allow the use of trademarks for sports betting and agreed to share "enhanced" game and player data.
It is unknown if the NFL will eventually amend its partnership with Caesars Entertainment to incorporate the use of trademarks at the casino's sportsbooks or give the casino data sharing rights to the league's private statistics.