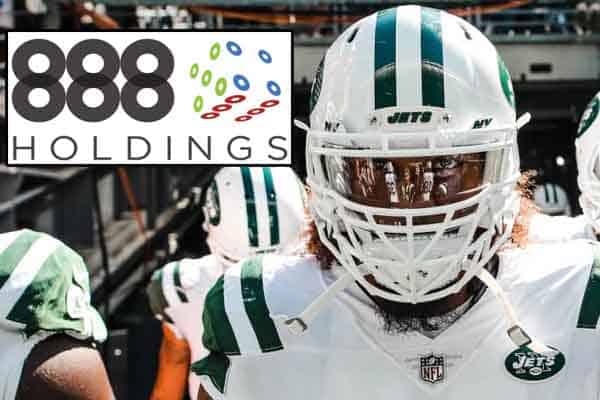 One NFL team is tip-toeing down the sideline when it comes to the league's casino sponsorship rules.
The New York Jets recently signed a sponsorship deal with 888 Holdings, an Israel-based gambling company that owns 888.com – an online sports betting website – and now it appears the franchise may have broken NFL rules.
On Sunday, the Jets new partnership with the gambling company was on full display outside MetLife Stadium with giant, bright orange banners embroidered with the 888.com logo.
NFL owners laxed the rules on teams signing sponsorship deals with casinos back in August due to the federal repeal of PASPA, which allowed states to legalize sports betting, but the new rules did not lift the ban on advertising associated sportsbooks of the casinos with NFL teams.
Currently, NFL rules prohibit the advertising of sports betting sites at NFL stadium and on any NFL broadcasts – with an exception made specifically for fantasy sports sites, like DraftKings and FanDuel.
Keith Whyte, the executive director of the National Council on Problem Gambling, told the New York Post the original intent of the rule was to reduce the likelihood of younger fans starting to wager in their youth and potentially developing problem gambling habits later in life.
"There are a lot of kids who go to games, and this kind of marketing may have a big impact on them," said Whyte. "They will become much more inclined to see gambling as being part of the game."
The Jets believe the banners do not violate the rules due to "888sport," the official name of the sports betting site, not being displayed on the banner or other brandings in favor of "888.com" being displayed.
However, while 888.com is an online casino and poker site, it did feature a clickable football player which linked users to sports betting options.
The NFL has yet to comment on what step will be taken regarding the rules regarding sponsorship of casinos and sports betting sites.
The 888 Holdings deal with the Jets was the first sponsorship agreement made with a gambling company by an NFL team. The Jets signed a second casino sponsor, MGM Resorts International, on Wednesday.