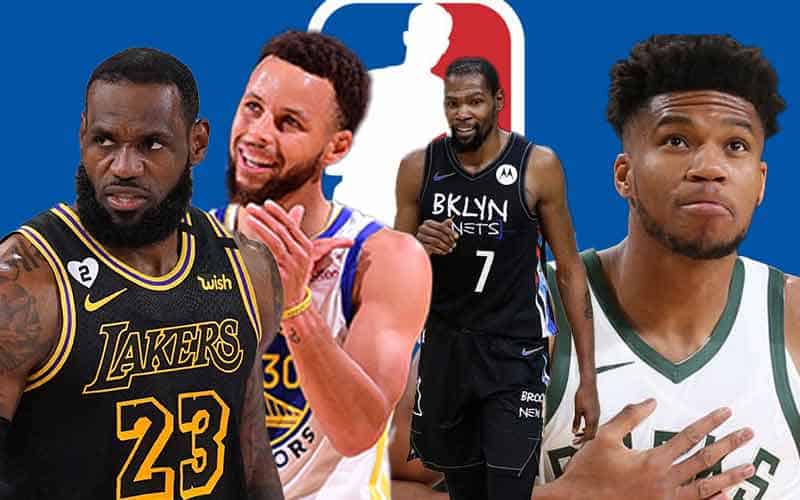 Tonight, the 2021-22 NBA season gets underway with two high-profile matchups that include four of the league's most prominent franchises in what could be a preview of the Eastern and Western Conference Finals.
These four teams also represent the top odds getters in the futures posted at legal NBA Playoffs betting sites, with last years' champions, the Milwaukee Bucks, currently sporting a +800 moneyline.
2021-2022 NBA Championship Odds
Brooklyn Nets +240
Los Angeles Lakers +300
Milwaukee Bucks +800
Golden State Warriors +1200
That means that basketball bettors can net $8 for each dollar wagered on Milwaukee to repeat as NBA champions in 2021-22, and championship futures odds tend to be the most profitable prior to the season's onset.
Of course, the above NBA futures posted at MyBookie will not payout until a champion is decided next July, but there are two appetizing basketball betting lines on the docket that can stuff your pockets with winnings before you hit the hay this evening.
First up are two Eastern Conference powerhouses that compare evenly according to the odds posted at online NBA betting sites, and we're not sure why the bookies bothered posting a one-point spread.
Brooklyn Nets @ Milwaukee Bucks
Nets Point Spread: -1.0
Bucks Point Spread: +1.0
Nets Moneyline: -115
Bucks Moneyline: -105
Over/Under: 238.0
Projected Final Score: Nets 119, Bucks 118
Tipoff At 7:30 PM On TNT
Bucks all-star forward Giannis Antetokounmpo proved his worth in carrying his team to a championship last season after years of coming up short in the postseason.
This year, the Brooklyn Nets have gathered the troops for another run at a title, and the team can finally claim a clean bill of health.
Only one problem. Kyrie Irving's refusal to receive a COVID-19 vaccination is at odds with Nets' team policies, and he is currently isolating himself from the team.
Brooklyn appears poised to move on without Irving, and the experts at the betting sites that are included in our list of online sportsbook reviews are indicating that they think the Nets can get it done anyway.
To conclude the NBA's opening night of action, LeBron James and the Los Angeles Lakers are favored to defend the Staples Center and defeat their northern California rivals, the Golden State Warriors, by 4 points.
Golden State Warriors @ Los Angeles Lakers
Warriors Point Spread: +4.0 (-115)
Lakers Point Spread: -4.0 (-105)
Warriors Moneyline: +140
Lakers Moneyline: -165
Over/Under: 228.0
Final Score Projection: Lakers 116, Warriors 112
Tipoff At 10:00 PM On TNT
The Lakers are looking to rebound after last season's first-round exit from the NBA Playoffs at the hands of the Phoenix Suns, and what better way to get started on that journey than to squash one of the Western Conference's best teams to open the year.
The Warriors' Stephen Curry is also hungry to return to the NBA Finals and win a championship after a two-year absence, and tonight his Warriors have a chance to show basketball fans around the world that they aren't done capturing titles.
Tune in tonight beginning at 7:30 on TNT for both of these NBA season openers, and get your bets in before tipoff!