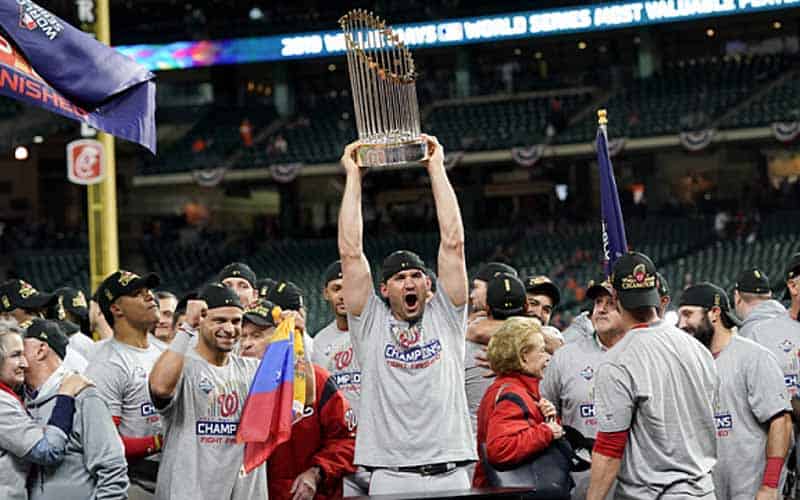 When the Washington Nationals woke up this morning, they realized it was not a trick; the team treated themselves to the 2019 World Series title over the favored Houston Astros.
Sadly for the 'Stros, however, this loss will haunt them for many days to come.
Despite entering the game as odds-on favorites with -132 chances of winning Game 7, Houston could not seal the deal against the Nats.
Houston got out to an early lead at home, scoring runs in the second and fifth innings to go up 2-0 before the start of the seventh inning. That's when everything changed.
Zack Greinke was nearly unhittable through the first six innings. However, Houston's lead was cut to 2-1 after Anthony Rendon's solo homer in the top of the seventh.
"We didn't hit the ball hard until Rendon's home run," Washington hitting coach Kevin Long said. "That's how dominating [Greinke] was. Those middle innings, he just rolled through us."
After walking Juan Soto immediately after the Rendon homerun, Astros manager A.J. Hinch pulled Greinke in favor of Will Harris.
On just the second pitch, Howie Kendrick homered off Harris, giving Washington the 3-2 lead late in Game 7. The Nats would go on to score another run in the eighth inning and two more in the ninth to finish the game 6-2 over Houston.
The Nationals are going to revel in this World Series victory, the first for the franchise, for a long time. The MLB betting odds, though, are ready for next season already.
Bovada has released its 2020 World Series predictions, listing the Astros as co-favorites next season with +600 odds. The New York Yankees share the top spot with Houston.
The Nationals have +1500 odds to repeat in 2020, which equates to a 6.67% chance. But I doubt Washington cares; at the beginning of the 2019 MLB playoffs one month ago, the Nats only had +1500 odds of winning the World Series and look at them now.
2020 MLB World Series odds
Houston Astros +600
New York Yankees +600
Los Angeles Dodgers +800
Atlanta Braves +1200
Boston Red Sox +1200
Cleveland Indians +1500
Washington Nationals +1500
Philadelphia Phillies +2000
Louis Cardinals +2200
Chicago Cubs +2500
Minnesota Twins +2500
New York Mets +2500
Milwaukee Brewers +3000
Oakland Athletics +3000
Tampa Bay Rays +3000
Cincinnati Reds +5000
Arizona Diamondbacks +6600
Los Angeles Angels +6600
San Diego Padres +6600
Chicago White Sox +8000
Texas Rangers +8500
San Francisco Giants +10000
Toronto Blue Jays +10000
Colorado Rockies +12500
Pittsburgh Pirates +20000
Seattle Mariners +20000
Baltimore Orioles +100000
Detroit Tigers +100000
Kansas City Royals +100000
Miami Marlins +100000