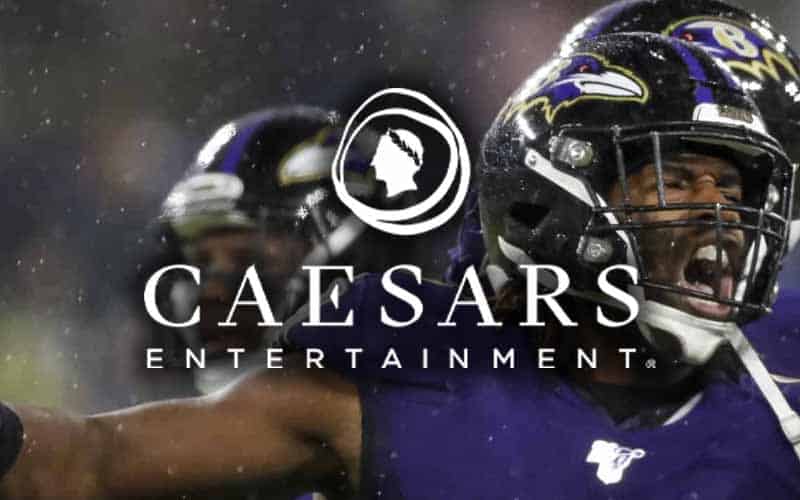 Despite delays in coordinating rules for Maryland's newly legalized sports betting operations, state teams and sportsbooks have already been eager to write up partnership contracts.
Caesars Makes Big Moves in Maryland
Just Wednesday Caesars Entertainment announced a deal with the Baltimore Ravens. The NFL team is projected to be the AFC North's Division Champs, making this partnership a huge deal in the betting world.
Most of the details listed in the contract were kept hidden from the public. However, we can guarantee that Caesars will be launching their mobile sportsbook operations along with an in-person betting location set at the Horseshoe Casino Baltimore.
Additionally, Caesars will receive increased visibility through LED displays during home games among other incentives. We imagine this could include special sportsbook promos as well.
Compounding Delays For the State
The state's constituents voted in favor of sports betting in November of 2020. The push for legal sports betting in Maryland was equipped with overwhelming support, and yet, nearly a year has gone by with little to no movement.
MD legislators have affirmed that the delays are an effort to be both patient and deliberate in writing the guidelines for sports betting in the state. It makes sense that lawmakers want to get this right the first time around.
Even so, other states that trailed Maryland in passing sports betting legislation have surpassed the Old Line State in making those bills a tangible reality.
Arizona, for example, only passed its landmark sports betting legislation in April. Nonetheless, operations are set to kick off on September 9th with hundreds, if not thousands, of bettors already registered.
Maryland has yet to even accept applicants for sports betting licenses. And with the NFL season about to kick off, residents of the state aren't too happy about the pace legislators have chosen to take.
Organization At the Top (Or Lack Thereof)
Arguably, MD's sports betting strife could be coming from the fact that they delegated these responsibilities to the Maryland Lottery Commission. While Maryland isn't the only state to leave sports betting in the hands of the lottery, it is a good example of why states shouldn't do that.
Yes, organizing a gaming commission is extensive work. Especially so for a state that only welcomed casinos 11 years ago. However, a solidified gaming commission would have likely expedited this process, seeing as it would have been one of their sole responsibilities.
Connecticut signed its gaming legislation in May of 2021. Although there was a hiccup in developing the gaming commission, Connecticut is now on track to enact domestic sports betting sometime this fall.
Options For Maryland Sports Betting
That being said, Maryland has no excuse for leaving its resident bettors out in the dust. Patience is only a virtue for so long until one is just procrastinating.
To those who were excited to place bets on September 9th, there is still hope. Offshore sportsbooks have been operating for decades to deliver a legal sports betting experience for folks in all 50 states.
For resources and legal betting guides, we have everything you need baked into our beautiful website. Check it out!
Source: Baltimore Sun