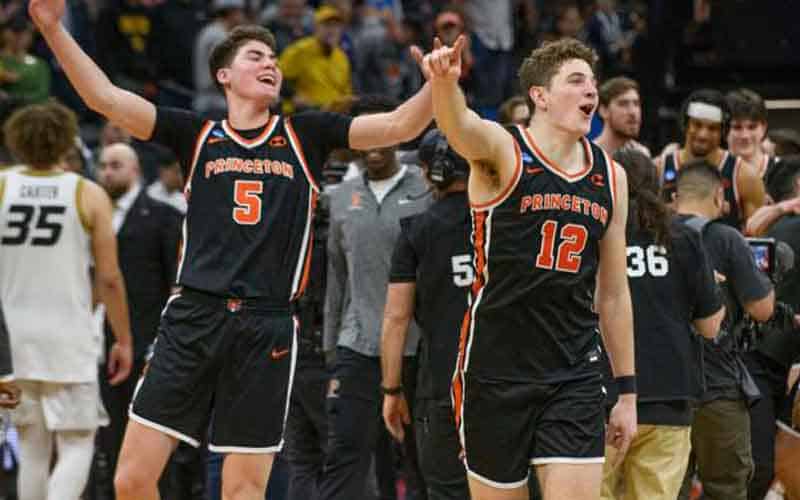 This Thursday, the 2023 March Madness Tournament enters the Round of 16. Only 2 top seeds remain alive in the tournament, the Houston Cougars and the Alabama Crimson Tide.
Both of those teams entered the NCAA Men's Division I Basketball Tournament as the top two that were most likely to win, according to college basketball betting sites.
That trend still holds true today, as here are the current March Madness futures from Bovada Sportsbook (Bovada.LV review).
2023 NCAAB National Championship Odds
Alabama (#1) +350
Houston (#1) +400
UCLA (#2) +700
Connecticut (#4) +900
Texas (#2) +900
Creighton (#6) +1000
Tennessee (#4) +1100
Gonzaga (#3) +1200
Kansas State (#3) +3000
Michigan State (#7) +3000
Arkansas (#8) +3500
San Diego State (#5) +4000
Xavier (#3) +4000
Florida Atlantic (#9) +5000
Miami Florida (#5) +5000
Princeton (#15) +15000
The 15-seed Princeton Tigers have shocked the basketball world and earned a spot among the final 16 teams. Their next matchup is against the Creighton Bluejays (#6), who are favored by a point spread of -10.0.
Princeton (#15) vs. Creighton (#6)
Princeton Point Spread: +10.0
Princeton Moneyline: +390
Creighton Point Spread: -10.0 (-110)
Creighton Moneyline: -550
Over/Under: 140.0
9:00 PM – Friday
March Madness sportsbooks featured Princeton as a massive underdog for their first two games as well, favoring their opponents by 15 and 6.5 in the first and second rounds.
It's easy to suggest that the Tigers are hot and use that as a reason to bet on them to win, but everyone's hot this time of year. All teams are on a 2-game win streak at minimum.
The potential for Princeton to advance is what makes the tournament so special. No matter how many 5-star athletes are on a given roster, there's the potential for them to have issues with teams that they are unfamiliar with, especially if they are gelling together.
We're picking Creighton here, but if you want to let it ride on Princeton in the Sweet 16, gains of $3.90 can be made on $1 wagers on their moneyline odds to win.
Florida Atlantic (#9) @ Tennessee (#4)
FAU Point Spread: +5.5
FAU Moneyline: +210
Tennessee Point Spread: -5.5
Tennessee Moneyline: -250
Over/Under: 131.5
9:00 PM – Thursday
The Florida Atlantic University Owls are the 9 seed out of the East Bracket and actually have a decent shot at beating the number 4 Tennessee Volunteers.
The lines for Sweet 16 betting suggest that the Vols will best the Owls by a margin of -5.5, but 2-to-1 payouts can be won by wagering on FAU's moneyline.
We don't think the Owls will win, but we're tempted to bet on FAU to cover.
March Madness Most Outstanding Player Award Odds
Brandon Miller (Alabama) +375
Marcus Sasser (Houston) +800
Jaime Jaquez Jr. (UCLA) +1200
Drew Timme (Gonzaga) +1400
Adama Sanogo (Connecticut) +1600
Jarace Walker (Houston) +2000
Marcus Carr (Texas) +2000
Tramon Mark (Houston) +2200
Santiago Vescovi (Tennessee) +2500
Alabama's Brandon Miller is featured as a near-lock to become the tourney's most outstanding player. He didn't take a shot in their first-round win against Texas A&M Corpus Christi but dropped 23 points and 7 boards against Maryland in the Round of 32.
Any player listed behind Miller will deliver at least 8-to-1 payouts, but only if you bet now!
NCAA.com Live March Madness Bracket